Current United States champion Sheamus has taken to his official Twitter account to dispute online reports that he got into a physical altercation backstage with Jorge "Sin Cara" Arias at Tuesday's SmackDown tapings. (Arias is also known to WWE fans as cruiserweight wrestler "Hunico.")
To top off an already weird story, it was mentioned that Arias actually managed to get the better of his much-larger foe during their scrap.
The story originated in Dave Meltzer's (subscribers-only) Wrestling Observer Newsletter, with other news sites picking up the report soon after.
Sheamus, having gotten wind of the claims, promptly went on Twitter to deny the tale and even poked fun at the whole thing:
Must be getting punchy. Don't remember being beaten up by Sin Cara backstage... It's just how Mexicans & we Irishmen hug it out fella ;)

— Sheamus (@WWESheamus) May 7, 2014
Whether or not the backstage fight story is true, I have to wonder if WWE's booking team will perhaps seize on this alleged incident and use it as part of an on-screen angle.
This is the "Reality Era," as WWE tells us, after all. (Let's just ignore the bad "B-movie" horror flick that is the Daniel Bryan/Kane feud and Bray Wyatt suddenly having mind control powers.)
Besides, it's not like the company is doing much with the Irish star right now anyway. This has been true since January, when he returned to in-ring action from a shoulder injury.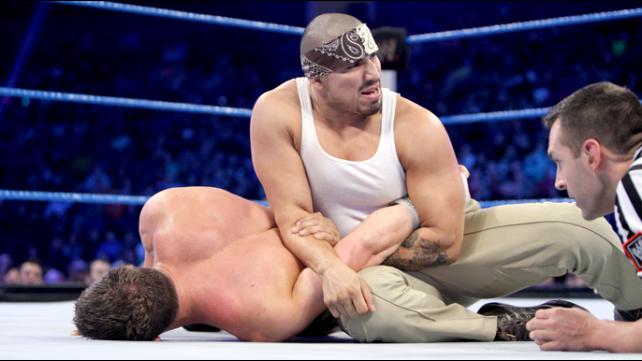 Credit: WWE.com
OK, so he won the (largely forgotten about) United States Championship in a 20-man Battle Royal on Monday night's edition of Raw.
But, honestly, the real story there was meant to be The Authority vindictively screwing Dean Ambrose and the rest of The Shield after the Extreme Rules event. Sheamus' win came off as a total afterthought. It's difficult to see how he's been aided by gaining the midcard title.
Could we see a worked-shoot Sin Cara vs. Sheamus storyline in the future? Or will WWE just be eager to sweep this whole thing under the rug?