Projections for the 2014 NFL draft started the moment 2013's event ended. Amazingly, there is still tons of uncertainty involved in the opening round.
Not only are scouts in major disagreement over which players will turn out to be stars and which will be busts, but the possibility of trades makes predicting the draft almost impossible. It is likely we will not know the No. 1 pick until it is called out by the commissioner—an uncertainty that has become unusual in recent years.
Still, we know what teams need. And the pre-draft process has allowed everyone to evaluate the top players at each position—this helps create a final mock draft heading into the first round on May 8.
1. Houston Texans: Jadeveon Clowney, DE, South Carolina
Jadeveon Clowney wants to go first overall, and he clearly deserves the honor. He has the strength, speed and pure athleticism to be a star at the next level.
In April he sent a message to the Texans if they were planning on passing on him, via Tania Ganguli of ESPN.com:
Asked how miserable he'd make #Texans if they passed on him & the Jags drafted him, Clowney says, smiling, "I have to make them miserable."

— Tania Ganguli (@taniaganguli) April 2, 2014
But as of May 7 he no longer even thinks that is a possibility, via Brian T. Smith of the Houston Chronicle:
Jadeveon Clowney was just asked if #Texans will regret passing on him at No. 1. "I don't think they're going to pass," he said smiling. #NFL

— Brian T. Smith (@ChronBrianSmith) May 7, 2014
The Texans can create an elite defense by adding Clowney, which would make things easier for any quarterback that suits up in Houston next season.
2. St. Louis Rams (from Washington Redskins): Greg Robinson, OT, Auburn
The Rams could use some help on the offensive line, making Greg Robinson the smartest selection. The mauling run-blocker could help clear lanes for the running backs while also developing into a quality pass-blocker.
It is still a possibility that the Rams trade the No. 2 pick, but they should find a way to get an offensive lineman at some point in the top 10.
3. Jacksonville Jaguars: Johnny Manziel, QB, Texas A&M
While it's hard to trust any rumors coming from teams at this stage of the process, John McClain of the Houston Chronicle provides some info on this pick:
Word's spreading among media here that Manziel is going to Jacksonville at 3.

— John McClain (@McClain_on_NFL) May 7, 2014
In reality, this makes perfect sense. The Jaguars need a legitimate quarterback if they want to earn some wins next season. Johnny Manziel has the talent to do that on his own with his arm or his legs, and will bring some excitement to a franchise that needs a jolt.
4. Cleveland Browns: Sammy Watkins, WR, Clemson
The Browns already have Josh Gordon, so adding Sammy Watkins could create an extremely dangerous tandem on the outside. Watkins is someone who can make an immediate impact as an elite receiver who excels at making plays after the catch.
While the team needs a quarterback, it can use its other first-round pick for this spot without reaching on someone not worthy of the selection.
5. Oakland Raiders: Khalil Mack, OLB, Buffalo
Khalil Mack might end up being the best defensive player in the draft. The outside linebacker can be quality pass-rusher—but that's only part of the story. He is also versatile enough to handle coverage and be a run-stopper.
The Raiders need plenty of help on the defensive side of the ball. Mack could be an instant star and transform that unit.
Which offensive lineman is most likely to be a bust?
6. Atlanta Falcons: Jake Matthews, OT, Texas A&M
While Atlanta would love to get a pass-rusher like Clowney or Mack, the need for an offensive lineman is just as great. The squad could not protect Matt Ryan last season—a big reason for the team's struggles.
Fortunately, Jake Matthews is as solid as they come—a polished prospect who can star at either left or right tackle. He will be able to start Week 1 and remain at the position for years.
7. Tampa Bay Buccaneers: Mike Evans, WR, Texas A&M
Mike Evans stands at 6'5" and knows how to use every inch to his advantage. He has a wide catching radius and can bring in almost any jump ball—a skill that any team would love to have in a receiver.
While the Buccaneers already have a big target in Vincent Jackson, Evans could be a great secondary option and become a nightmare for opposing defensive coordinators.
8. Minnesota Vikings: Blake Bortles, QB, UCF
Blake Bortles has impressed scouts during the pre-draft process while showing his great upside. He has prototypical size for a quarterback, a strong arm and the mobility to extend plays within the pocket.
The bad news is that he is still a raw prospect. The good news is that he will be able to sit behind Christian Ponder and Matt Cassel until he reaches his potential and is ready to play.
9. Buffalo Bills: Taylor Lewan, OT, Michigan
The Bills have a few needs across the board, but the most important thing to do is protect EJ Manuel—last year's first-round pick. Taylor Lewan certainly has that ability, as noted by Bart Hubbuch of the New York Post:
Another good one from Stats Inc.: Taylor Lewan blocked on 371 pass plays at Michigan last season and allowed just 2 sacks.

— Bart Hubbuch (@HubbuchNYP) May 5, 2014
Lewan has great size at 6'7" and showed his explosiveness by posting the best 40-yard dash time at the scouting combine among offensive linemen. While he has spent his entire career on the left side of the line, he has the ability to switch to right tackle if needed.
This selection will solidify the offensive line with one of the top players on the board at any position and help the Bills build into a playoff contender.
10. Detroit Lions: Darqueze Dennard, CB, Michigan State
There might be faster or more athletic players, but Darqueze Dennard is the best cornerback in this class. He knows how to be physical with opponents and has the quickness to handle any opposing receiver.
After the Lions struggled to defend the pass last season (23rd in the NFL), they need to bring in someone with Dennard's ability to solidify the unit.
11. Tennessee Titans: Anthony Barr, OLB, UCLA
Anthony Barr is one of the biggest mysteries in this draft. The former running back has incredible athleticism and can beat opposing lineman in getting to the quarterback. On the other hand, he has not shown the ability to be more than just a pass-rusher.
Still, the Titans are an improving team that could use a high-upside player like this on the roster. If he develops into a three-down linebacker, the team could be getting a steal at this point.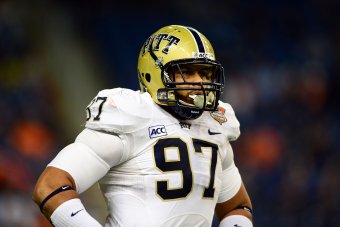 USA TODAY Sports
12. New York Giants: Aaron Donald, DT, Pittsburgh
While the Giants need to upgrade the offensive line, the players currently on the roster are under contract and not likely to go anywhere. Instead, it is important to fix the defensive line—a unit that used to be a strength.
Aaron Donald can help out as the best interior defender in the draft. He consistently causes disruptions in the backfield and should continue his excellent production at the next level.
13. St. Louis Rams: Ha Ha Clinton-Dix, S, Alabama
Although the Rams would love to see one of the top receivers fall to this point, it would be a mistake to reach for Odell Beckham Jr. or Brandin Cooks. Each would represent too similar a role to Tavon Austin.
Instead, the squad will look to improve the defense with the addition of Ha Ha Clinton-Dix. The speedy safety can cover a lot of ground in the secondary and take away a number of the big plays that hurt them last season.
14. Chicago Bears: Timmy Jernigan, DT, Florida State
There are certainly more question marks about Timmy Jernigan than there were a week ago due to a failed drug test at the combine, as reported by Jay Glazer of Fox Sports. However, Glazer also notes that some teams will not care about this issue:
Jernigan was diluted sample like mettenberger. Each team looks at that differently but a team that likes him won't matter to them

— Jay Glazer (@JayGlazer) May 6, 2014
The fact remains that the Bears need someone like Jernigan to fill the hole left by Henry Melton. The team had the worst run defense in the NFL last season, and the big defensive tackle can help improve that stat.
15. Pittsburgh Steelers: Justin Gilbert, CB, Oklahoma State
The Steelers have some talent in the secondary, but the entire unit is getting old. They need to add some youth and quickness that could eventually take over.
Justin Gilbert would represent a perfect fit as an incredibly athletic cornerback who still needs to improve in coverage. After spending some time with the Steelers, he should be able to reach his potential.
16. Dallas Cowboys: Louis Nix III, DT, Notre Dame
This might be a bit higher than some have projected Louis Nix III, but he would be a quality addition for the Dallas Cowboys.
Dallas allowed the most total yards in football a year ago and need upgrades in many spots on defense. Fortunately, Nix can help in a number of areas with his ability to clog the middle of the field while also penetrating into the backfield.
Doug Farrar of Sports Illustrated notes how Nix can be used at the next level:
Louis Nix could be a better NFL than college player. Will benefit from more diverse schemes/assignments. Tough to stop when he gets rolling.

— SI_DougFarrar (@SI_DougFarrar) April 21, 2014
The Cowboys signed Henry Melton in the offseason, but they still need another player to help turn the defensive line into a strength. Nix will help accomplish that feat.
17. Baltimore Ravens: Kony Ealy, DE/OLB, Missouri
The Ravens used free agency to fill the biggest holes on the roster, which allows the team to draft the best available player on either side of the ball.
Kony Ealy has the potential to be the best pass-rusher in the draft as someone who can get after the opposing quarterback from either defensive end or linebacker. He could help give the Ravens another weapon on defense after a relatively disappointing year.
18. New York Jets: Eric Ebron, TE, North Carolina
Eric Ebron has the talent to be a top-10 pick, but he is still far from a polished product. He does not block well and is still learning how to run routes.
Still, the Jets need offensive weapons and Ebron is worth the risk as a potential coverage mismatch. His size (6'4", 250 lbs) could make him a star in the NFL.
19. Miami Dolphins: Zack Martin, OT, Notre Dame
The Dolphins would love to see Zack Martin still on the board at this stage with such a big need on the offensive line. Even though the team brought in Branden Albert during free agency, they still have holes throughout the unit.
Zack Martin has the versatility to play almost any position on the offensive line despite spending most of his career at left tackle. The Dolphins can draft him and then find the best place for him to make an impact early in his career.
Which quarterback will have the best NFL career?
20. Arizona Cardinals: Teddy Bridgewater, QB, Louisville
The Cardinals barely missed the playoffs last season and will likely try to find a player who can help them win now. Then again, there are already a lot of young players on the roster who can allow the squad to win now and in the future.
Teddy Bridgewater represents that look toward the future as a long-term solution to replace Carson Palmer.
The Louisville product has tremendous talent but might need a season or two to learn the ropes. Playing behind Palmer would represent the best-case scenario for the quarterback and the team.
21. Green Bay Packers: Calvin Pryor, S, Louisville
When Aaron Rodgers is healthy, the Packers are just fine offensively. What they need is someone who can step in immediately on defense and improve a unit that ranked in the bottom 10 against both the run (25th) and the pass (24th).
Calvin Pryor is a physical player who is not afraid to make big hits over the middle. He can step up to make plays against the run or cover plenty of ground against the pass, making him the perfect selection for Green Bay.
22. Philadelphia Eagles: Odell Beckham Jr., WR, LSU
It is always difficult to replace a Pro Bowler at any position, but Odell Beckham Jr. is the perfect fit for the Eagles to forget about DeSean Jackson.
Tim McManus of Philadelphia magazine interviewed NFL Films Senior Producer Greg Cosell, who explained that Beckham would be the best addition for the Eagles in the draft:
In an ideal world, you've got a guy like Odell Beckham who could easily fit that role. Beckham is terrific. He really is a smooth, fluid athlete with quickness, with speed, really good run after catch, he has really good hands. He knows how to run routes at this point, which is usually rare for a college wide receiver.

He can do a lot of things in a Chip Kelly offense. He was also willing to block. He blew up Alabama linebacker C.J. Mosley this year; last year he blew up another Alabama linebacker. He is willing to block. Overall, he is a quick, polished, dynamic, versatile wideout with explosive traits both as a route-runner and run after catch. He would absolutely fit a Chip Kelly offense.
Beckham is a complete receiver who would likely be a top-five selection if he was taller than 5'11". Despite this, he has the skill to be a star at the next level and should thrive with the Eagles.
23. Kansas City Chiefs: Brandin Cooks, WR, Oregon State
Last season, the Chiefs offense consisted mostly of handoffs and short passes to Jamaal Charles. If they want to get back to the playoffs, they need to provide the running back with some offensive help.
Brandin Cooks represents a big upgrade as one of the fastest players in the class. He can also stretch the defense and clear up space underneath, making the running game even stronger.
24. Cincinnati Bengals: Ryan Shazier, OLB, Ohio State
Although Ryan Shazier does not have typical size for a linebacker, he is one of the most athletic players in the class with great explosiveness and leaping ability. He can play well against the pass or the run and has the skill to consistently blitz into the backfield.
If the Bengals want to continue to have one of the top defenses in football, they must keep adding prospects with this ability.
25. San Diego Chargers: Kyle Fuller, CB, Virginia Tech
After having one of the worst collections of cornerbacks in the NFL last season, this becomes an obvious need for the Chargers. They have to draft the best available at the position no matter what happens in the draft before this.
Kyle Fuller fits this description thanks to his pure coverage skills and solid size at 6'0". He knows how to make plays on the ball in the air and should be an early contributor for the Chargers.
26. Cleveland Browns (from Indianapolis Colts): Derek Carr, QB, Fresno State
The Browns need to get a quarterback at some point in the draft, and there are certainly those who think that Derek Carr can become the best in the class. Phil Simms argues that he is the safest, via Sirius XM NFL Radio:
"Derek Carr makes me feel the safest. I think I'd sweat less with him than any other quarterback coming out" Phil Simms #SXMNFL

— SiriusXM NFL Radio (@SiriusXMNFL) May 5, 2014
While the Fresno State star might need some time to transition back to a pro-style offense, his strong arm makes him worthy of a first-round pick.
27. New Orleans Saints: Dee Ford, DE, Auburn
Rob Ryan has helped transform the Saints defense from a joke into one of the best in the league. However, the aggressive unit still needs more pass-rushers to compete for a Super Bowl title.
After proving his ability in the SEC last season, Dee Ford appears to be one of the best available. While he might transition to linebacker in the NFL, Ford will have one priority—get to the quarterback.
28. Carolina Panthers: Marqise Lee, WR, USC
Although the Panthers might try to upgrade on offensive line, they may give Cam Newton more help by drafting a dynamic player at wide receiver.
Marqise Lee had some problems with drops at USC, but there are few better once he catches the ball. He can turn any short pass into a touchdown, something that will bring another dimension to the run-heavy Carolina offense.
29. New England Patriots: Jace Amaro, TE, Texas Tech
As the window starts to close on the Tom Brady era, the Patriots need to do whatever it takes to help him remain successful. This means giving him a bigger target that can make plays over the middle of the field and in the red zone.
Jace Amaro has soft hands and plays like a receiver while having the size of a tight end at 6'5", 265 pounds. He could contribute right away on offense—whether Rob Gronkowski is healthy or not.
30. San Francisco 49ers: Jason Verrett, CB, TCU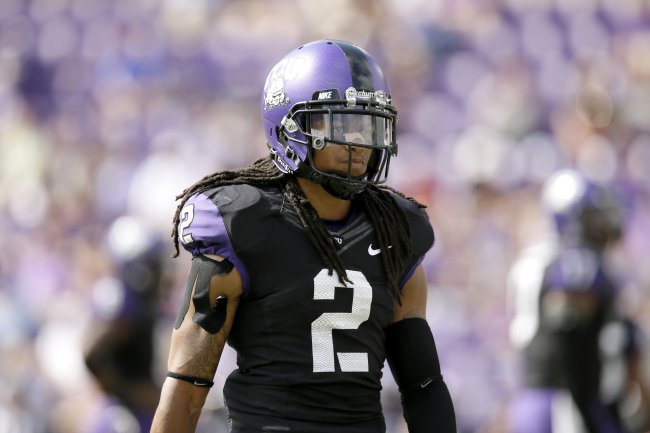 Tony Gutierrez/Associated Press
With 11 selections in the draft and six in the first 100 picks, there is a strong chance the 49ers are aggressive with trades. Eric Branch of the San Francisco Chronicle discusses the views of Mike Mayock of NFL Network:
Mike Mayock expects #49ers to trade up in first round. Reason: WR/CB group will be wiped out if they stay at No. 30.

— Eric Branch (@Eric_Branch) May 1, 2014
Even if San Francisco does not make a move, you can expect the targets to remain the same. However, cornerback becomes a bigger need than receiver due to the lack of established players in the secondary.
Jason Verrett might slide on draft day due to his lack of size (5'9"), but he still should be a quality cornerback in the NFL. He has great speed and the instincts to stick with the top receivers in the league. While he will likely spend time defending the slot, he has enough strength to handle smaller opponents on the outside.
This would fill a big need for the 49ers and help them once again contend for a Super Bowl.
31. Denver Broncos: C.J. Mosley, ILB, Alabama
With teams filling needs at other positions, and the inside linebacker spot becoming devalued, C.J. Mosley sees himself fall all the way down to the end of the first round.
This is perfectly fine for Denver, who needs another middle linebacker to play alongside Danny Trevathan. After a big offseason, the Broncos will have filled their biggest holes on defense to help them finally get a championship.
32. Seattle Seahawks: Xavier Su'a-Filo, OG, UCLA
The defending champions had one major weakness last season: interior blocking. Russell Wilson was sacked way too many times considering his mobility, a problem that continued even when the offensive line was healthy.
Xavier Su'a-Filo is a quality pass-blocker who should be able to upgrade the offensive line and keep the star quarterback healthy.
Follow Rob Goldberg on Twitter for the latest breaking news and analysis.