Updates from Monday, May 19
Barcelona confirmed Lionel Messi's new contract via the club's Twitter account:
Leo Messi signs new deal http://t.co/XeNtRI6xTh #fcblive pic.twitter.com/15E7SFTswb

— FC Barcelona (@FCBarcelona) May 19, 2014
Original Text
Barcelona have reached an agreement with superstar forward Lionel Messi on a new contract extension that, according to Marca via the Mail's Rob Draper, will be worth $27.41 million (€20 million) per year. The deal will be penned in the next few days.
The Catalan club's official Twitter broke the news, following growing rumours in recent weeks:
BREAKING NEWS: Agreement with Leo Messi #messiFCB on http://t.co/fg65RrHlI4 pic.twitter.com/t0JEGlRDxs

— FC Barcelona (@FCBarcelona) May 16, 2014
Spanish newspaper AS claims that the contract is unlikely to be signed before the World Cup as commerical terms still need to be agreed, notes Spanish football freelance writer Dermot Corrigan.
Messi contract NOT finalised yet say AS. Still commercial details to agree. He leaves for Argentina Sun night. Unlikely signed before WC.

— Dermot Corrigan (@dermotmcorrigan) May 17, 2014
Spanish daily Sport, via the Guardian, also claims the new agreement to be worth in the region of $27.42 million (£16.3 million) per year, and Draper tweeted the numbers:
Messi contract NOT finalised yet say AS. Still commercial details to agree. He leaves for Argentina Sun night. Unlikely signed before WC.

— Dermot Corrigan (@dermotmcorrigan) May 17, 2014
A brief statement on Barcelona's official website offered the following:
FC Barcelona has reached an agreement to adjust the terms in the contract binding Leo Messi to the club as a professional first team player. The revised and updated contract will be signed over the next few days.
Another new contract is the latest step by Barcelona to make sure Messi spends his entire career with the Spanish club.
The Argentine international has scored more than 350 goals across all competitions for the Catalan giants. Impressively, the four-time Ballon d'Or winner has won every possible club competition with the Blaugrana, underlining his status as one of world football's greatest ever players.
Squawka highlighted his continued importance to Barca's play, while Dermot Corrigan of ESPN FC detailed the intricacies of his new contract:
Messi's new deal: €20m/yr NET according to Marca. Wld cost Eng club £700,000/wk with tax + NI to pay on top pic.twitter.com/bL6R6rGvBF

— Rob Draper (@draper_rob) May 16, 2014
Lionel Messi has scored a goal, executed a key pass or made an assist once every 23.6 mins in La Liga this season. pic.twitter.com/yICljzWxh2

— Squawka Football (@Squawka) May 16, 2014
El Pais say Messi gets payrise from €13m to €20m [net] per year. Release clause [250m] & end date [2018] unchanged http://t.co/URUjyvmq7W

— Dermot Corrigan (@dermotmcorrigan) May 16, 2014
A new deal for Messi doesn't carry the same meaning as it does for most other athletes. For most players, signing a multiyear agreement means they will stay with a team for that period of time and then reassess whether to re-sign or move on.
That's not really the case for Messi. As Marca points out, the extension he's inked marks his seventh different contract agreement with Barcelona over the past nine years. The deals are more like placeholders to ensure his immediate future until it's time to negotiate again.
One thing the dynamic forward has maintained in recent years amid speculation about a potential exit is that he wants to stay at Barcelona for his entire career.
"I want to retire here," Messi said in January, via the club's official site. "While people want me, I want to spend my whole career at FC Barcelona."
El Pais say Messi will have renounced his personal deal with Turkish Airlines [due to Barca's with Qatar Airways] to help reach agreement.

— Dermot Corrigan (@dermotmcorrigan) May 16, 2014
For Barca, doing whatever it takes to keep Messi happy is worth the time and investment because they wouldn't be able to find anybody capable of replacing him in the short term if he left.
To showcase exactly how good the 26-year-old forward has become, there was actually talk this season about a drop in form despite Messi averaging nearly a goal per match. He also earned a spot on WhoScored.com's European all-star team for the 2013-14 campaign: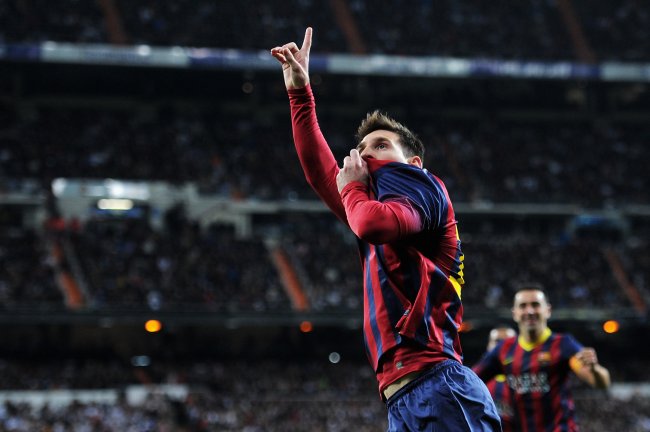 Denis Doyle/Getty Images
You can count on one hand the number of players who can have that type of season and still have it be considered a step back. The reality is, Messi showed an even greater willingness to defer when necessary to create a stronger team concept.
An in-depth look at WhoScored's European team of the season for @TEAMtalk http://t.co/525gMQ7NtL pic.twitter.com/3wp9x2sO2E

— WhoScored.com (@WhoScored) April 30, 2014
He's still one of the top few players on the planet and should be in the middle of his prime, with several years still to come. It's certainly hard to imagine him slowing down anytime soon.
Will Messi spend his entire career with Barcelona?
As for the future, it's always hard to predict what will happen next season, let alone five or 10 years from now. That said, Messi spending his entire career with Barcelona would be a great story because of its increasing rarity.
In an era where high-profile, big-money transfer moves are commonplace, players simply don't stay in the same place for extended periods of time quite as much anymore. That's especially true for those who can demand monster returns for their clubs like Messi would.
The contract renewal should calm any exit talk, at least for a while. That's good news for both Messi, who's set to lead Argentina into the World Cup this summer, and Barcelona.