If we learned anything from Floyd Mayweather's victory against Marcos Maidana, it was that Money is aging and starting to struggle against heavier opponents.
Despite both men weighing in at roughly 146 pounds, Maidana has a much larger frame than Mayweather.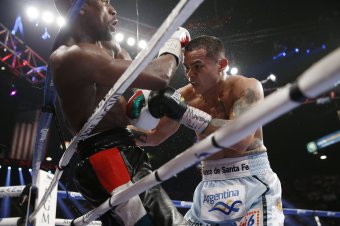 Eric Jamison/Associated Press
El Chino used his rugged and somewhat chaotic style of boxing to control the fight early, consistently pushing Mayweather around the ring and forcing him back onto the ropes on numerous occasions.
This allowed Maidana to pound away at the pound-for-pound king with a flurry of his signature overhand rights.
Needless to say, if Maidana possessed slightly better accuracy, the fight's outcome may have been significantly different.
It's easy to say the 37-year-old Mayweather didn't have the spark he once possessed in the ring—especially in the earlier rounds. In fact, it took until roughly Round 7 for Money to finally find his rhythm.
Mayweather's roller-coaster performance against Maidana doesn't bode well for his upcoming scheduled fight this September.
Stephen A. was NOT impressed with what he saw from Mayweather this weekend http://t.co/GZ3JQRxf6L

— ESPN First Take (@ESPN_FirstTake) May 5, 2014
One suggestion for his next fight is a rematch against Maidana.
At the end of their bout on Saturday, El Chino was absolutely interested in fighting Money again, according to a tweet from David Mayo of MLive.com:
Maidana: "Enough words, just give me the f---ing rematch."

— David Mayo (@David_Mayo) May 4, 2014
Mayweather didn't balk at the idea either, via a tweet from Gary Parrish of CBS Sports:
"If the fans want to see it again we can do it again." -- Floyd Mayweather (So the rematch comes later this year.)

— Gary Parrish (@GaryParrishCBS) May 4, 2014
Now that these fighters are extremely familiar with each other, it's easy to speculate Maidana could use his strategy in the opening rounds to overtake Mayweather this time around.
Another possible scenario for September is Peter Quillin.
Like Maidana, Quillin is a heavier opponent. He is currently the WBO middleweight champion and owns an unblemished 31-0 record.
This fight could be interesting given both fighters' roots in Grand Rapids, Michigan. Quillin is also under the Golden Boy banner and backed by Al Haymon.
It appears as though this would be an easy fight to put together.
Fight I'd pay to see someday: Floyd Mayweather vs. Peter Quillin. An all-Grand Rapids, all-Al Haymon special. #mayday #boxing

— David Mayo (@David_Mayo) April 30, 2013
Quillin is indeed interested in fighting Mayweather, according to Mayo: "He's the one that's in control of a lot of things. He's the one on the A-side. I'm not the type of person that's just like, 'Oh, I want to fight this guy.' But if he wants to fight me, why would I say no?"
Will Mayweather lose his next fight?
Being a heavier fighter, Quillin has a great opportunity to use Maidana's blueprint and hand Mayweather his first-ever defeat.
It will certainly be interesting to see who Mayweather selects as his next opponent. After facing Maidana, he may opt to face a smaller fighter such as Danny Garcia.
All we can do is wait and see.
Muhammad Ali lost. Joe Louis lost. Sugar Ray Robinson lost. It's happened to each of boxing's legends.
Could Mayweather be next?