Manchester United interim player-manager Ryan Giggs made club history on Tuesday, becoming the first player-manager to take the pitch for the Red Devils in 87 years.
ESPN football writer Richard Jolly confirmed:
Ryan Giggs is now Manchester United's first player-manager to take the field since 1927.

— Richard Jolly (@RichJolly) May 6, 2014
Giggs came on in the 70th minute of United's 3-1 win over Hull City on Tuesday, taking the place of Tom Lawrence. Moments later, Giggs would assist Robin van Persie in extending the team's lead, per Premier League on Twitter:
GOAL Man Utd 3-1 Hull (86 mins). Ryan Giggs finds Robin van Persie and the striker finds the corner after his first shot is blocked #MUNHUL

— Premier League (@premierleague) May 6, 2014
After the match, Giggs spoke about the season and offered his appreciation to the fans and his club, as shown by SkySports' video (via Youtube):
Fox Soccer Trax and Dan Roan of BBC News provide details:
Giggs: "I'd just like to say a big thank you from all the players and the staff for your support this year. A special thanks to Nemanja."

— FOX Soccer Trax (@FOXSoccerTrax) May 6, 2014
Giggs: "We know it's been tough this season and over the years we have been spoiled with the success we've had…"

— FOX Soccer Trax (@FOXSoccerTrax) May 6, 2014
Giggs addressing Old Trafford crowd: "You've seen a little glimpse of the future...keep supporting us & the good times will come back soon"

— Dan Roan (@danroan) May 6, 2014
The 40-year-old Giggs was named interim manager last month following the firing of David Moyes. But prior to Tuesday, Giggs hadn't appeared in a match for United since their Champions League quarterfinal draw with Bayern Munich on April 1.
The Welshman has made over 960 career appearances with United since 1990 and is the club's most decorated player, having been a part of multiple championship squads.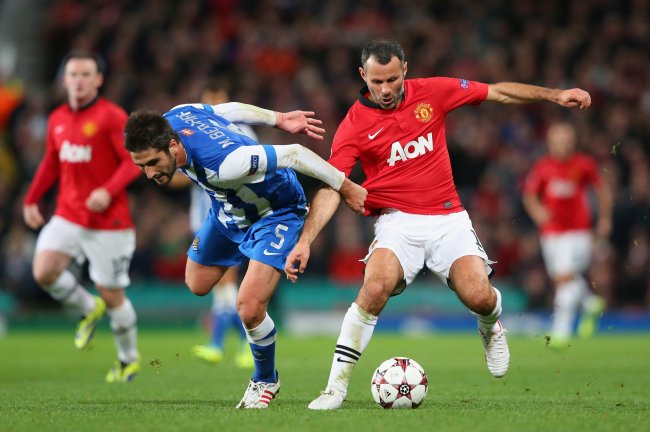 Alex Livesey/Getty Images
It remains to be seen what direction United will go in at season's end and whether the club will remove Giggs' interim tag and hand him the keys on a permanent basis, but Hull City boss Steve Bruce certainly believes in Giggs' ability to lead a successful club, per Sky Sports:
I think the way he handled his first press conference proved to me that he can be as good as he wants to be. If he wants to do it, make no mistake, he'll be a success. He's driven that way. He's single-minded enough. To have the career he's had, you need determination and desire. He's got that in abundance. He's a tough so-and-so.
Following Tuesday's win at Old Trafford, the Red Devils are 2-0-1 since Giggs took over, outscoring their opponents 7-2 over that time.
United will conclude the season Sunday at Southampton, where an impressive win could potentially boost Giggs' chances of returning as the manager in 2014-15.
United's disappointing 2013-14 campaign was always going to go down as one of the most dismal in club history, but now it will also be remembered as a historic one.
Follow Bleacher Report Featured Columnist Patrick Clarke on Twitter.