The fifth-seeded Washington Wizards stunned the top-seeded Indiana Pacers on Monday, winning 102-96 to steal home-court advantage and claim a 1-0 lead in their best-of-seven Eastern Conference Semifinals playoff series.
The league's official Twitter account confirmed the result:
The 1-2 punch of Wall/ Beal was too much to handle, as @Pacers fall to @WashWizards in game 1, 102-96. Beal led the way w/ 25p, Hill w/ 18.

— NBA (@NBA) May 6, 2014
Bradley Beal (25 points, seven rebounds and seven assists) led the way for the Wizards, who improved to 4-0 on the road this postseason and earned their first second-round playoff win since 1982.
Paul George scored 18 points for Indiana, but was out of rhythm all night long, shooting just 4-of-17 from the field and 1-of-5 from downtown.
The first quarter belonged to Washington as the Wizards raced out to an 8-0 lead. Trevor Ariza provided the hot hand for the Wizards early on, nearly matching the Pacers by himself in the first quarter with 11 points on 4-of-5 shooting from the field.
John Wall was also key for Washington, setting the tone with five assists in the opening period and catching the eye of NBA.com's Sekou Smith:
Game 1: Wizards 102, Pacers 96

| | | | | | |
| --- | --- | --- | --- | --- | --- |
| | 1st | 2nd | 3rd | 4th | Final |
| (5) Washington Wizards | 28 | 28 | 13 | 33 | 102 |
| (1) Indiana Pacers | 15 | 28 | 19 | 34 | 96 |
NBA.com
Wizards play-by-play announcer Steve Buckhantz was among the many impressed by Washington's dominant start:
Wall and Beal = Fast As They Wanna Be! #NBAPlayoffs

— Sekou Smith (@SekouSmithNBA) May 5, 2014
Even Indiana had to be impressed. ESPN Stats & Info breaks down the Pacers' miserable first quarter:
WOW!!! SIX BLOCKS and defense holds @Pacers to just 22% shooting.@WashWizards lead 28-15 after 1. Very impressive!

— Steve Buckhantz (@SteveBuckhantz) May 5, 2014
But whatever head coach Frank Vogel told the Pacers at the end of the quarter made an impact, as Indiana opened the second quarter on an 11-0 run.
David West was an early catalyst for Indiana, knocking down mid-range jump shots and making his presence felt on the glass. West's strong start was vital in keeping Indiana in the game as Roy Hibbert's postseason struggles continued, per ESPN Stats & Info:
It was a first quarter to forget for the Indiana Pacers. Here's their shot chart pic.twitter.com/PYqNvpNbQa

— ESPN Stats & Info (@ESPNStatsInfo) May 5, 2014
Hibbert would fail to score a single point for the third time in his last four playoff games, as noted by ESPN First Take's Skip Bayless:
Pacers have been outscored by 16 points with Roy Hibbert on the floor tonight

— ESPN Stats & Info (@ESPNStatsInfo) May 6, 2014
The Wizards would eventually rediscover their rhythm after Wall (plus-25 in the first half) reentered the game, playing through Nene and Ariza, who combined to score 28 points in the first 24 minutes.
Beal was huge throughout as well, as the Wizards' starters outscored the Pacers', 54-26, in the first half.
Washington also made some tough shots in the early stages, per ESPN Stats & Info:
2-time All-Star Roy Hibbert played 18 mins tonite. 0 points. 0 rebounds. 2 blocks. 5 fouls. Never seen anything like this man's decline.

— Skip Bayless (@RealSkipBayless) May 6, 2014
Prior to tipoff, Beal talked about the importance of starting fast on Monday, as reported by The Washington Post's Brandon Parker:
"We've definitely got to be bought in, ready to go from the jump. Hopefully they'll be pretty tired. We've got to get out to an early start against them because we know what they're capable of doing."
Wizards 7-13 on contested jump shots vs Pacers. The Pacers are 0 for 7

— ESPN Stats & Info (@ESPNStatsInfo) May 6, 2014
The Wizards would extend their lead to 16 points midway through the third quarter, but a series of empty possessions (12 straight missed shots) allowed the Pacers to ignite a 10-0 run and cut into the deficit.
Lance Stephenson was the Pacers' lifeblood during this stretch, scoring nine of the team's 19 points in the third quarter.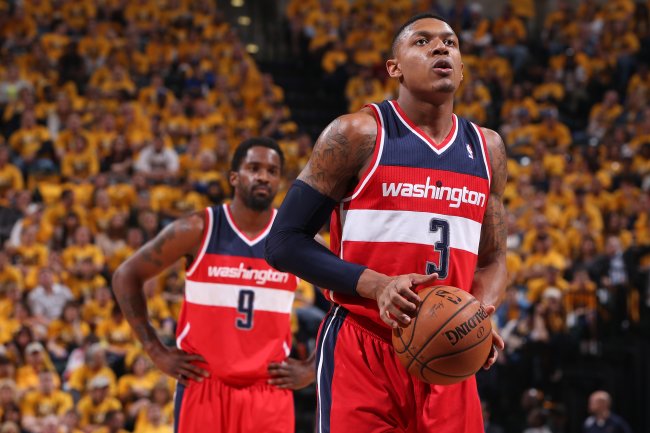 Gary Dineen/Getty Images
On the other side, Andre Miller and Drew Gooden provided a spark off Washington's bench at the start of the fourth quarter, helping keep the Wizards ahead with Wall and Marcin Gortat sitting.
George would eventually cut the Wizards lead to six points on an old-fashioned three-point play five minutes into the fourth quarter. But that's as close as the Pacers would get with Beal's long-range prowess becoming too much to overcome down the stretch, as the budding star helped Washington extend the lead to double digits, per NBA on Twitter: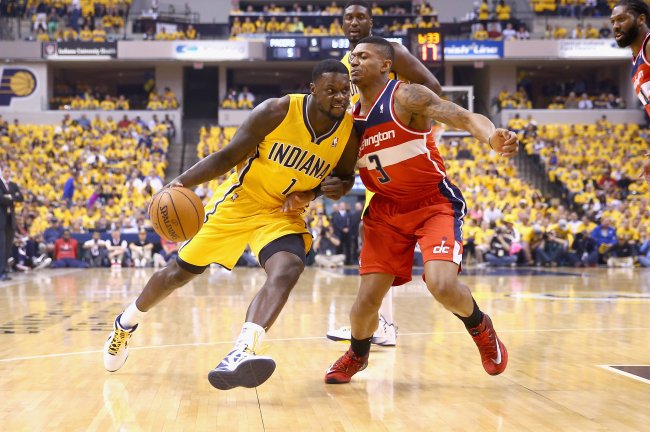 Andy Lyons/Getty Images
Washington would hold on to secure the victory, putting the pressure on Indiana ahead of Wednesday's Game 2, per tennis analyst Brad Gilbert:
Bradley Beal... Cold Blooded. #NBARapidReplay on TNT http://t.co/V0wBCiF0jl

— NBA (@NBA) May 6, 2014
Although Indiana will have a day off to make adjustments, it will require an improved effort on Wednesday if the Pacers are going to even up the series before it shifts to the nation's capital. The Pacers were out-rebounded, 53-36, and, even worse, surrendered 17 offensive rebounds in the loss.
In addition to executing offensively, Indiana will have to do a much better job of defending the three-point line in Game 2. Washington connected on 10-of-16 shots from beyond the arc in Game 1.
Finally, Indiana will need Hibbert's confidence to return. The All-Star center did next to nothing to contribute to the box score on Monday and must become a factor in order for the Pacers to have a shot at tying up the series and ultimately returning to the Eastern Conference Finals.