The beautiful thing about football is that there's almost always more football.
Just when the curtain finally closes on what has been a breakneck European club season, the eyes of the sporting world will turn to Brazil for the 2014 World Cup.
While some bemoan the death of international football following the rise of the Champions League, no singular event can match the drama and pageantry of a World Cup.
It's probably said every year, but the quality of countries making the trip to Brazil is arguably much deeper than it has been in years past.
You could make a case for at least eight to 10 countries coming out on top.
Among that select group, these five will be the top contenders.
Spain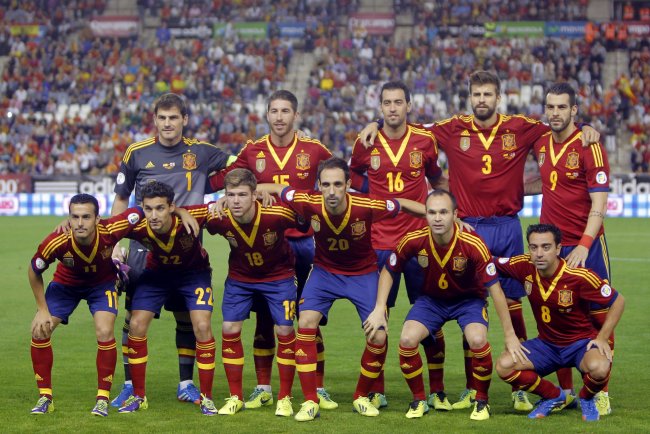 Fernando Bustamante/Associated Press
Can Spain win four straight major tournaments?
Many said they couldn't go three in a row, yet they took home the 2012 European Championship. Complacency isn't a major problem when you're playing for a World Cup.
The addition of Diego Costa gives coach Vicente del Bosque a forward option he wasn't afforded in Poland and Ukraine, nor South Africa. Costa can play a slightly more direct style, which is what Spain may need to do.
You do wonder if their possession-based attack is sustainable. Spain were ripped apart by Brazil at the Confederations Cup, much the same way Bayern Munich—who play similarly to Barcelona, which by extension is largely the same as Spain—were against Real Madrid.
International football also tends to be much more pragmatic and plodding than club football, so managers won't be afraid to pack it in if it means preserving a result.
You don't want to count out Spain too much, but they have an uphill battle on their hands.
Brazil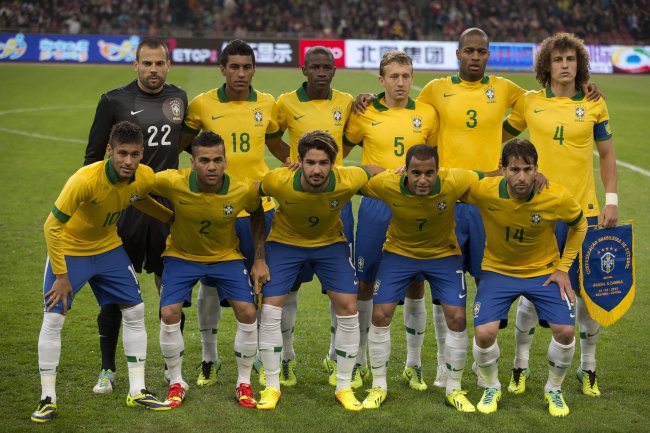 Ng Han Guan/Associated Press
Will Brazil exorcise the ghosts of 1950? That one loss affected the country in such a way that it's still felt 64 years later.
Prior to the Confederations Cup, expectations were a bit tempered. The hosts hadn't looked great on the pitch, with Luiz Felipe Scolari failing to lift the team much higher than it had been under Mano Menezes.
Are Brazil the favorites for the 2014 World Cup?
Then Brazil surgically sliced open Spain in the Confederations Cup final, and that followed a hard-fought win over Uruguay in the semifinals.
For the first time in a long time, the Selecao could make a case for being the best national team in the world.
What could trip up the hosts is their potential round-of-16 fixture. Whether it's the winner or runner-up of Group B, that match will be tricky, should Brazil qualify from Group A:
Realizing once again that World Cup draw did Brazil no favors. Facing likely Round of 16 game vs Spain, Netherlands or Chile.

— Grant Wahl (@GrantWahl) May 2, 2014
Any one of Spain, Chile or the Netherlands is a tough matchup for anybody.
Argentina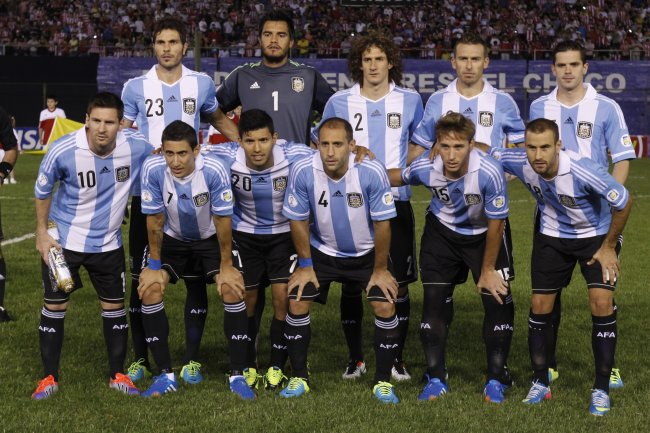 Cesar Olmedo/Associated Press
How great would it be for Lionel Messi to lift the World Cup trophy in Brazil? Then maybe his critics—Diego Maradona in particular—could pipe down once and for all.
Four years ago, Argentina were less a team than a collection of stars led by a madman. Maradona had no idea what he was doing on the touchline, and that showed when the Albiceleste finally ran into a talented, well-drilled side—Argentina lost 4-0 to Germany in the quarterfinals.
Since Alejandro Sabella has arrived, though, Argentina have shown more organization on the pitch and don't crumble at the first sign of trouble.
Of course, so much of Argentina's chances hinge on Messi. He's one of the best players in the world and, as the team captain, will need to lead by example.
What could really hurt, though, is the possible absence of Fernando Gago. The Boca Juniors midfielder may miss out on the World Cup altogether, which would leave a big hole in the Argentine midfield.
While Sabella can still count on Javier Mascherano, Gago was the linchpin between the defence and the attack.
Without him, Argentina could be headed for an earlier exit than they had planned for.
Germany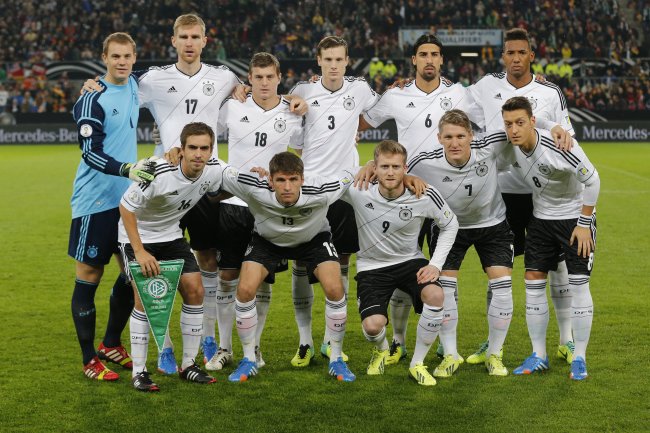 Michael Probst/Associated Press
The "group of death" won't worry Germany at all. They were in a similar situation back at Euro 2012 and managed to finish first, ahead of Portugal, Denmark and the Netherlands.
Although Portugal and Ghana will be tough, the United States might present the most difficult problem for Germany because of U.S. national team coach Jurgen Klinsmann.
He led the Germans to a third-place finish at home in 2006, and his assistant at the time was Germany's now-national team manager Joachim Loew.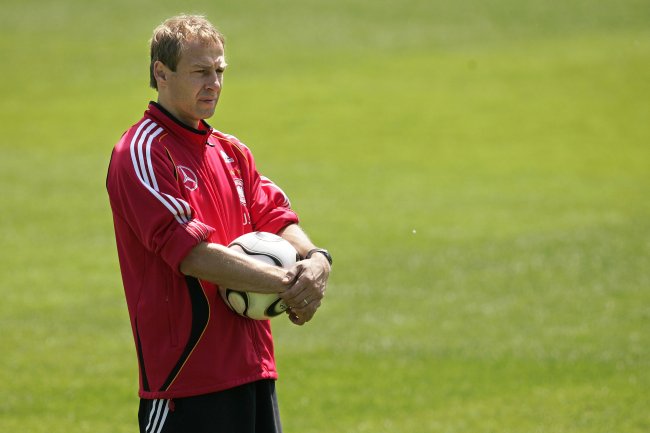 JULIE JACOBSON/Associated Press
Loew admitted that the United States are a viable threat now that they're finding their footing under Klinsmann.
"With Jurgen Klinsmann, they have another mentality," he said, per The Associated Press, via ESPN FC. "I learned a lot from Jurgen, so this is special."
Germany have an embarrassment of riches in midfield, but Loew still has a problem at striker. Miroslav Klose will be 36 when the World Cup kicks off, and there aren't many viable options after him.
Loew could opt for a false-nine and line up Mario Goetze or Marco Reus at forward, but that's far from an optimal solution.
Dark Horse: France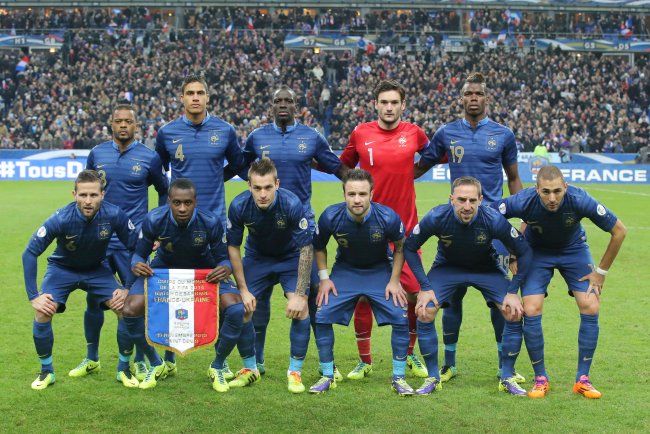 Michel Euler/Associated Press
Let's not forget that France had a rather poor qualification period in 2006 before they went on to finish runners-up at the World Cup. A win in the final group stage match and a 0-0 draw between Switzerland and Ireland meant the French finished on top and automatically qualified.
Although France nearly missed out on the 2014 World Cup altogether, the fact of the matter is that they qualified and look to have finally found some chemistry under Didier Deschamps.
The talent has never been in question for France. Their problem was rifts in the squad spilling out onto the pitch. With the win over Ukraine, the team showed more fight than it had ever demonstrated in the four years previously.
The attack won't be in doubt, which is a good thing. Karim Benzema has been on a great run of form for Real Madrid this season, and Franck Ribery will likely be carrying his Ballon d'Or disappointment with him to Brazil.
France have arguably the easiest group of the tournament, so a trip to the knockout stage looks like a done deal. From there, who knows what can happen in a one-off scenario.