At the end of every Floyd Mayweather fight, the questions begin.
Did the fight live up to the hype? Will Money every lose? And probably most importantly, who is Mayweather's next opponent?
The first answer is always up to the viewer. Nobody knows the real answer to the second question. As for the third and final inquiry, that one might have been decided before both Mayweather and Marcos Maidana ever stepped outside of the MGM Grand on Saturday night.
While El Chino believes he deserves another shot at Money, several other boxers are lined up to knock off the 46-0 fighter. Notable names like Manny Pacquiao and Amir Khan have already called out the undefeated champion, with others likely to add their names to the list.
Here's a look at those three candidates and a breakdown of how they would set up a sensational fight for Mayweather later this year.
Marcos Maidana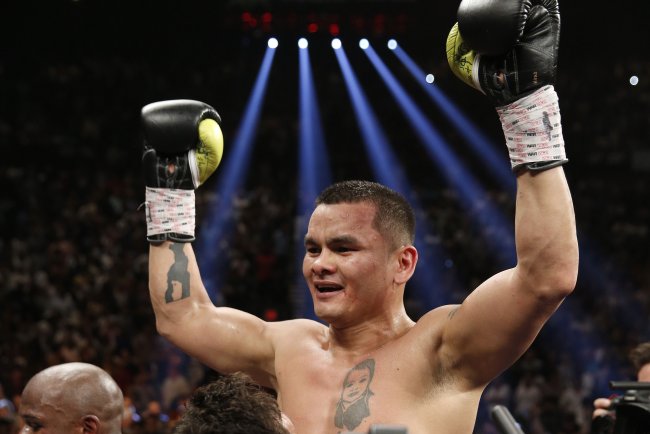 Eric Jamison/Associated Press
Is it time for "The Moment II" already?
Following one of the most tightly contested fights in Mayweather's unblemished career, Maidana wants another crack at the champ. Maidana made his intentions clear following the loss, per Bob Velin of USA Today.
"If I had my gloves, I would've knocked him out," Maidana said. "He never hurt me with a punch. He wasn't even that tough. ... I thought I won the fight. I feel like (the decision) was an injustice."
Mayweather then quickly addressed the situation after hearing Maidana's request, via Gary Parrish of CBS Sports:
"If the fans want to see it again we can do it again." -- Floyd Mayweather (So the rematch comes later this year.)

— Gary Parrish (@GaryParrishCBS) May 4, 2014
Though Parrish's tweet makes it look like the rematch is already set, Mayweather is notorious for making his own plans. If Maidana is in those plans, the next fight will be just as captivating as the first between the two boxers.
And if Maidana can actually find a way to finish against the best pound-for-pound fighter in the world, he might make history at just 30 years old.
Manny Pacquiao
If there's one fight, just one, that every boxing fan wants to see, it's Mayweather vs. Pacquiao.
The two fighters have skirted around the potential match for several years now, but it simply hasn't come to fruition between the two sides. By every boxing fan, that also includes the greatest to ever step in the ring, as Muhammad Ali called out Mayweather following "The Moment":
Congratulations @FloydMayweather. Maybe after you rest up we can see you rumble with @MannyPacquiao! #AliTweet

— Muhammad Ali (@MuhammadAli) May 4, 2014
Even at this point, the fight would still be much more hyped and likely more intriguing than a Maidana rematch. El Chino might offer one of the most bruising punches in boxing right now, but Pac-Man has the fortitude and finishing ability to potentially get the job done against Money.
But as Michael Wilbon of ESPN points out, this fight might never truly happen after all the years of buildup:
Wilbon: "That ship's sailed. It's gone. There's no more superfight to be had for Pacquiao with Mayweather. It's sad."

— PTI (@PTI) April 14, 2014
Could that be true, or is Mayweather simply dodging the bullet for what might potentially be his 50th win at the end of next year? Regardless of when it is, neither fighter is getting any younger, and the cries for the fight are far from muffled.
Amir Khan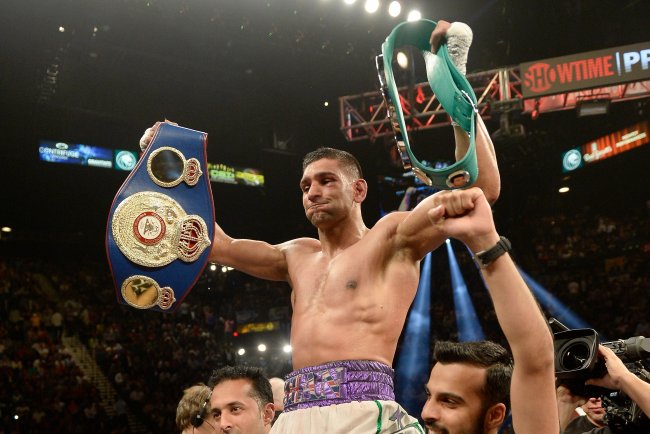 Harry How/Getty Images
He may be the least likely opponent to step in the ring with Mayweather, but King Khan has proven over his last three fights that he's a worthy adversary to Money when the time comes.
Khan called out Mayweather following his win over Luis Collazo leading up to the main event on Saturday night, via Velin:
Floyd's getting a little older now. Floyd looks beatable. A lot of people want the fight now because they want a young lion to come up and see him get beat. The only person who has the chance to do that is me.

I bring explosiveness, and I showed I bring my power to 147. If you look at my fights, even the ones I've lost, when it comes to boxing, no one can beat us. Floyd's a master class in boxing, but I've never lost when it comes to boxing. It'll be skills versus skills. And I think the youth will take it.
Which fight would be the best?
Regardless of how convincingly Khan thinks he can be against Mayweather, the fact that the Pakistani Muslim cannot bypass Ramadan in September means that this is likely a fight for next year.
While Mayweather might not make accommodations for Khan by fighting earlier in the year, this would be a match to watch. What Khan proved over the weekend was that he doesn't succumb to the bright lights of the MGM Grand.
If Money does give Khan the fight he wants over Pac-Man or El Chino, the supposed "King" will have to do everything in his power to live up to his words.
Follow R. Cory Smith on Twitter.