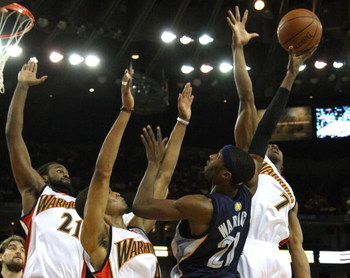 Warrior fans are tired of this era. The team has made the playoffs once in the past 15 years, and they have managed to obtain a losing record in 13 of the past 15 seasons.
The only time of excitement for Golden State fans was during the 2007 season. The plagued Warriors broke their seemingly impossible playoff drought by winning their spot into the toughest Western Conference Playoffs in years.
Team chemistry and balanced scoring were at its best. Baron Davis led the team past top seeded Dallas Mavericks in six games, marking the first time in NBA history an eighth seed advanced in a seven game series by beating the top seed.
However, the Warriors did not find the same success in the next two seasons. In 2008, Golden State finished 48 and 34, but still failed to make the playoffs because of an unfairly stacked Western Conference. Following a rare above par record, the Warriors barely showed up in 2009. Baron Davis was playing for the Clippers, Monta Ellis was hurt and Captain Jack didn't emerge as a successful leader for this Golden State team.
It will take an almost impossible reformation to make the Warriors a relevant, consistent, playoff team again, however, it may be reachable in the next few seasons if they follow this advice:
The Golden Point Guard
If the Warriors want to be a contender this year, they need to either develop, trade for, sign, or draft a "Golden Point Guard". CJ Watson, Demarcus Nelson, and Marcus Williams just didn't cut it. Monta Ellis, Jamal Crawford, and Stephen Jackson are not true point guards, they look to score first.
The Golden Bruiser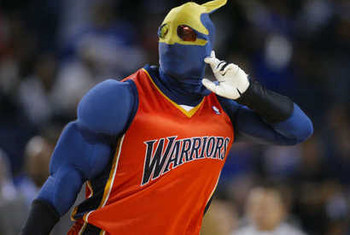 The Warriors are a team with a "run and gun" mentality, however when they aren't hitting outside shots, they need to find other ways to score. Monta Ellis creating his own shot is one option, but an easier way would be pounding the ball inside to a big player. Andris Biedriens, Brandan Wright, and Anthony Randolph are all efficient, athletic post presences, but they do not have the strength to keep up with opposing threats like Carlos Boozer, Glen Davis or Paul Milsap. Ronny Turiaf is the closest the Warriors have to a big power forward, however he is more of an energy player and not a consistent scorer. It's not cool when the strongest players on the team are your mascot, Thunder, and coach, Don Nelson. If the Warriors want to make a run in the playoffs, they will need to find a strong post presence who can save them from a bad shooting night.
A Team Full of 2's and 3's
Jamal Crawford. Stephen Jackson. Monta Ellis. Corey Maggette. Kelenna Azibuike. Marco Belinelli. Anthony Morrow. Rob Kurz, Anthony Randolph, and Brandan Wright could easily be included. The Warriors are set at the shooting guard and small forward position. Their whole team is filled with 2's and 3's, which doesn't lead to success. Golden State needs to package together some of these players and trade them away for a point guard or a center.
New Leadership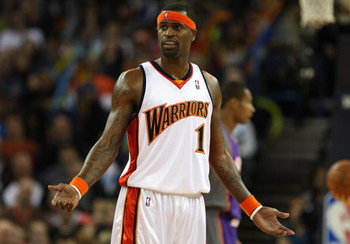 The non-renewal of former general manager, Chris Mullin's, contract may be a good thing for the Warriors. During the Mullin era (2004 to 2008), Golden State was pretty much an irrelevant team, except for the 2007 season. Don Nelson and crew hired assistant coach, Larry Riley, as the new general manager to try to transform this Warrior team into an important one again. Riley's decision making will be key on June 25th, when he picks the seventh player of the 2009 NBA Draft. Hopefully, he drafts someone that the Warriors can benefit from immediately, unlike the past couple of years.
The leadership role on the court will also need to change. Stephen Jackson does not fit the role of captain for any NBA team. On the court, he continues to pick up technical fouls and proves to be an streaky scorer and passer. Away from the game, he has been convicted of many misdemeanors and even a felony. The captain of a team should be responsible and a role model to the other players and young, aspiring fans as well.
The NBA Is Not And1 Streetball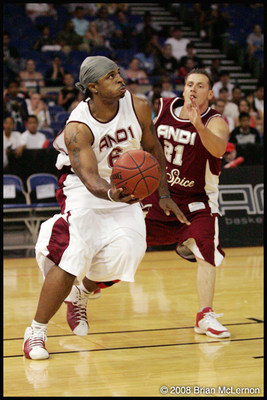 The biggest piece of advice the Warriors can benefit from is that the NBA is not a league that is an attempt to resemble And1 Streetball. In the NBA, teams need to have designed plays to score. Teams also need to set up specific defensive sets. The Warriors offense is more of a "free-for-all", not a drawn up offense. On the defensive side, for the most part, the Warriors don't give 100%. Yes, the Warriors have averaged over 100 points per game in the past few seasons, but their defense gives up 100 points per game as well. The NBA isn't And1 Streetball, players need to hustle back on defense. If the Warriors are going to run teams down, Coach Nelson needs to come up with an efficient defense strategy.
Keep Reading

Golden State Warriors: Like this team?