Marcos Maidana pushed Floyd Mayweather to the brink Saturday night. Rarely does a Mayweather fight go 12 rounds and the result isn't already a foregone conclusion. Mayweather won the bout by a majority decision (114-114, 117-111, 116-112), but a rematch between these two would again push Mayweather to the edge of his limits and draw more fans to boxing as he pursues an undefeated career.
Maidana (35-3, 31 KOs) showed an indefatigable fighting spirit against Mayweather (46-0, 26 KOs), repeatedly forcing the undefeated boxer to the ropes and whipping the crowd into a frenzy with his straightforward, brawler's style.
This was one of Mayweather's toughest fights in recent memory. For those interested in seeing Mayweather's demise, Maidana showed he has a much better chance than any other recent contender of ending Money's undefeated streak.
ESPN Stats & Info pointed out just how rare it is for any panel of judges to score a Mayweather bout so closely.
This was perhaps 1 of Floyd Mayweather's 3 toughest fights, his only fights decided by non-unanimous decision: pic.twitter.com/j2iP0FnOVR

— ESPN Stats & Info (@ESPNStatsInfo) May 4, 2014
ESPN's Jorge Eduardo Sanchez gave fans a look at the official scorecards.
Tarjeta oficial. pic.twitter.com/iq5nSVfG5g

— JESanchez (@JESanchez_ESPN) May 4, 2014
As soon as the fight was over, both combatants talked about a potential rematch, acutely aware of the pugilistic spectacle they just produced. Maidana seemed convinced that he was the better fighter, via BoxNation:
"He dominated some rounds, but I dominated most of them. I went after him, but he's a difficult fighter. I want the rematch!" @ChinoMaidana

— BoxNation (@boxnationtv) May 4, 2014
While Mayweather issued a challenge to the upstart Maidana. According to Bob Velin of USA Today, Mayweather said: "We can take it back down there right now if you want. Put the ring back up.… It's not a problem. If he feels he won, we can do it again in September."
ESPN.com's Brian Campbell broke down Maidana's straightforward fighting style and how it kept Mayweather off-kilter throughout the fight:
Maidana never buckled under the mental and physical fatigue that inevitably comes once Mayweather's patented midfight adjustment opens the door for him to land a series of flush right hands to the face. The Argentine slugger was able to do that by maintaining a hellish pace and overwhelming Mayweather with volume, which never allowed him to properly set himself or get comfortable for a prolonged time.
Indeed, Maidana's unrelenting pace allowed him to land more punches on Mayweather than perhaps any other previous challenger, a figure relayed by Sports Illustrated's Chris Mannix:
CompuBox has tracked 38 Mayweather fights. Maidana landed the most punches (221) of any against Mayweather.

— Chris Mannix (@ChrisMannixSI) May 4, 2014
Further analysis, courtesy of Showtime's statistics Twitter account, shows Maidana out-punched Mayweather by a 2:1 ratio, although Mayweather was much more accurate overall.
#ShoStats: Total Punches Landed/Thrown thru 12 Mayweather [230/426, 53%] Maidana [221/858, 25%]

— SHO Stats (@SHOStats) May 4, 2014
Mayweather acknowledged Maidana's style made things much tougher than usual. Via the Associated Press: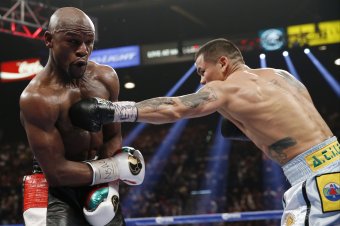 Eric Jamison/Associated Press
"It was a tough, competitive fight," Mayweather said. "I normally like to go out there and box and move. But he put pressure on me. I wanted to give the fans what they wanted to see so I stood and fought him."
That brawler mentality is the antithesis of Mayweather's precision fighting style. It presents another epic matchup of a fighter with an iron chin against one with a genius boxing IQ.
On Mayweather's road to 49-0 and tying Rocky Marciano's legendary line, he needs to be challenged lest he face criticism of coasting to the finish line. Maidana's ability to push forward and issue a staggering number of punches bodes well for his chances in a rematch.
Each fighter seemed to have a bone to pick with the other after the fight, and a rematch could settle any lingering disputes as well. Mayweather alluded to Maidana's propensity for apparent cheap shots during the match, while Maidana sniped at Mayweather for the pre-fight glove controversy. Via Golden Boy Promotion's Twitter account:
Mayweather to Maidana: "Next time don't hit so low" Maidana's response: "Next time let me use my gloves" #TheMoment

— GoldenBoyPromotions (@GoldenBoyBoxing) May 4, 2014
Who would you like to see Mayweather fight next?
If Mayweather were to fight Maidana again, the fight would be highly anticipated, and many might pick Maidana to break through Mayweather's defenses. But giving Mayweather 12 more rounds of study on Maidana would make him that much easier to pick apart next time around. There are also plenty of other worthy challengers out there for Mayweather to choose from, including Amir Khan, Miguel Cotto and Keith Thurman, among others.
No matter the decision on a rematch, the next opponent that steps through the ropes against Mayweather will do so with the knowledge that others have tried to break his unbeaten record 46 times, and all have come away with a loss and a lesson at the hands of Money Mayweather.