The NBA playoffs just refuse to take a day off. Monday's second-round action comes right on the heels of a weekend that featured an incredible five Game 7s to wrap up the first round. That doesn't even include Friday night, when the Portland Trail Blazers' Damian Lillard gave basketball fans an all-time great buzzer-beater to end their series against the Houston Rockets.
There seems to be an unlimited amount of quality basketball action available in 2014, and Monday's matchups are poised to continue that trend.
Here's the updated TV schedule for Monday's slate of action, which features both Western and Eastern Conference action to satisfy any basketball fan's needs.
NBA Playoffs, Monday TV Info

| | | | |
| --- | --- | --- | --- |
| Matchup | Game | Time (ET) | TV |
| Wizards at Pacers | 1 | 7 p.m. | TNT |
| Clippers at Thunder | 1 | 9:30 p.m. | TNT |
nba.com
The Washington Wizards, Indiana Pacers, Los Angeles Clippers and Oklahoma City Thunder gave us plenty to analyze after the first round, so let's take some time to make predictions for the opening games of Round 2.
Washington Wizards vs. Indiana Pacers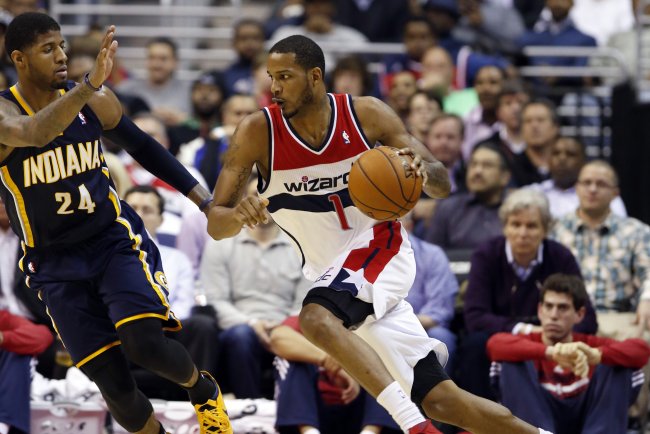 Alex Brandon/Associated Press
The Wizards waxed the Chicago Bulls in five games in the first round, while the Pacers took seven games to overtake the 38-44 Atlanta Hawks. These are two teams on decidedly different trajectories. Pacers coach Frank Vogel is certainly aware of what it will take to beat the Wizards, via the team's official Twitter account:
Vogel, on the Wizards: "It was very, very impressive what they did to Chicago. We're going to have to play a great series to beat them."

— Indiana Pacers (@Pacers) May 4, 2014
Don't look to the past for clues on how this series might turn out. The Wizards lost to the Pacers 93-66 on Jan. 10th, but that was long before the Pacers began their late-season swoon. A well-rested team should be trouble for the struggling Pacers, especially one that places a big emphasis on hustle plays:
The Washington #Wizards' 'Hustle Board' is rather impressive: http://t.co/4lOPTpo0UQ #NBA pic.twitter.com/rXimz6h4OG

— Yahoo Sports (@YahooSports) May 3, 2014
John Wall appears to be one of the team's best hustle players as well as their biggest overall star. Hustle and grit could spell trouble for Roy Hibbert, who looked positively anemic throughout most of the first round, although he did come up with 13 points, seven rebounds and five blocks in the deciding Game 7 against the Hawks.
However, Wizards forward-center Nene made a joke out of Joakim Noah, 2014's Defensive Player of the Year, throughout much of the first round. ESPN Stats & Info pointed out his impact in Game 5:
Nene has scored 10 of his game-high 18 points with Defensive Player of the Year Joakim Noah as his primary defender (5-9 shooting).

— ESPN Stats & Info (@ESPNStatsInfo) April 30, 2014
And Noah himself had high praise for Nene, via the Wizards' official Twitter account:
More Noah: "They are very well coached, their system bothered us. Nene was a beast, give him credit, Gortat is a load." #dcRising ,

— Washington Wizards (@WashWizards) April 30, 2014
Expect Nene and Marcin Gortat to give Hibbert and David West more than they can handle inside. With Wall and the sharpshooting Bradley Beal (45.5 percent from three-point range against the Bulls) taking care of business in the backcourt, the upstart Wizards won't give the Pacers time to catch their breath in Game 1.
Prediction: Wizards win
Los Angeles Clippers vs. Oklahoma City Thunder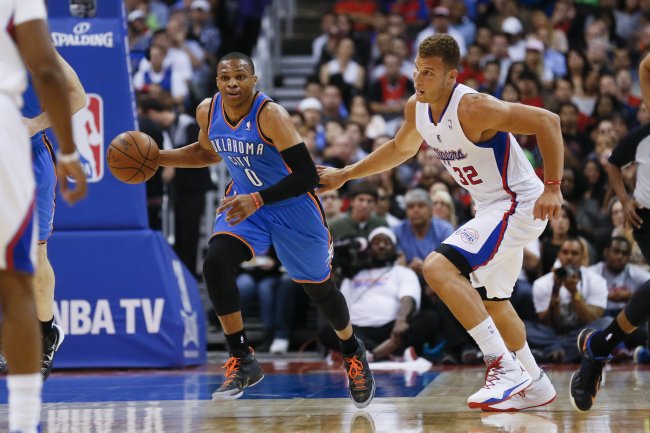 Danny Moloshok/Associated Press
Dan Woike of the Orange County Register showed the Clippers may have moved on immediately after dispatching the Warriors in Game 7:
Scouting reports have already been handed out for Oklahoma City

— Dan Woike (@DanWoikeSports) May 4, 2014
That scouting report will contain plenty of information on the Thunder's dynamic duo of Kevin Durant and Russell Westbrook, who struggled early in the series against Memphis but eventually made things click on offense. ESPN Stats & Info illuminated the uptick in their effectiveness:
Thunder were +45 w/ Durant & Westbrook on court together in Games 6-7 (+11 with duo on court together Games 1-5)

— ESPN Stats & Info (@ESPNStatsInfo) May 4, 2014
The Clippers will have to worry about the banged-up Chris Paul's ability to contain the irrepressible Westbrook. The former UCLA star was magnificent in Game 7 against the Grizzlies, posting 27 points, 16 assists and 10 rebounds en route to a 120-109 victory that wasn't nearly as close as the final score indicated.
Coach Doc Rivers suggested to Marc J. Spears of Yahoo Sports that it will take multiple players to guard Westbrook:
Doc said the Clippers will guard Russell Westbrook with multiple players and Chris Paul can't guard him for 48 minutes.

— Marc J. Spears (@SpearsNBAYahoo) May 4, 2014
The Clippers' ability to force turnovers in the backcourt was a huge key to their success against the Warriors. The Thunder averaged 15.9 turnovers per game against the Grizzlies, and they will have to do a much better job of holding onto the basketball against the Clippers.
Another key matchup will be Serge Ibaka against DeAndre Jordan. Jordan was highly effective against the porous defense of David Lee, but Ibaka is one of his few rivals in regards to size and athleticism. Ibaka averaged 2.57 blocks per game against the Grizzlies, so look for the Clippers to kick the ball back out to J.J. Redick and company on the perimeter more often.
All things considered, little rest and an in-sync Westbrook and Durant should spell doom for the Clippers in Game 1.
Prediction: Thunder win