Floyd Mayweather will have his pick of opponents after improving to 46-0 in Saturday's victory by majority decision over Marcos Maidana in an excellent welterweight title bout.
Whether Mayweather takes on whom boxing fans want to see most remains to be seen, but a few prospective foes stand out as the most compelling options for the future. Squaring off with Maidana again would likely produce another quality fight, while another potential adversary from Saturday's undercard would be an interesting direction to go as well.
Then there's the dream scenario—the matchup that every fan of the sweet science will be discussing, especially after Mayweather looked somewhat beatable versus "El Chino." It almost goes without saying.
Read on for a ranking of the best opponents Mayweather could choose for his next appearance in the ring.
3. Marcos Maidana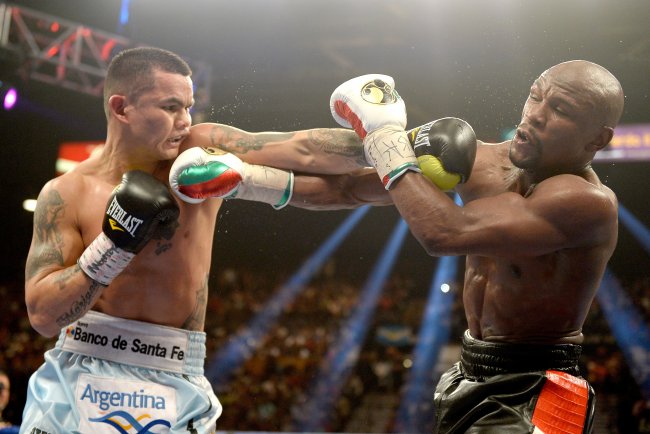 Harry How/Getty Images
The notion that styles make fights held true on Saturday, because the technically peerless Mayweather used his outstanding stamina and grit to grind out a win in 12 rounds. But Maidana's relentless style resulted in a plethora of punches being thrown and constant entertainment throughout.
Mayweather would have his work cut out for him if he were to face Maidana again, as the Argentine could tweak his tactics, perhaps become a little more conservative and focus on being more efficient. That's easier said than done, of course, but El Chino showed some promising signs to suggest he could topple Mayweather in a second meeting.
SHO Stats had the final punching percentages for Saturday's showdown:
#ShoStats: Total Punches Landed/Thrown thru 12 Mayweather [230/426, 53%] Maidana [221/858, 25%]

— SHO Stats (@SHOStats) May 4, 2014
Sports Illustrated's Chris Mannix reported that Mayweather would entertain the notion of a rematch—under the condition that referee Tony Weeks was replaced—per Dan Rafael of ESPN:
Mayweather: "The fans want to see it again, we'll do it again."

— Chris Mannix (@ChrisMannixSI) May 4, 2014
Floyd says if there's a rematch he doesn't want Tony Weeks as ref. Complaining he let Maidana get away with too much. #MayweatherMaidana

— Dan Rafael (@danrafaelespn) May 4, 2014
Maidana felt he won the bout, suggesting he would be the one giving Money another shot. ESPN's Bomani Jones was among the many who expressed confusion about this:
maidana is talking about "giving" floyd a rematch. that's not really how it works, right?

— Bomani Jones (@bomani_jones) May 4, 2014
But it takes that type of confidence and bravado to succeed in boxing, particularly against someone like Mayweather who almost always has a psychological edge on his opponents. Don't count Brian Campbell of ESPN as one of those who wants to see another Mayweather vs. Maidana moment, though:
Maidana fought great but, to be honest, I don't need a rematch.

— Brian Campbell (@BCampbellESPN) May 4, 2014
This rematch would likely create a big pay-per-view draw as always, but it would be viewed by Mayweather's critics as another safe choice. Since he's already beaten Maidana, Money should move on and take on someone fresh to continue showing off his versatility and bolstering his legacy.
Denying someone else the shot to put a dent in his perfect record may cause the perception that Mayweather is acknowledging that he has diminishing skills. That may not be the case, but perhaps his confidence is wavering after the lengthy 12-round epics he's endured in the past four fights.
2. Amir Khan
Another attack-minded boxer in Khan was denied a possible shot to clash with Mayweather on Saturday, instead having to prove himself on the undercard versus Luis Collazo.
Could not get tweet oembed code for tweet 462801198530048001
Golden Boy Promotions

Incredible display of speed & agility from @AmirKingKhan over @RealLuisCollazo in the 10th round of action #TheMoment

— GoldenBoyPromotions (@GoldenBoyBoxing) May 4, 2014 ">noted the skills on display from Khan as he cruised to a win.
Khan did what he had to in his bid to eventually face Money, beating Collazo by unanimous decision. BBC Sport reported what Khan said after his match about Mayweather and how his style would be problematic for Money to handle:
Definitely, people want to see that fight between me and Floyd. He's fighting guys who are strong, but styles make fights, and my style would cause Floyd a lot of trouble. [...] He is getting older and showing a lot of mistakes that he didn't used to do. It is a great time to catch him. Floyd looks beatable. A lot of people want the fight now because they want a young lion to come up and they want to see him get beat. I think the only person who has the chance to do that is me.
There's no shortage of confidence from Khan, whose mark improved to 27-3 with the Collazo win. The British star is just 27 years of age and would likely give the 37-year-old Mayweather all he could handle.
Mannix alluded to a key factor that wouldn't allow Khan to fight Mayweather in Money's next scheduled slot for September, but King Khan suggested the match could be moved to November instead:
Amir Khan makes it clear: He will not fight @FloydMayweather in September. Ramadan comes first. "Push it to November," Khan said.

— Chris Mannix (@ChrisMannixSI) May 4, 2014
Mayweather is unlikely to accommodate his formidable challenger's demands with the promise of another massive payday looming. That proposed timetable would give Mayweather a bit more time to recover and prepare, though, which could be attractive given how difficult of a time he had in disposing of Maidana.
In dealing with a powerful foe in Collazo and handling him well throughout, Khan proved he could take punishment and deal with a hard hitter. He also proved to still be spry and in top condition after more than a year away from competition.
Those factors have to cause Mayweather at least some hesitation, in addition to Khan's bold statements that Money is in decline.
1. Manny Pacquiao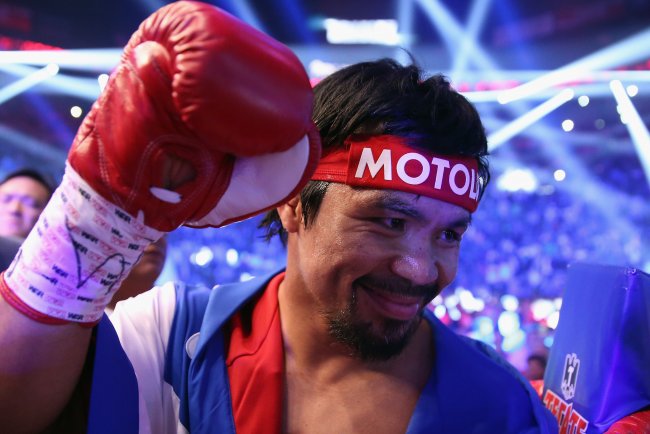 Jeff Gross/Getty Images
After extending his congratulations to Money for his victory Saturday, the only other thing all-time great and renowned wordsmith Muhammad Ali had to say following the fight was that Mayweather should take on Pacquiao:
Congratulations @FloydMayweather. Maybe after you rest up we can see you rumble with @MannyPacquiao! #AliTweet

— Muhammad Ali (@MuhammadAli) May 4, 2014
What more needs to be said? If Mayweather wants to confirm his greatness to The Greatest, he should embrace the challenge and battle Pac-Man. That would erase almost all doubt that Money is one of the best pound-for-pound fighters ever, because he will have toppled just about every formidable foe in his era.
ESPN personality Skip Bayless is a known Pacquiao supporter and continues to insist that Mayweather is ducking what would be one of the greatest fights in recent history:
Now Floyd's calling for a rematch. Maidana says Floyd didn't fight like a man and says he won. NOW FLOYD CAN DUCK PACQUIAO EVEN LONGER.

— Skip Bayless (@RealSkipBayless) May 4, 2014
Ronnie Nathanielsz of Yahoo Sports reports that he spoke with Pacquiao over the phone and told him that Money wouldn't fight him after a relatively close call against Maidana:
Pacquiao called asking whether we watched the Mayweather fight and how he performed.We said Floyd won't fight you based on his showing today

— Ronnie Nathanielsz (@ronnathanielsz) May 4, 2014
Which option is the most realistic to hope for regarding Floyd Mayweather?
That is a prime example of the mindset alluded to above, because Nathanielsz is expressing concern about the quality of fighter that Mayweather might be planning on scheduling in the future. A Mayweather vs. Pacquiao showdown would benefit all parties involved and be among the most hyped fights ever. Regardless of the result, Mayweather would be praised just for making it happen.
It's hard to question his legacy regardless of what he decides to do moving forward, but settling for any opponent of lesser quality than Maidana, Khan or Pacquiao would be a massive disappointment. All have the faculties to beat Money, and Mayweather shouldn't deny them their chances. That's especially true in the cases of Khan and Pacquiao, who have deserved shots at the undefeated welterweight for some time but have never gotten the chance.
Since battling Khan next would require a schedule change and Maidana would be a rather anticlimactic choice, this is as good of a time as ever for Mayweather to meet Pacquiao, despite the strain between their two camps. Someone should step up and make it happen, because it's too positive for the sport of boxing to stay on the back burner.