For a time, it looked as though Marcos Maidana may have been the man who would add the first, highly coveted loss to Floyd Mayweather Jr.'s pristine career record on Saturday night, but it was not to be.
SportsCenter was on hand to confirm that record being extended to 46-0:
#photooftheday: 46 have tried, 46 have failed. Money Mayweather STILL perfect after majority decision win vs Maidana. pic.twitter.com/gYHhGFMtdj

— SportsCenter (@SportsCenter) May 4, 2014
The Argentine gave "Money" arguably the most difficult task he's experienced in his 16-year career, and Las Vegas' MGM Grand was fraught with tension up until Mayweather's majority-decision win was finally announced.
With one judge scoring the bout as a 114-114 draw, it wasn't until the other two scores of 117-111 and 116-112 were disclosed that the veteran victor could relax, such was the close proximity in which the outcome was decided.
So tight was the result, in fact, that Mayweather was happy to entertain the idea of a rematch, per Chris Mannix of Sports Illustrated:
Mayweather: "If [Maidana] feels he won, September--he can get it again."

— Chris Mannix (@ChrisMannixSI) May 4, 2014
Of course, this isn't to say Maidana should have won the fixture. The South American almost doubled his rival in terms of punches thrown, for example, but still landed less than Mayweather, as Mike Chehade points out using CompuBox statistics:
#MayweatherMaidana Stats Punches Landed: Mayweather 230 - Maidana 221 Punches Thrown: Mayweather 426 - Maidana 838 Courtesy of @CompuBox

— Mike Chehadé (@ChehadeTheKing) May 4, 2014
And, as Mannix adds, this was the most punches a fighter has ever managed to land in the 38 Mayweather fights that CompuBox figures can account for, which shows just how well Maidana stood up to the world-class test:
CompuBox has tracked 38 Mayweather fights. Maidana landed the most punches (221) of any against Mayweather.

— Chris Mannix (@ChrisMannixSI) May 4, 2014
With this result, Maidana adds a disappointing fourth defeat to his own record, and while the prospect of taking Mayweather's unbeaten status away from him is lip-smacking, he may yet consider other options in the division to avoid a re-enactment of Saturday's result.
Does he have the potential to beat Mayweather? Yes, but one might argue that it's just not in the cards against a fighter whose talent continues to squeeze him out of the most awkward circumstances, bout after bout.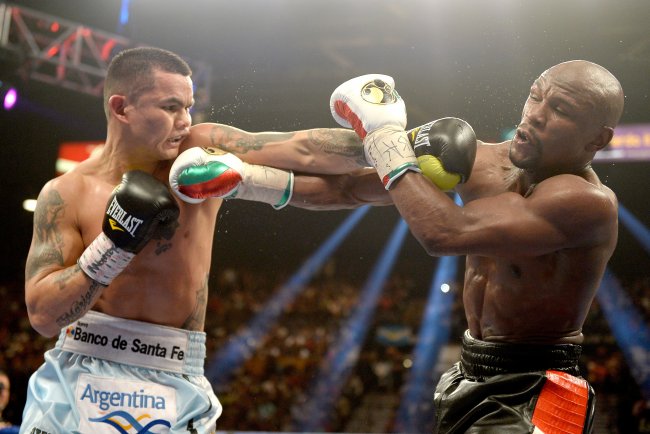 Harry How/Getty Images
In truth, a draw may have gone down as an acceptable result among some parties, but Mayweather's evasive manoeuvres were enough to justify the 46th victory of his professional tenure.
However, Maidana has now been through the most intense fire he could have faced in his division and has come out the other side with an improved image, whichever way the decision may have gone.