Well, no one will ever question Floyd Mayweather's creativity.
Never one to bore during his walks to the ring, "Money" topped himself with his entrance on Saturday night, which was preceded by clowns, jugglers and basically the entire circus minus the animals.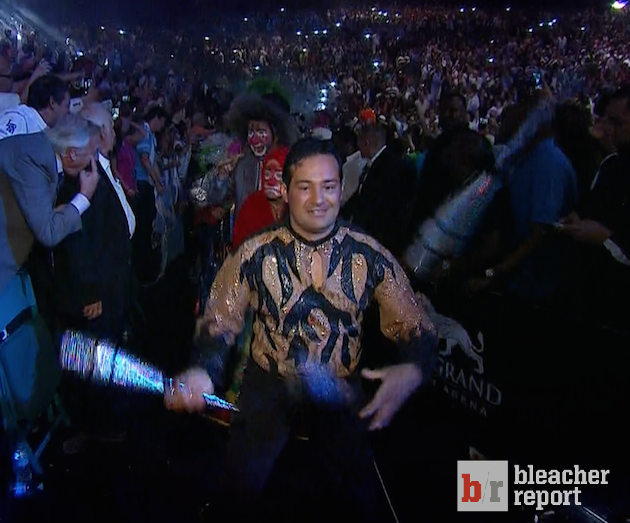 Photo courtesy of Bleacher Report
Sports Illustrated's Chris Mannix and Bryan Armen Graham set the scene:
Mayweather being led to the ring by a circus act. Literally, a circus act

— Chris Mannix (@ChrisMannixSI) May 4, 2014
It's official: Floyd Mayweather has turned boxing into a circus.

— Bryan Armen Graham (@BryanAGraham) May 4, 2014
Mayweather followed up the circus with what has been his now-typical entourage of Lil Wayne—who was rapping—and Justin Bieber—who was wearing a hat that would even make Pharrell jealous.
Bleacher Report captured a shot of the entrance:
Floyd Mayweather enters the arena with @LilTunechi rapping, @justinbieber by his side and a circus before them pic.twitter.com/BDjuYbOgD7

— Bleacher Report (@BleacherReport) May 4, 2014
To top it all off, there was money falling from the sky, as BoxingScene.com gave a look at:
It's raining money at the MGM pic.twitter.com/YygBJV0ffD

— Boxing Scene.com (@boxingscene) May 4, 2014
MMA Junkie's John Morgan provided a closer inspection of the money:
Money falling from the sky. pic.twitter.com/jJrayxXJmh

— John Morgan (@MMAjunkieJohn) May 4, 2014
Mayweather isn't the biggest draw in boxing because he's boring, and this will only add to his controversial-yet-captivating persona.