Oregon head coach Mark Helfrich said in his pre-game interview on the Pac-12 Network's broadcast that the live-game format for Saturday's spring game was what the fans wanted to see.
Ducks faithful also had to have liked much of what they saw from Team Mariasu, named for captains Marcus Mariota and Hroniss Grasu, and Team Twifo, named for Tony Washington and Ifo Ekpre-Olomu.
Mariota was outstanding—not necessarily a surprise given his first two seasons leading the Ducks offense at quarterback. But he was in midseason form and looked every bit the Heisman Trophy candidate he is expected to be in 2014.
Defensive lineman DeForest Buckner was the star of a promising first-half effort from the Oregon front line.
Oregon Ducks Spring Game Grades

| | | |
| --- | --- | --- |
| Positional Unit | First-Half Grade | Final Grade |
| Pass Offense | B | B |
| Run Offense | B | B |
| Pass Defense | B | B |
| Run Defense | A | A |
| Special Teams | D | C |
2014 Oregon Spring Game
First-half analysis for the Oregon Ducks
Pass Offense
Mariota played three drives, somewhat surprisingly as GoDucks.com editor Rob Moseley tweeted.
Mariota on the field for a second possession. I would have bet the under on that FWIW.

— Rob Moseley (@DuckFootball) May 3, 2014
Offensive coordinator Scott Frost opened the passing game more to Mariota on his second and third drives, and the Heisman Trophy candidate responded with a pair of touchdown strikes. Mariota hit a wide-open Thomas Tyner on the first, a fitting score for the sophomore running back, who was arguably the top performer of the first half.
Mariota then delivered the play of the first half on the next possession. He evaded a defender in the pocket to avoid a sack, then following the move, he launched a perfectly placed, almost 50-yard bomb to Devon Allen for the touchdown.
Though it was just three plays of an intrasquad scrimmage, Mariota's accurate long ball was a new addition to his already impressive repertoire.
Mariota's performance on those possessions was enough to buoy the overall grade for the Oregon passing game, which was inconsistent otherwise.
Jake Rodrigues, who is competing with Jeff Lockie for the second spot on the depth chart behind Mariota, passed with confidence on his first drive. He spread the ball among the wide receiving corps of Darren Carrington and Keanon Lowe early, but an end-zone heave was nearly an interception and a third-down conversion attempt was broken up.
Taylor Alie came on for Rodrigues on Team Twifo's second possession but could get nothing going. He badly underthrew running back Ayele Forde on a play that, if converted, would have gone for a huge gain. On his second possession, Alie misjudged defensive coverage and was intercepted by safety Tyree Robinson.
Lockie did not appear for Team Mariasu until the second quarter and never found a rhythm.
Run Offense
The knee injury that hindered Mariota's rushing ability late last season is clearly no longer an issue. Mariota ran as well as he ever has and made great decisions in the option game. On one run, he flipped the ball to wide receiver Dwayne Stanford just before contact to extend the play.
Last week, it seemed possible Tyner could miss the spring game. What a difference a week makes, as the sophomore was stellar, bursting through holes in the line for sizable gains. His signature moment came late in the second quarter when he ran over cornerback Dominique Harrison.
Thomas Tyner trucks a DB#GoDucks #SaluteTheDay http://t.co/wxtKu5wRV6

— Oregon Football (@WinTheDay) May 3, 2014
Kani Benoit was impressive on his first two touches, but he was stripped for a fumble on his third straight carry of a second-quarter Team Twifo drive.
Tyner and Mariota were the decided highlights of a steady, if unspectacular, overall rushing performance from both teams. Benoit's big run on his first carry, a long scramble by Rodrigues and a nice pickup from running back Kenny Bassett were the other notable plays in the game.
Pass Defense
Linebacker Rodney Hardrick made a terrific play on the ball after a swing pass to Bassett, closing in on Bassett in pursuit and making a strip that Washington recovered.
Coverage was tight for much of the half. Cornerback Dior Mathis made a few standout plays, including a third-down pass breakup.
The only major misfire came on Mariota's first touchdown pass, when Tyner leaked behind the secondary with no one back in coverage.
Run Defense
Team Mariasu's defensive front bottled up returning first-string running back Byron Marshall and the rest of the Team Twifo run game.
The ability of both defenses to largely contain the big run play had to be a welcomed sight for new defensive coordinator Don Pellum.
While preventing the big play, the defensive line made a few of its own. Buckner stripped Benoit in the backfield.
DeForest Buckner forces and recovers a fumble. Dude is gonna be a monster in the fall in his second year as a starter.

— Rob Moseley (@DuckFootball) May 3, 2014
Junior college transfer and defensive lineman Tui Talia sniffed out a trick-play handoff to Johnathan Loyd for a highlight-reel tackle for loss.
Special Teams
The punt team avoided Oregon basketball point guard-turned-wide receiver Loyd and successfully prevented any big returns.
Yep, they are already kicking away from @youngloyd24 the first time he goes back. #GoDucks

— Craig Pintens (@UOPintens) May 3, 2014
There were a number of major special teams gaffes in the first half, though, one of which was the result of Team Mariasu's coverage of Loyd. B.J. Kelley hammered Loyd before he caught a punt midway through the quarter.
Matt Wogan's first field-goal attempt for Team Twifo was well short and would have been wide had it had the distance, and safety Erick Dargan muffed a punt early in the second quarter.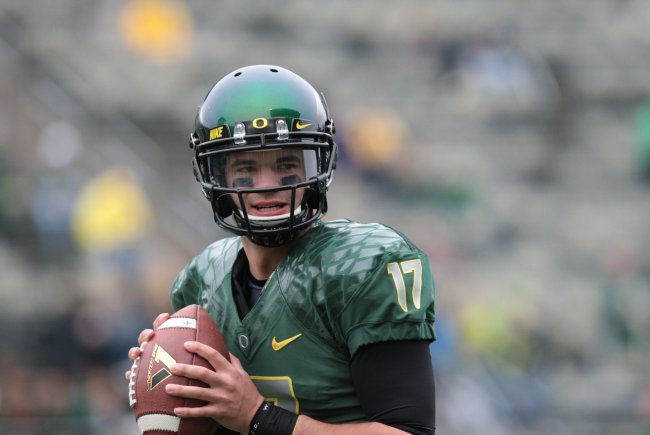 USA TODAY Sports
Final game analysis for the Oregon Ducks
Pass Offense
The reserves settled in during the second half, led by Lockie. He connected with Austin Daich on a double-reverse pass, going 41 yards officially.
Lockie drops in a nice deep ball to Daich for the TD http://t.co/bmgJ8LiLp9

— Oregon Football (@WinTheDay) May 3, 2014
Alie and Damion Hobbs also threw for scores in the second half. Alie hooked up with Carrington, who made a great catch.
Carrington's score was a bit of redemption for a dropped ball earlier in the half on a slant route. Rodrigues placed the ball perfectly and Carrington had an open lane to the end zone, but the protective wrap on his hand prevented him from making the reception.
None of the reserves fared as well as Mariota in the first half, but all were markedly improved in the passing game.
Run Offense
The run game never quite jump-started in the second half, the result of a strong effort from the offense's defensive counterparts. Rodrigues pulled in on an option fake and broke off a huge run for the half's most notable rush play. He would have scored without the protective rules in place for the quarterbacks.
Helfrich and staff gave the backup running backs more touches to get a complete look at the depth chart. Combined with more emphasis on the pass in order to give the quarterbacks repetitions, the ground attack was rather lackluster.
Pass Defense
An improved overall effort from the quarterbacks tested the Oregon pass defense more in the second half. The secondary gave up a few more big plays after intermission than it had in the first half.
Still, the coverage was mostly solid and the pressure the defensive line brought forced a few errant passes. Rodrigues and Team Twifo were denied a touchdown when Reggie Daniels made a terrific play on a fourth-down pass into the end zone.
Run Defense
Along with the inspired play of Mariota and Tyner, the efforts of the Oregon run defense were a decided highlight of the Ducks' spring game.
Hardrick was all over the field any time he was in the game to set the tone. With him leading the linebackers corps and Buckner powering the push up front, Pellum's efforts to improve the Ducks in the front seven this spring looked successful.
Special Teams
Special teams play was improved in the second half in that it was without major incident.