All it took was one shot, albeit a pretty special one, and Damian Lillard gained all sorts of new responsibilities. He entered the Portland Trail Blazers' Game 6 contest with the Houston Rockets as a point guard, but he left with an additional title:
Someone took to Wikipedia and changed the Rockets' owner to Damian Lillard. pic.twitter.com/FThoWpwdLU

— Daniel Buerge (@danielbuergeLA) May 3, 2014
On top of that, his Wikipedia profile was doctored to include an appropriate new description: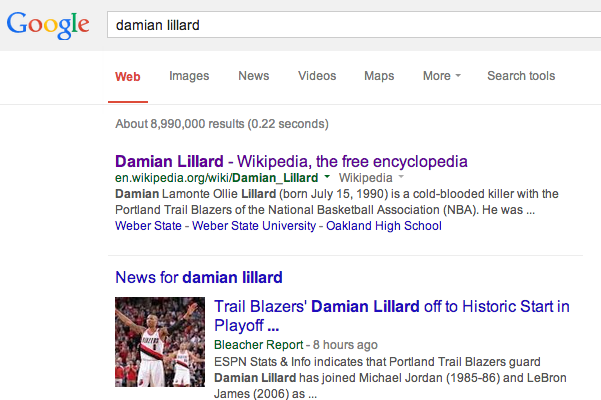 Via B/R
Lillard is most certainly a "cold-blooded killer" after his latest success in crunch time, and it remains to be seen just how many new positions he'll rack up during the 2014 postseason. By the time it's all said and done, he could be the first man in NBA history to own at least two different teams—the Rockets and whoever else he dominates in Round 2 and beyond.
RT @dskibin22:#DameOfThrones pic.twitter.com/qFii7qzZQo

— J.A. Adande (@jadande) May 3, 2014
It'll be a while before the internet stops having fun, thanks to Lillard's heroics.