All that's left for Floyd Mayweather Jr. (45-0, 26 KOs) and Marcos Maidana (35-3, 31 KOs) to do is touch gloves after the pound-for-pound king and his challenger weighed in successfully during Friday's pre-fight spectacle.
The two welterweight stars, who are set to go toe-to-toe in Saturday night's title fight, both appeared intense inside a packed MGM Grand Garden Arena in Las Vegas. Mayweather, who made his entrance alongside hip-hop stars 2 Chainz and Rick Ross, per Showtime Sports, was pounding his chest on his way to the scale.
. @FloydMayweather walking out now with @2chainz & @rickyrozay. For the weigh-in! #TheMoment pic.twitter.com/nPAcM83AVi

— SHOWTIME SPORTS (@SHOsports) May 2, 2014
Both fighters were met with cheers from the crowd, but Mayweather and his star-studded posse generated the most buzz.
Mayweather easily made weight, coming in at 146 pounds, while Maidana weighed in just slightly heavier at 146.5 pounds, per Golden Boy Promotions:
We've got a tremendous fight coming tomorrow night! #TheMoment @FloydMayweather vs @ChinoMaidana pic.twitter.com/zxRpHbeC2q

— GoldenBoyPromotions (@GoldenBoyBoxing) May 2, 2014
The two fighters stared each other down afterward. But, surprisingly, Mayweather turned down the opportunity to talk trash, instead smiling at Maidana.
But as Lace Up Boxing points out, Mayweather has countless reasons to be happy:
CRAZY FACT: @FloydMayweather will earn a minimum of $888,888 per in minute round (If it goes 12 rounds) #TheMoment #Boxing

— LaceupBoxing (@LaceUpBoxing) May 2, 2014
Following the weigh-in, Mayweather admitted that he must take Maidana seriously in order to survive. The 37-year-old pointed to the Argentine's impressive knockout ratio and stressed the need to remain patient on Saturday, per Showtime Sports:
. @FloydMayweather - "I perform better under the pressure. I love it. I'm ready to go out & do what I do best." #TheMoment

— SHOWTIME SPORTS (@SHOsports) May 2, 2014
Prior to the main event weigh-in, the six other fighters set to showcase their talents on Saturday's undercard took to the stage.
Amir "King" Khan and Luis Collazo each met the welterweight limit at 147 pounds.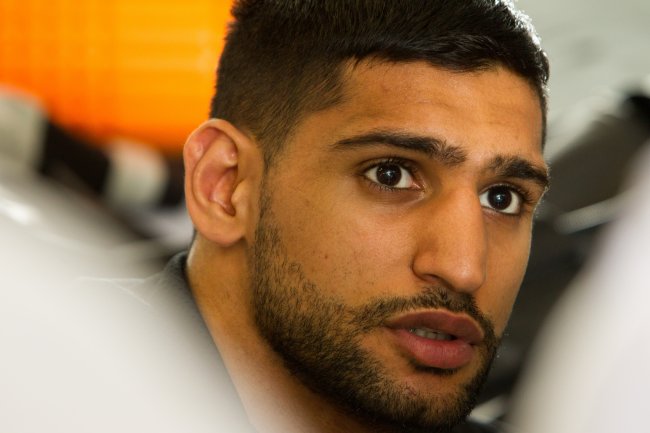 Alexis Cuarezma/Getty Images
But the results were hardly surprising as both fighters were expected to make weight relatively easily.
With both fighters appearing to be in tremendous shape and utilizing different styles, this fight promises to feature plenty of fireworks. After hitting the scale, Khan acknowledged that his bout with Collazo could potentially win the weekend, per Lukie Boxing:
"I believe this fight could steal the show" @AmirKingKhan

— LukieBoxing (@LukieBoxing) May 2, 2014
Maidana's most recent victim, Adrien Broner weighed in just a little bit heavier than Carlos Molina, coming in at 140 pounds, while Molina tipped the scales at 138.5 pounds.
Broner is a huge favorite heading into Saturday's fight and the weigh-in doesn't change that. All indications are that "The Problem" will bounce back in Vegas this weekend.
Meanwhile, J'Leon Love and Marco Antonio Periban each weighed in at exactly 168 pounds for their super middleweight undercard bout.
Love will look to remain undefeated this weekend, but will have to overcome Periban's significant reach advantage in order to do so.
Although the pre-fight weigh-in can be telling, there wasn't a whole lot to takeaway from Friday's event. Mayweather's confidence is unquestionable and Maidana didn't appear overwhelmed by the massive stage.
Nonetheless, Mayweather will be a huge favorite to win on Saturday. While Maidana has the power to hurt the undefeated legend, landing significant blows will be a tall task against a defensive stalwart of Mayweather's caliber.
Maidana will be ultra confident coming off an impressive win over Broner, but Mayweather has the unrivaled advantage of never having lost a fight.
With a deep card in store this weekend, boxing fans will have plenty to look forward to ahead of the main event.
*All weight statistics and information according to Showtime broadcast.
Follow Bleacher Report Featured Columnist Patrick Clarke on Twitter.