College Football's Five Most Likely Upsets in 2009, Pt. 1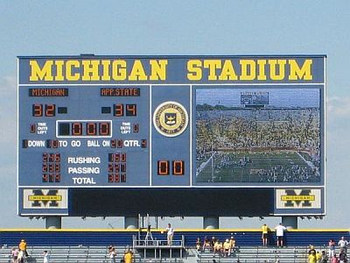 As college football fans, we love to circle the marquee games for the upcoming season. It helps build up the anticipation to discuss the games that will define the season for our favorite teams.
But what we hope to avoid—at least for fans of powerhouse schools—are the unforeseen upsets. In recent years, upsets have become somewhat of an epidemic, from FCS power Appalachian State knocking off Michigan in the Big House to Louisiana-Monroe of the Sun Belt Conference defeating Nick Saban and Alabama in Tuscaloosa.
These games are the unpredictable ones—the ones that most of us already mark as a "W." But as many people will point out, parity has changed everything on the college football landscape.
This is Part One of a three-part series that I am compiling on the Top Five most likely upsets for the 2009 college football season. In this article/slideshow, I am listing five games involving Football Championship Subdivision [FCS] teams and non-BCS Football Bowl Subdivision [FBS] teams.
While it is most obvious that a FCS team could defeat a weak FBS team, in two of the five presented games the FBS team is a team that went to a bowl game during the 2008 season.
Keep in mind that these are simply games that have the best potential for an upset. I am not stating these will definitely occur.
So enjoy! Feel free to leave comments or suggestions of other potential upsets.
Honorable Mentions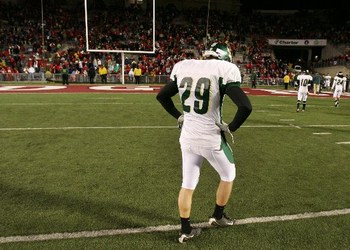 CAL POLY MUSTANGS at OHIO BOBCATS (Sept. 19)
CAL POLY at SAN JOSE STATE SPARTANS (Sept. 26)
This is still possible, but one of the reasons the Mustangs nearly upset Wisconsin in November at Camp Randall Stadium was the QB play of Jonathan Dally. He ran for a team-leading 821 rushing yards and passed for 1,960 yards, with 23 TDs and only five picks. But he's gone now, and the team will rely on other weapons.
Consensus first-team All-American WR Ramses Barden, who was second in yards per game and tied for second with receiving TDs, was drafted in the third round by the Giants in April. Another All-American, offensive lineman Stephen Field, is also gone.
These losses seem to make it difficult for Cal Poly to pull off an upset, even against these weaker FBS teams.
SOUTHERN ILLINOIS SALUKIS at MARSHALL THUNDERING HERD (Sept. 5)
Like Cal Poly, the Salukis lose too many key players. Gone is leading rusher and All-American Larry Warner, who ran for 1,265 yards and 10 TDs a season ago. They also lost All-American lineman Aaron Lockwood, their top receiver Damian Sherman, and James Cloud, the team's leader in sacks.
While they do return QB Chris Dierker and LB Chauncey Mixon, it still seems like a tough game, even against a down Marshall team.
PRAIRIE VIEW A&M PANTHERS at NEW MEXICO STATE AGGIES (Sept. 12)
The team that holds the record for most consecutive losses actually had an excellent defense last season, ranking third in total defense on the way to a 9-1 season.
They were also strong defensively in 2007, finishing 14th, and in 2006, finishing ninth in the FCS.
They do return many of the starters on defense, but the offense is lackluster. They also return QB Mark Spivey and RB Donald Babers, but do not seem to pack enough punch to beat even a mediocre WAC team.
The Aggies are vulnerable after losing once-promising QB Chase Holbrook and offensive minded head coach Hal Mumme. But they have a defensive-minded head coach in former UCLA coordinator DeWayne Walker. They do also return two of their top three receivers, including 1,200-plus yard WR Chris Williams.
I just don't think a SWAC team can pull it off.
5. Central Arkansas Bears at Western Kentucky Hilltoppers
SEPT. 19 [Week Three]
WHY IT COULD HAPPEN
The Bears are the defending Southland Conference champions, going 10-2 overall last season (6-1 in conference). Their two losses were to an explosive Tulsa team and a bad Nicholls State squad.
Central Arkansas sports an explosive offense, which finished last season fifth in all of FCS in points per game and 11th in yards per game. They will enter this game off a bye week after opening at Hawaii (Sept. 5).
Western Kentucky enters the 2009 season as a full-fledged football member of the Sun Belt conference. They struggled last season, with their only two wins coming against FCS schools.
Granted, they played some big boys (Alabama, Virginia Tech, Kentucky), but they also played some Sun Belt schools and struggled mightily.
Given that the Hilltoppers are only a couple of years removed from the FCS, the gap between WKU and Central Arkansas is not overwhelming.
The Bears have a few key starters returning on defense, namely All-American DE Larry Hart (12 sacks, 43 total tackles) and junior LB Tok Opeloye (team-leading 55 total tackles). They also return starting RB Brent Grimes (pictured), and leading kick returner T.J. Adams should move into a starting role this season.
WHY IT MIGHT NOT HAPPEN
Despite the return of Hart and Opeloye, the defense was among the bottom third in yards allowed per game, and middle of the pack in points allowed. They also have to replace QB Nathan Brown, who had back-to-back 3,000-plus yard seasons (and is currently trying to make the Jacksonville Jaguars' roster).

The Bears also lost their top two receivers from last season.
While they have experience at WR with Willie Landers (44 catches for 735 yards, seven TDs), projected starting QB Robbie Park has limited experience.
For the Hilltoppers, this will be their third game, after opening at Tennessee and hosting South Florida.
The fact that WKU is hosting a Big East school is a shocker, and they could be emotionally charged for that game, leaving them vulnerable for an upset.
However, the Hilltoppers return the key skill players on offense, so they do have experience. That stated, they were also one of the worst offensive teams last season, so that "experience" might not be much.
Finally, Central Arkansas does play in what could be called a mid-tier conference in the FCS. Despite the Sun Belt being perhaps the lowest conference in the FBS, it is still likely better than the Southland Conference.
4. New Hampshire Wildcats at Ball State Cardinals
SEPT. 12 [Week Two]
WHY IT COULD HAPPEN
New Hampshire is one of the top teams in the FCS. Under head coach Sean McConnell, the Wildcats have gone to the FCS playoffs each of the last five seasons and to at least the second round in each of the past four seasons.
New Hampshire was also where current Oregon Ducks head coach Chip Kelly developed his reputation as one of the top offensive coordinators in the country. New Hampshire was also the school of FCS touchdown record holder David Ball.
But besides all of that, the Wildcats have made defeating an FBS school an annual rite. Over the past three seasons, they have defeated Northwestern, Marshall, and Army.
Yes, certainly these teams are not juggernauts, but it still is not supposed to happen, right?
This season, the boys from Durham have lined up Ball State out of the MAC. The Cardinals are coming off of a 12-2 season but badly lost their last two contests (MAC Championship game against Buffalo and the GMAC Bowl against Tulsa).
While BSU was impressive last year, they lost a lot in the offseason, including talented QB Nate Davis and two of their top three wide receivers. Oh yeah, they also lost their head coach Brady Hoke, who bolted for San Diego State.
New Hampshire, on the other hand, returns all of its top players, including junior QB R.J. Toman, who threw for over 3,100 yards in his first season as a starter. They also return two 600-plus yard rushers in Robert Simpson and Chad Kackert, as well as 1,100-yard receiver Mike Boyle.
Scott Sicko, starting tight end, also returns after catching 50 passes for 660 yards and seven touchdowns. Sicko not only has an awesome name, but he was also a first-team All-American.
The defense also returns many of its key starters. However, the team's strength is their spread offensive attack.
WHY IT MIGHT NOT HAPPEN
One name: MiQuale Lewis. All he did last season was rush for 1,736 yards (third most in the FBS) and tie for first in rushing scores with 22. This on a team that also averaged 266 yards passing.
The problem will be that the Cardinals will likely lean on Lewis even more this season. New Hampshire's defense was nothing special last year, so if Ball State is going to avoid the upset, they will have to rely on Lewis and keep the explosive Wildcat offense off of the field.
3. Weber State Wildcats at Wyoming Cowboys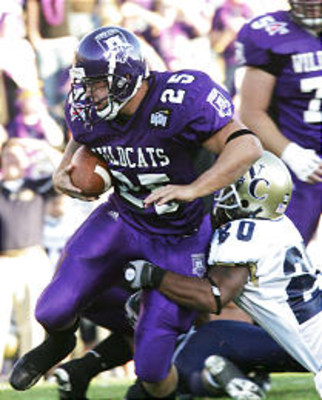 SEPT. 5 [Week One]
Actually, Weber State has a chance to pull off two upsets, as they play Colorado State the following week. North Dakota State accomplished this feat two seasons ago, beating both Minnesota and Central Michigan (a team that went to a bowl game).
However, this game seems to have the best potential for an upset. Plus, CSU is likely too strong to allow it to take place.
WHY IT COULD HAPPEN
Weber State comes in with an explosive offense, which seems to be the great equalizer for teams playing up a (sub)division. The Wildcats were eighth in average yards per game and fifth in passing yards per game. While they were 74th in rushing yards per game, they also scored 27 TDs on the ground, good for 20th in the FCS.
They return all the key components on the offense, including RB Trevyn Smith (1,585 yards on 295 carries, 21 TDs). Starting QB Cameron Higgins threw for over 4,400 yards last season, and he returns four of his top five receiving targets. Tim Toone (who had 1,525 receiving yards), Cody Nakamura, and Mike Phillips all had over 600 yards receiving.
The other returning receiver is the running back Smith (778 receiving yards).
Smith, Toone, Nakamura, and Higgins were all either second- or third-team Sports Network All-Americans.
The Wildcats also return top sack man DE Kevin Linehan, who was also the team's leading tackler.
Wyoming, on the other hand, had one of the worst offenses of 2008. The Cowboys were tied for last in points per game and have regressed in yards per game in each of the past four seasons.
Last year, they narrowly avoided losing to the aforementioned Bison of North Dakota State.
Wyoming will also be breaking in a new coach, as former Missouri offensive coordinator Dave Christensen takes over for Joe Glenn.
WHY IT MIGHT NOT HAPPEN
Wyoming's defense. While their offense struggled, Joe Glenn's emphasis was defense. The Cowboys' defense dramatically improved under Glenn, with the best season coming in 2006 (ranked eighth in yards allowed). Redshirt sophomore LB Gabe Knapton anchors a defense that returns seven starters or key contributors.
Marty English, who had been the linebackers coach in Laramie, takes over the defensive coordinator position and will maintain the 3-4 system that saw the Cowboys become one of the top defenses in the Mountain West Conference. There is not much turnover on the defensive side of the ball.
It is not likely that Christensen will have all the pieces in place to duplicate what he had at Missouri, so Wyoming must rely on the defense in order to avoid the upset.
2. Villanova Wildcats at Temple Owls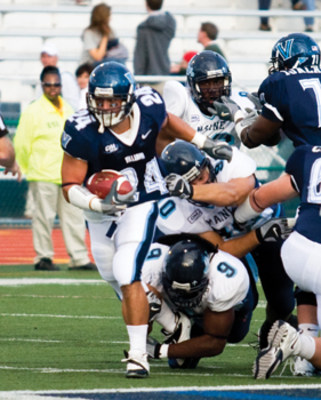 SEPT. 3 [Week One]
WHY IT COULD HAPPEN
Okay, there is an obvious trend (and no, I do not mean teams nicknamed "Wildcats").
Villanova runs a spread option offense that is similar to West Virginia. 'Nova had one of the top offenses in the FCS, with the rushing attack ranking 13th in yards per game. The Wildcats also had one of the top run defenses in the FCS (99.8 yards per game, good for 15th).
Villanova returns two quarterbacks with experience. Chris Whitney took over for Antwon Young in the fourth game last season (Young threw four picks in that game against Penn). Both played in 2007, with Young beginning that season as the starter before a season-ending knee injury gave Whitney a chance.
The Wildcats also return four 300-plus-yard rushers. Running backs Aaron Ball (1,081 yards and 13 TDs) and Angelo Babbaro (340 yards on 60 carries) are joined by Whitney (467 yards) and wide receiver Matt Szczur (449 yards on 78 carries).
While they are not a pass-heavy team, Villanova returns two of its top three receivers—Brandyn Harvey (43 receptions for 552 yards) and the aforementioned Szczur (32 catches for 511 yards and four TDs).
On defense, 'Nova lost leading tackler Darrel Young (who recently signed a free agent contract with the Redskins) and second-team All-American Greg Miller. But they also return LB Terence Thomas, defensive back John Dempsey and leading sack man Tim Kukucka.
Villanova head coach Andy Talley has been with the Wildcats for the last 23 seasons. He is 158-97-1 and brings stability to 'Nova.
Temple was one of the worst offenses last season, with a mediocre defense. They lost their starting quarterback, who was not impressive, as well as top receiver Bruce Francis, who was tied for eighth in the FBS in receiving scores.
WHY IT MIGHT NOT HAPPEN
Like Wyoming, it will depend on the defense. While mediocre, the Owls' defense returns several starters, including Alex Joseph and Amara Kamara, the team's top two tacklers from last season. Junior Gallette, the team's leading sacker, also returns.
Under Al Golden, former defensive coordinator at Virginia, the team has improved. Of course, considering the Owls were 1-11 in Golden's first season, there was no other place to go but up.
The team also started many freshmen last year, including leading rusher true freshman Kee-ayre Griffin and second leading rusher Joe Jones. While the two combined for "only" 669 yards and four touchdowns, they both at least have some experience.
The Owls' defense needs to step up, and those freshmen on both sides of the ball need to take advantage of that trial-by-fire season in order to avoid losing to the crosstown Wildcats.
1. Appalachian State Mountaineers at East Carolina Pirates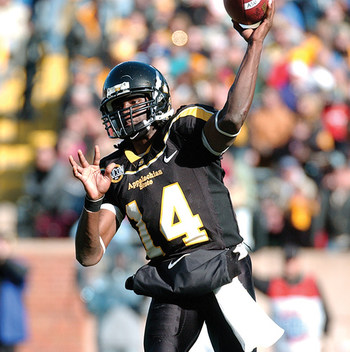 SEPT. 5 [Week One]
WHY IT COULD HAPPEN
The team that brought these types of (potential) upsets to the national spotlight, Appalachian State has shown no fear of playing against the big boys.
After shocking the world with their victory of Michigan, they played against LSU in the first matchup between the FCS champion and the BCS champion.
Appalachian State would lose that game and would go on to lose one more time in the regular season (James Madison) before losing in the second round of the playoffs to eventual 2008 champion Richmond.
Like the other four FCS teams, Appalachian State has an explosive offense that is well-balanced. The Mountaineers ranked fourth in total yards, ninth in rushing yards per game, and 39th in passing yards per game. They were also seventh in points per game.
All-American QB Armanti Edwards (pictured) returns as both the team's leading passer (2902 yards, 30 TDs) and leading rusher (941 yards, with 11 touchdowns). Yes, Edwards is still in Boone and has started at QB since he was a freshman (he was a sophomore when he led Appalachian State over Michigan).
They also return all five top rushers, including Edwards and backup QB DeAndre Presley (415 rushing yards), as well as running backs Robert Welton (544 yards and 11 TDs), Devin Radford (520 yards), and Josh Jackson (317 yards).
Add to that their three top receivers—wide receivers CoCo Hillary (735 yards) and Brian Quick (496 yards and a team-leading seven touchdowns), and TE Ben Jorden (506 yards)—and the Mountaineers have a ton of experience on offense.
What about the defense?
Among the top quarter in terms of team defense, Appalachian State returns many of its top players, including All-American DB Mark LeGree, who led the FCS with 10 interceptions. Junior linebacker D.J. Smith also returns as the team's leading tackler with 123 total tackles (third in the FCS).
Defensive linemen Lanston Tanyi and Jabari Fletcher were tied for the team lead in sacks with six. Add DL Anthony Williams and DB Ed Gainey, and again, you have a very solid defense that should help guide the Mountaineers back to the championship game.
Much like Coach Talley at Villanova, Appalachian State head coach Jerry Moore has been at the helm since 1989. The three-time champion gives stability to the program that has proven valuable for the Mountaineers.
WHY IT MIGHT NOT HAPPEN
Well, East Carolina has a good coach also in Skip Holtz. While he has not been around as long as Moore, he is an up-and-coming coach that has drawn the attention of the big teams.
Under Holtz, the Pirates have improved in each of the last four seasons, including going to a bowl game over the last three years.
The Pirate offense was good at best, at least finishing in the top third in the FBS. The defense was also in the top quarter, finishing tied for fourth in total interceptions (23 picks). They return QB Patrick Pinkney, RB Norman Whitney, and two of their top three wideouts—Dwayne Harris and sophomore Darryl Freeney.
On defense, freshman All-American DB Emanuel Davis was tied for the team lead in picks with four, one of which was returned for a touchdown. Defensive lineman C.J. Wilson returns as the team's leading sacker with 11 (tied for ninth in the FBS). Wilson was also the team's leader in tackles, followed by LB Jeremy Chambliss.
If anything, the defending Conference USA champs have the weapons to avoid an opening week upset.
Keep Reading