A jarring 36 years have passed since the last Triple Crown winner, but the 2014 Kentucky Derby has aspirations of ending the drought thanks to several strong contenders in the field.
Contenders such as California Chrome not only have the skill to win the first leg of the crown, but more than enough momentum to make history. There is not a horse that has come close since Big Brown in 2008, but it's about time history is made once again.
When push comes to shove, there are several top contenders fit to wear the crown. Their journey begins Saturday.
Danza and Joe Bravo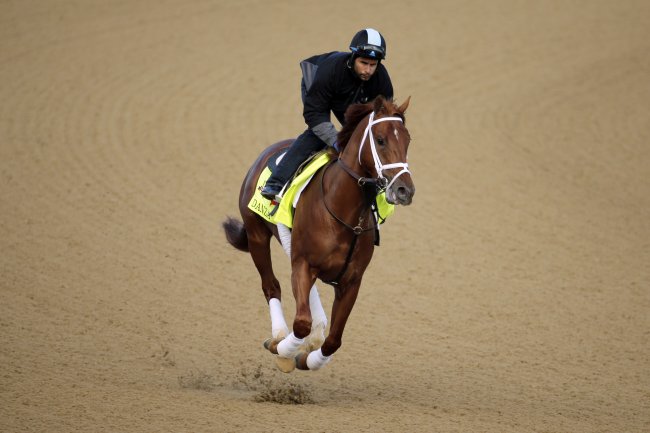 Charlie Riedel/Associated Press
There's a lot to be said for recent momentum when it comes to the Derby, and Danza has plenty of that to pair with other strong factors.
Danza broke onto the scene with a third-place finish at Gulfstream Park in March and followed it up with a major upset victory at the Arkansas Derby.
Now add in post position No. 4, which last produced a winner in Super Saver back in 2010—a horse that was also trained by Todd Pletcher, as Yahoo! Sports' Pat Forde points out:
Arkansas Derby winner Danza draws No. 4. Trainer Todd Pletcher won from that post in 2010 w Super Saver.

— Pat Forde (@YahooForde) April 30, 2014
The draw suits Danza's skill set perfectly, as At the Races' Steve Byk notes:
Danza biggest beneficiary of draw by wide margin; Wicked Strong not fatally injured by 20 given style and positive that he loads last..

— Steve Byk (@Steve_Byk) April 30, 2014
Danza has the burst to distance himself from the pack early, and Joe Bravo has the experience to keep him hungry for the duration of the race. Getting over the hump with a win at the Derby is the first step and a continuation of momentum that may allow the duo to go down in the record books.
Wicked Strong and Rajiv Maragh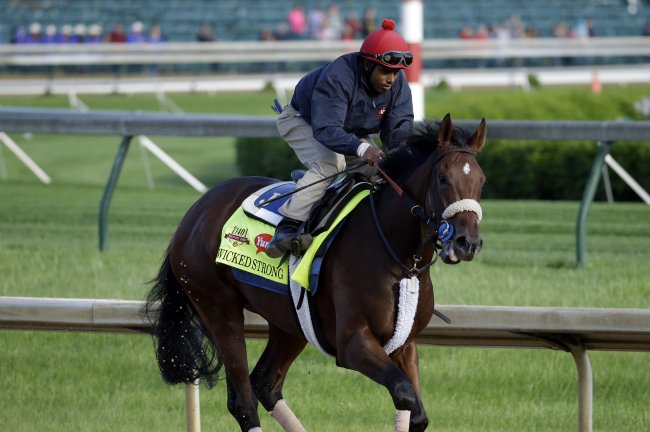 Morry Gash/Associated Press
Byk mentions Wicked Strong and the No. 20 post for good reason.
Normally it would be smart to write off the horse in that post, but remember Big Brown above? He sat in No. 20 and is the closest we've come to a Triple Crown winner in quite some time. Wicked Strong is now in post No. 19 thanks to scratches, but he'll be No. 20 in spirit with only 19 horses set to participate Saturday.
Wicked Strong has the breakaway speed to best utilize the outside edge, which was on full display in his recent win at the Wood Memorial. Jockey Rajiv Maragh got the most out of him at that event, and the uncanny closing speed will play a critical role in the duo's chances at taking home the top prize Saturday.
Should that domino fall, the two will surely stick together for the other legs and be favorites in those events.
California Chrome and Victor Espinoza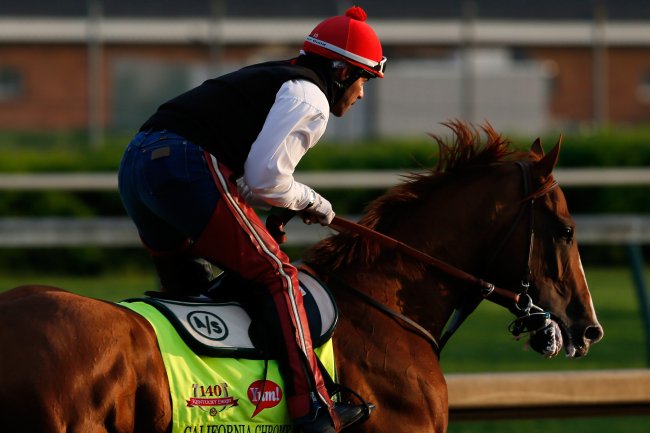 Kevin C. Cox/Getty Images
Far and away the overwhelming favorite to take home the Triple Crown, it's easy to see why when one examines the factors around California Chrome.
There's Art Sherman, the trainer making his return to Churchill Downs after 59 years away. In that span he's trained more than 2,000 winners and has experience at the Derby that dates back to the 1950s.
There's jockey Victor Espinoza, who has been atop California Chrome for his last three wins. It is now four consecutive wins for the horse (King Glorious Stakes, California Cup Derby, San Felipe Stakes and Santa Anita Derby), who has had strong practices that have only continued his momentum and impressed both Sherman and Espinoza, per USA Today's Jennie Rees:
'Very good. Exactly what I needed for the horse,' trainer Art Sherman said. 'He doesn't need much now. He's ready. I just wanted to put some air into him. He's happy and fresh. That's the way I want to keep him for this race.

'Victor told me he couldn't believe how easy the horse went. He just said he felt so good. Victor wrapped up on him and didn't let him do too much. He knows this horse so well.'
To top it all off, the No. 5 post has produced eight winners, with the most recent coming via Funny Cide in 2003. It's a post that fits California Chrome's skill set well thanks to his elite burst out of the gate.
Bleacher Report's Adam Lefkoe is one who has thrown his support behind the two in regards to the Triple Crown:
Mark it down, we will have our first Triple Crown winner since 1978. California Chrome is unreal. (Betting tips compliments of @MaggieRuper)

— Adam Lefkoe (@AdamLefkoe) April 23, 2014
For good reason. There's too much to like about California Chrome and Espinoza going into Saturday to truly peg any other tandem as the favorite.
It has been quite a long time since we've witnessed the greatness of a Triple Crown, but the first step toward history may be taken by California Chrome on Saturday.