In the famous words of former Atlanta Hawks big man Zaza Pachulia, "We're going to Game 7 baby!"
Thursday night featured three NBA playoff series that were pushed to a seventh game.
The Indiana Pacers staved off a historic collapse for a few more days with a 95-88 win over the Atlanta Hawks. The Oklahoma City Thunder looked like their old selves in a 104-84 win over the Memphis Grizzles. In the last game of the night, the Golden State Warriors held off the Los Angeles Clippers just long enough for a 100-99 victory.
If you're an NBA fan, go ahead and make sure you've got your Saturday evening and night all freed up so you can sit in front of your television for about seven hours and fit those three games in.
Looking back on the Game 6s, here are a few of the major impressions to be gleaned from the results.
Indiana Pacers vs. Atlanta Hawks
Although Roy Hibbert's Game 6 performance wasn't drastically different from the rest of the series, these numbers and factoids are absolutely amazing and/or depressing depending on your perspective:
Roy Hibbert played a combined 24 minutes total in last 2 games. He has 0 points (0-3 FG) and 8 fouls. Hibbert was an All-Star this season.

— SportsCenter (@SportsCenter) May 2, 2014
Only other player other than Roy Hibbert w/ consecutive scoreless playoff games after making All-Star team? Jim King in 1968. @EliasSports

— ESPN Stats & Info (@ESPNStatsInfo) May 2, 2014
Roy Hibbert played just 12 minutes and still managed to be the worst plus/minus at -12.

— Hardwood Paroxysm (@HPbasketball) May 2, 2014
A few months ago, you wouldn't have envisioned how much better the Pacers would be without their big man on the floor. However, there's no denying that Indiana can't afford to have Hibbert on the court if he's going to be this bad.
Even Paul George admitted that the team should "play a little smaller," per Bob Kravitz of the Indianapolis Star:
Paul George: "it's time to switch things up and play a little smaller"

— Bob Kravitz (@bkravitz) May 1, 2014
Maybe now head coach Frank Vogel will have the courage and confidence to bench Hibbert and go with a lineup that puts the Pacers in a position to win.
The fact that he even has that luxury is thanks to a furious fourth-quarter comeback from Indiana. The Pacers may have saved their season with that final run:
Down 5 w/3:16 left Pacers went on 14-1 run to prolong season...David West was great, Hawks execution not so much. Game 7 Saturday...

— Matt Winer (@matt_winer) May 2, 2014
Atlanta lost its best chance to knock Indiana out. Now it must go into Bankers Life Fieldhouse and win its first-ever Game 7 on the road, per ESPN Stats and Info:
The Hawks are 0-8 all-time on the road in Game 7s... Hawks at Pacers Game 7 will take place Saturday.

— ESPN Stats & Info (@ESPNStatsInfo) May 2, 2014
Slowly but surely, the Pacers are returning to something resembling the team that was the best in the Eastern Conference in the regular season.
Oklahoma City Thunder vs. Memphis Grizzlies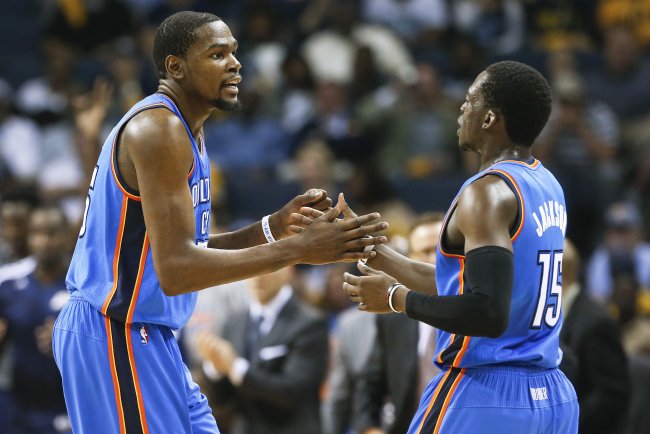 Mark Humphrey/Associated Press
Before Game 6, the Thunder were playing OK, but they looked nothing like the team that posted the second-best Western Conference during the regular season.
Thursday night was a return to the OKC of old. Kevin Durant scored 36 points. Russell Westbrook was "Good Russ," taking smarter shots and playing with a more controlled frenzy. Reggie Jackson also scored 16 points, his second-highest total of the series.
The Daily Thunder's Royce Young commented that the Thunder had their swagger back:
That first half looked like regular season Thunder. Fast, loose and confident. Now, can they stay in that rhythm after halftime?

— Royce Young (@royceyoung) May 2, 2014
That's bad news for the Grizzlies. Memphis had to figure that sooner or later Oklahoma City would awaken from its slumber. With the series going back to Chesapeake Energy Arena for Game 7, you like the Thunder closing the series out.
Memphis' job may be much more difficult if Mike Conley remains hobbled by his hamstring injury. Ronald Tillery of The Commercial Appeal reported that the Grizzlies point guard was visibly affected by that hamstring after the game, but he remains confident that he'll be on the court Saturday:
Mike Conley (hamstring) dragging that right leg in the locker room

— Ronald Tillery (@CAGrizBeat) May 2, 2014
Mike Conley (hamstring) on Game 7: "I plan on playing."

— Ronald Tillery (@CAGrizBeat) May 2, 2014
Even if Conley is in the lineup, you have to wonder if he'll be 100 percent. He only scored five points in Game 6 and missed eight of his 10 field-goal attempts.
Considering how vital Conley is for Memphis' offense, his health will be an important storyline heading into Game 7.
Los Angeles Clippers vs. Golden State Warriors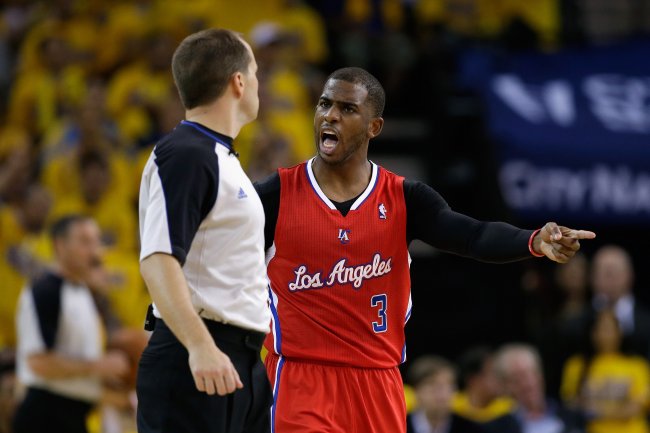 Ezra Shaw/Getty Images
This series more than any other defies any sort of analysis and explanation. That's what you can really take away from Game 6.
What else would account for Marreese Speights going for 12 points and Draymond Green scoring 14 points and grabbing 14 boards? Stephen Curry also missed 15 shots but still managed to score 24 points.
Seriously, can the Warriors get this lucky again?
There's also the little matter of Chris Paul shooting 3-of-10 and only scoring nine points. For the series, he's 33-of-82 (40.2 percent) from the field and averaging 16.7 points. Those are down from his regular-season averages of 46.7 percent and 19.1 points.
Bill Simmons tweeted out his surprise at how Paul has yet to take over this series:
For what it's worth - Chris Paul hasn't been the Best Guy On The Floor in any of these first 6 GSW-LAC games. Did not expect that.

— Bill Simmons (@BillSimmons) May 2, 2014
You'd expect the All-Star point guard to play up to his talent level at some point in this series. He's too good to have left such a little footprint on this series.
The Clippers will also be playing at home, where they lost just seven times during the regular season. All of this Donald Sterling mess has also provided Los Angeles with a groundswell of support, and you can bet on Staples Center rocking on Saturday night.