Boxing's most famous name will put his undefeated record to the test Saturday in Las Vegas against Marcos Maidana.
Floyd Mayweather sports a 45-0 career record with 26 knockouts, while Maidana checks in at 35-3. However, it is worth noting that Maidana is known for his power and actually has 31 knockouts in those 35 wins.
While the fight will certainly be intriguing, let's take a look at what the Twitter universe is saying in anticipation of the event.
Showtime Sports set up the action with this intimidating shot of the MGM lion and a photo of the staredown between the two fighters, which should certainly get you fired up for the bout:
#TheMoment fight week has arrived! Don't miss @FloydMayweather vs. @ChinoMaidana, live Saturday on Pay-Per-View. pic.twitter.com/qZAdhuw5F0

— SHOWTIME SPORTS (@SHOsports) April 28, 2014
Will @ChinoMaidana solve the MayVinci Code Saturday night on PPV? Floyd says "No. I will find a way to win." pic.twitter.com/sIOkdAhDFG

— SHOWTIME SPORTS (@SHOsports) April 30, 2014
Mayweather showed up in style to greet that lion, and writer and producer Alicia Zubikowski was there to capture the moment:
@FloydMayweather has arrived @MGMGrand #TheMoment pic.twitter.com/na2sfUoynV

— Alicia Zubikowski (@alicialauren) April 29, 2014
Of course, it shouldn't come as a surprise that Mayweather arrived in style, given the amount of money he is set to make during the fight, as Bleacher Report pointed out:
Floyd Mayweather is guaranteed at least $32M for Saturday's fight. His opponent Marcos Maidana is getting $1.5M http://t.co/ih6DD01Xxm

— Bleacher Report (@BleacherReport) May 1, 2014
Criticize the large differential in the purse if you want, but it is Mayweather that sports the undefeated record. A major reason why is because of his work ethic, which he was quick to share with fans:
It's fight week but I never stop working...

— Floyd Mayweather (@FloydMayweather) April 29, 2014
ESPN's Myron Medcalf feels that Mayweather will dominate the fight:
Don't be fooled. Maidana doesn't have a chance vs. Mayweather Saturday. He's not on Floyd's level. Just hope he presses him for 12 rounds.

— Myron Medcalf (@MedcalfByESPN) April 29, 2014
It is hard to argue with Medcalf's logic.
Mayweather brings the entire package to the table. He packs power in his punches and is absolutely capable of going on the offensive flurry, but his best chance in this fight will be to demonstrate his speed and defensive prowess.
Maidana's only realistic chance is to notch another knockout because he isn't going to outbox Mayweather from a technical standpoint over the course of 12 rounds.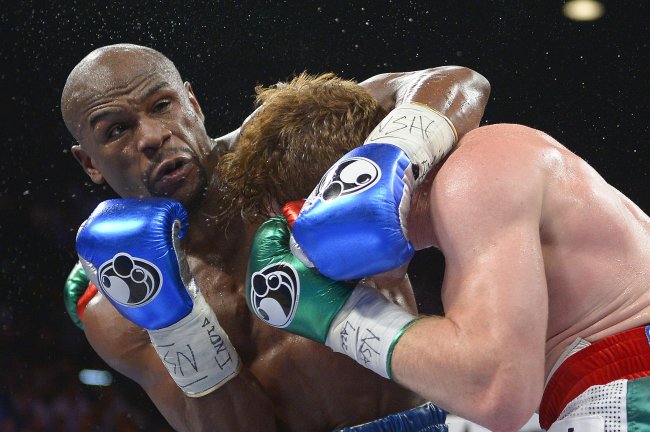 Mark J. Terrill/Associated Press
Look for Mayweather to use his impressive speed and defensive prowess to avoid the crippling punch from Maidana and register the victory.
It would certainly add to his legacy, which is what Mayweather said he fights for, via Sam Farmer of the Los Angeles Times: "The legacy. When you mention boxing, all I want you to mention is one man, and that's Floyd Mayweather. When my career's over, I don't want y'all talking about nobody else."
Despite Mayweather's status as a potential legend and the favorite, Lace Up Boxing shared Maidana's opinion on the fight and actually seemed to be in Maidana's corner:
Marco's Maidana "I will give Mayweather a much better fight than any of the other contenders will!" http://t.co/q60chbd9kh

— LaceupBoxing (@LaceUpBoxing) April 16, 2014
One thing about Maidana he is not REMOTELY intimidated by Mayweather, I think the big stage will bring the best out of him.

— LaceupBoxing (@LaceUpBoxing) May 1, 2014
One group of supporters who don't seem to be in Maidana's corner are current and former athletes. Robert Griffin III, DeAngelo Hall, Jalen Rose and Terrance Williams all seemed to pledge their support to Mayweather:
Much Respect @FloydMayweather "It's not about what your opponent does, it's about what you do to your opponent."

— Robert Griffin III (@RGIII) May 1, 2014
@FloydMayweather do your thing in this fight big bro. I wish I was coming out there to watch you work. I enjoyed seeing you last time.

— DeAngelo Hall (@DeAngeloHall23) May 1, 2014
@FloydMayweather Good Luck this Saturday Champ!! #TMT #TheMoment

— Jalen Rose (@JalenRose) May 1, 2014
S/O to @FloydMayweather one time can't wait til this weekend to that one hitter quitter!

— Terrance Williams (@TerranceWill2) May 1, 2014
One thing that will be important for Mayweather is to avoid distractions leading up to the fight, which boxing writer Steve Kim pointed out:
So May-Maidana promotion has been really about buying the Clippers, an abortion and Floyd talking retirement..... #boxing

— Steve Kim (@stevemaxboxing) May 1, 2014
Of course, some distractions aren't half bad, per Farmer of the Los Angeles Times:
The MGM Grand surprised Floyd Mayweather with a modest trinket when his latest fight sold out: a $1.6-million Bugatti. #MayweatherMaidana

— Sam Farmer (@LATimesfarmer) April 30, 2014
Make sure you tune into the fight Saturday, but you can at least follow along on Twitter if you can't watch it.