Last week, NFL Network's Ian Rapoport announced former Auburn University running back Tre Mason attended the NFL Scouting Combine medical recheck due to a lingering wrist injury. Specifically, Mason will reportedly need to undergo surgery to fuse a bone that is not healing properly.
#Auburn RB Tre Mason a surprise visitor to Combine medical rechecks, per source. Needs wrist surgery post-draft, should be back by preseason

— Ian Rapoport (@RapSheet) April 25, 2014
The surgery teams have been informed Tre Mason needs is to fuse a bone in his wrist that hasn't healed properly.

— Ian Rapoport (@RapSheet) April 25, 2014
Almost immediately after the news broke, Mason himself refuted the news via Twitter, stating he will "NOT be having any surgery"—and leaving many confused in the process.
False information, I WILL NOT be having any surgery to anything on my body!

— Tre Mason (@TreMason21) April 25, 2014
Later on, Rapoport confirmed this author's suspicion that the bone in question is Mason's scaphoid. Presumably, it is not healing together well following a prior fracture—an unfortunately relatively common scenario for the scaphoid—leading to the above questions and apparent contradiction.
To clear up that confusion, let's take a brief detour into the anatomy textbooks.
A small bone close to the base of the thumb, the scaphoid is one of the many bones that make up the base of the hand and wrist.
Just like any other bone, the scaphoid can break. Often, it does so when an athlete falls onto his or her outstretched hand and uses the base of the palm to absorb the blow.
For example, imagine a defender hitting a running back on the right hip and leg, causing the back's lower body to move left and upper body to fall to the right. Instinct will usually take hold, making the runner attempt to catch himself with his right hand. If he also forcefully straightens his arm immediately prior to contact with the ground—preventing his elbow from bending and allowing his triceps to buffer against some of that contact—his hand and wrist will absorb nearly 100 percent of the impact.
If that force is too great, the scaphoid can suffer the consequences.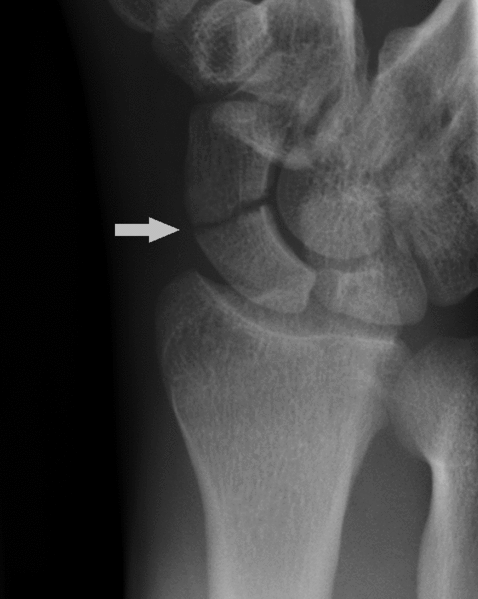 Wikimedia Commons.
Scaphoid fracture prognoses can depend tremendously on the precise location of the injury. Breaks close to the thumb may heal quite well on their own, but those near the wrist may require surgery.
Why?
As is frequently the case for injuries, it comes down to blood flow.
For instance, on one extreme, injuries to areas with a rich blood supply—such as inside the mouth—can heal within a matter of days. On the other, injuries at sites without robust circulation—such as cartilage or muscle tendons—can linger for weeks, months or longer.
Some may even never heal at all.
Furthermore, blood supply can differ within the same tissue type. For example, the very outer rim of the crescent-shaped, shock-absorbing knee meniscus sports a significant amount of blood flow, whereas the inner portions do not.
Similarly, while the end of the scaphoid close to the thumb receives a reasonable amount of circulation, the part closer to the wrist receives much less. As such, fractures in the latter zone can fail to reunite via the body's normal healing process—a complication known as "nonunion."
Nevertheless, information surrounding Mason's specific injury is scarce, and exact medical details will probably not surface beyond the former Tiger's inner circle—as well as his future NFL team's medical staff.
That said, according to James Crepea of The Montgomery Advertiser, Mason played through the injury during at least three games. Rapoport also mentioned on Twitter that doctors discovered the issue during combine medical exams.
Tre Mason played with wrist injury that reportedly requires surgery in the Iron Bowl, SEC Championship and BCSNCG.

— James Crepea (@JamesCrepea) April 25, 2014
It's quite possible he unknowingly suffered the fracture well before the combine—perhaps even a matter of months—yet once exams revealed the injury, the game changed.
More than likely, teams asked Mason to return to the medical recheck to ascertain just how well the fracture is healing after an additional two months of recovery time—or how poorly.
What can be done for nonunion, if that is indeed the case?
When a scaphoid fracture appears to be heading toward nonunion, surgeons can surgically fuse the bone back together using metal hardware. Doing so helps prevent downstream complications such as arthritis, which can lead to chronic wrist stiffness and pain.
When will Tre Mason be drafted?
Hopefully for the talented Mason, it never gets to that point. After all, multiple experts expect big things for him at the next level.
Matt Miller—Bleacher Report's NFL draft lead writer—recently ranked Mason as the third-best overall running back prospect heading into next week's draft. Elsewhere, Dane Brugler and Rob Rang of CBS Sports project a second-round selection for the young star.
Yet from a medical standpoint, it seems at least some uncertainty remains—at least from the far outside looking in. NFL medical staffs are surely considering the possible need for bone-fusion surgery at some point in the future—if the decision is not already a foregone conclusion among some circles, that is.
Dr. Dave Siebert is a resident physician at the University of Washington who plans to pursue fellowship training in Primary Care (non-operative) Sports Medicine.