2009 NBA Draft: Comparing the Prospects to Pros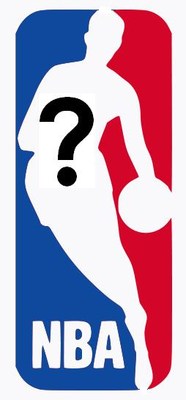 After the 2008-09 NCAA season wrapped up, I heard a rumor that the 2009 NBA Draft contained a weak class of prospects.
It was supposedly full of undersized and nonathletic players who can't be stars in the NBA.
Now that the 2009 NBA Draft is finally here, that's not the case.
An NBA great could be in this draft.
The class of 2009 has one potential defensive player of the year, a few potential Hall of Famers, and a handful of potential All-Stars.
I decided to see how some of this year's prospects stack up against current and former pros—and I think they do a pretty good job.
Amar'e Stoudemire and Blake Griffin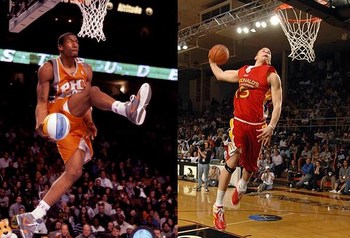 Similarities
As 6'10" power forwards, there are few who have soared the rare air that Amar'e Stoudemire and Blake Griffin have. With the ball in their hands, both look smaller than they measure because of how fluid and comfortable they are on offense.
Griffin has been accused of being less than stellar defensively, and we know how STAT plays D, but Griffin has said he was discouraged from playing aggressive defense at Oklahoma because the team could not afford him getting into foul trouble.
Differences
Stoudemire seems content with all of the talent he has—he is an all-star player, and few can contain him offensively.
The same cannot be said for Griffin.
Blake Griffin wants to be great; his agent is getting him some flashy endorsements, but so is Peyton Manning's. Much like Manning, and unlike Stoudemire, Griffin has a competitive fire that burns deeply.
Jason Kidd and Ricky Rubio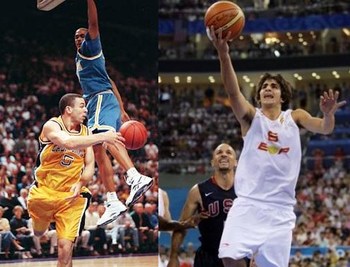 Similarities
Like Jedis, Jason Kidd and Ricky Rubio are one with the ball—if they were to just pass the ball through the hoop, they might be more accurate shooters.
It's not just accuracy either. Rubio has a dribbling style and passing flair that would gain instant respect on any blacktop from the East to the West Coast.
Passing is not the only thing the two have in common. At 6'4" (6'5" in shoes) Rubio is willing to board up, and he's a triple-double regular—most notably his 51-point, 24-rebound, and 12-assist double-overtime performance for Spain's U-16 National Team in August of 2006.
Differences
Rubio has more of a long, gangly build while Kidd appears more proportional, considering the two are the same height. Part of this difference in appearance comes from Rubio's lack of muscle—Kidd's body was NBA-ready when he was made the second pick of the 1994 NBA Draft.
Kidd also averaged a turnover every 10 minutes as a rookie, and Rubio averaged one every 5.5 minutes for DKV Jovenut this year. However, he was coming off of an injury.
Darius Miles and DeMar DeRozan
Similarities
With all of the talent in the world, a young Darius Miles and his head-bangin' homies on the Clippers took the basketball world by storm. DeMar DeRozan, a Los Angeles native, has the same big-play ability as Miles, which brings the crowd out of their seat and on their feet.
Is there any substance to their games?
Both can get steals and blocks on defense because of their length and athleticism, but neither are shutdown defenders, and DeRozan's shooting ability is similar to Miles'.
Differences
College. The class of 2008 and others have shown how much you can learn and grow in one year.
Hopefully DeRozan can learn from the mistakes of the other super-athletic teenagers who tested the NBA waters.
Allen Iverson and Brandon Jennings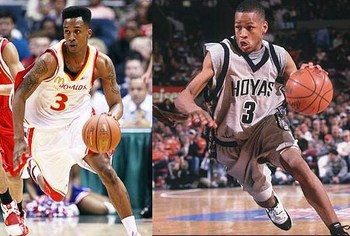 Similarities
Unbelievable handles, flashy passing, a shoot-first mentality, and being faster than any other player on the floor.
Brandon Jennings is getting love as a point guard, and he's doing a good job convincing teams he can be a pass-first player, but any team that doesn't utilize his scoring ability is really missing out.
Differences
Pound for pound, Allen Iverson is the toughest player in NBA history. Jennings has a thin frame, and with only limited playing time in Europe, he hasn't gotten a chance to prove his body can last an entire season.
Dikembe Mutombo and Hasheem Thabeet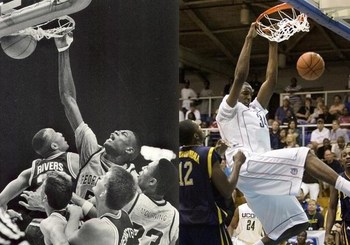 Similarities
Hasheem Thabeet could be the next great African-born seven-foot center, following in the footsteps of Dikembe Mutombo.
Like Mutombo, Thabeet has an amazing ability to track shots and roam the key. They can block floaters, lay-ins, and even power slams.
Differences
Mutombo played the game with such passion, expression, and desire that it is no surprise he played for as long as he did. Thabeet isn't a lily, but he needs to throw a few logs on the fire next year in the NBA.
Mark Price and Stephen Curry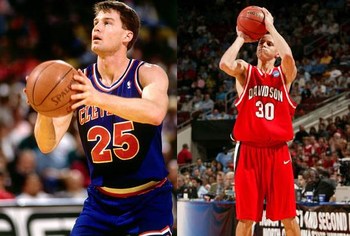 *I did consider comparing Stephen Curry to Dell Curry, but he will get enough of that during his career.
Similarities
Shooting the lights out. Mark Price and Stephen Curry are both exceptional shooters from behind the arc, the free throw line, and generally wherever you put them.
I expect Curry to have a high-teens scoring average for most of his career (Price 15.2 career average) unless he lands on a team that is severely lacking a scorer.
Differences
Price slipped to the 25th pick of the 1986 NBA Draft because of his size and athletic ability. Both attributes were questioned about Stephen Curry before the draft process started, but he has proved to be big enough and athletic enough to play the point guard position.
Price was more of a pure PG entering the league, where Curry still has some doubters.
Gary Payton and Jrue Holiday
Similarities
As a wiry 6'4" point guard, Gary Payton never put on much size after entering the NBA in 1990, but he was one of the strongest players at his position. Holiday has an almost identical build, and as long as he plays strong, he doesn't have to look it.
Payton was a poor three-point shooter his first five seasons in the NBA, and it's something that he really worked on until he led the NBA in three-pointers made in the 1999-00 season. Holiday doesn't need as much help on his deep ball, but with time, patience, and practice, he could be one of the better three-point-shooting point guards in the NBA.
Differences
Payton was gum-gnawing, trash-talking, and doing everything he could to get under the skin of his opponents—we haven't seen this type of mentality from Holiday yet.
Holiday has struggled is some defensive matchups against the quicker point guards in the draft. GP, aka "The Glove," could guard just about anybody under 6'7" in the NBA.
Jameer Nelson and Ty Lawson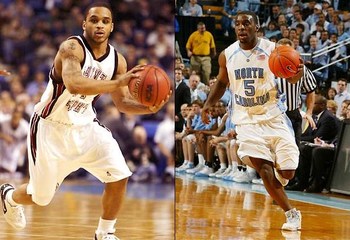 Similarities
Undersized is a word Jameer Nelson and Ty Lawson have been hearing their whole lives, but it hasn't stopped either from pursuing his NBA dreams.
When I watch Lawson cutting his way to the cup, I can't help but think of Nelson in the 2004 March Madness tournament. Nelson shot 45.3 percent from behind the arc in this, his fifth season, and Lawson shot 47.2 percent behind the college line as a junior.
Differences
This might be the best comparison of the bunch. Nelson was the 20th pick in 2004, about the same area Lawson is projected to go.
In 2009, Lawson was the sixth recipient of the Bob Cousy point guard award—can you guess who the inaugural winner was in 2004?
Andre Iguodala and Terrence Williams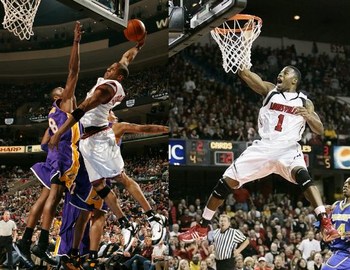 Similarities
If you can't tell from the pictures, A.I. and T-Will are two of the most impressive athletes on the planet.
Once you get past all the oohs and aahs, you have two dynamic wings who can fill up the stat sheet. Iguodala averaged 5.3 assists per game this season, displaying his ability to create for his teammates. Williams has been labeled a point-forward.
Differences
Iguodala is lightning in a bottle. He can appear rigid and almost muscle-bound in his athletic state.
Williams is extremely fluid on the court. He is one with the ball, and he challenges Tyreke Evans as the second-best ball handler over 6'4" in the draft.
Keep Reading