Luis Suarez obviously makes my Premier League team of the season. Thirty goals in 31 games is an incredible return, especially considering he's in the world's toughest league and missed the first seven games of the campaign.
It's far harder to score goals in England's top flight than it is in La Liga. If Suarez was playing in Spain on this form he'd be rivalling the numbers Lionel Messi and Cristiano Ronaldo post on a regular basis.
Suarez has been brilliant for Liverpool, but there are now some very big questions to address.
Real Madrid are lining up a huge £70m summer bid for Liverpool striker Luis Suárez. (Source: The Sun) pic.twitter.com/5Ko5D1yUpE

— Transfer News Live (@DeadlineDayLive) April 28, 2014
1. When Suarez signed a new deal—details as per BBC Sport—was it the case that Liverpool agreed he could leave once they achieved Champions League football?
2. Are Liverpool already looking at alternatives for Suarez next season?
3. Would a club like Real Madrid be prepared to pay £85-£100 million to sign Suarez this summer?
My concern for Liverpool is this: Suarez has always wanted to play Champions League football—which he would get with them next season—but he's also a player who likes to do things in a hurry. If he wants to play for a team capable of winning the Champions League, that means goodbye to Liverpool. They are three or four seasons away from being that.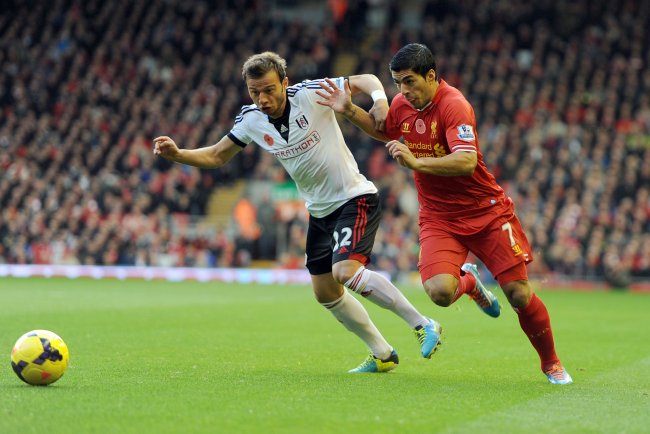 Clint Hughes/Associated Press
There are only three realistic options if Suarez does leave—PSG, Bayern Munich and Real Madrid. Liverpool are unlikely to sell to an English club like Manchester City or Chelsea, while Suarez would not countenance moving anywhere in Europe that would lessen his chance of European glory.
Where will Suarez be next season?
Finances will rule Bayern out of the equation, while I still don't see PSG as genuine Champions League contenders yet. All roads lead to the Bernabeu.
If Real Madrid say they can't afford Suarez, I think he'll stay at Liverpool. He has a great contract, the fans idolise him and he'll get his Champions League football. But if Madrid come in with a huge offer, in the region of £85 million and above, Liverpool will be very tempted.
How much could Suarez, Sturridge and Sterling fetch combined? £140m? £150m?

— Kop·ol·o·gy (@Kopology) May 2, 2014
It's all very well saying the club won't sell at any price, but money talks. It's not easy to turn down a huge sum like that.
Can Liverpool do anything to convince Suarez to stay? I'm not sure they have the buying power to become potential Champions League winners over the summer. They might buy a couple of players of the Daniel Sturridge/Philippe Coutinho ilk, but they won't be going out and buying too many proven world-class stars.
Suarez on Liverpool future: "I'm happy with my family. I'm OK with them wherever I am." http://t.co/aYgA1pzeEP pic.twitter.com/S8iVesMzpc

— Goal UK (@GoalUK) May 1, 2014
If Suarez does leave, he'll go down as a Liverpool great. I don't think the fans would begrudge him going, though of course they would be bitterly disappointed to see it happen.
Luis Suarez has insisted "nothing is going to happen" regarding a transfer away from Liverpool this summer. #LFC

— Get Football News (@GetFootballNews) May 1, 2014
If he goes to Madrid, we could be talking about one of the most exciting attacking teams of all time. Imagine Suarez ahead of Gareth Bale and Ronaldo. It's the perfect blend of physicality, raw pace and strong work ethic. Sometimes dream teams don't work, but on paper that combination would take some beating.