Bayer Leverkusen central midfielder Lars Bender is an Arsenal summer transfer window target, per Sami Mokbel at the Daily Mail, but one suggested alternative is Malaga's Sergi Darder, so here is a scouting report on him.
Tenemos doble felicitación de cumpleaños hoy! También es el de @SergiDarder, que cumple 20 años. Muchas Felicidades!! pic.twitter.com/ETu2J8079F

— Málaga CLUBdeFÚTBOL (@MalagaCF) December 22, 2013
| | | |
| --- | --- | --- |
| | Bender | Darder |
| | | |
| Nationality | German | Spanish |
| Age | 25 | 20 |
| Height | 6'1" | 5'11" |
| Weight | 170 pounds | 176 pounds |
| | | |
Explaining Bender's Situation
Bender is a German international who deputised for a budding superstar in Arturo Vidal and learnt from veteran Michael Ballack, a three-time German Footballer of the Year.
Michael Ballack and Arturo Vidal #Leverkusen 2010-11 pic.twitter.com/IplqemIQZW

— Petrit (@PetritMusliu) February 14, 2014
These experiences have helped Bender to develop into a solid midfielder.
He has made 101 tackles in 27 Bundesliga games, so he has a fierce approach to taking the ball away.
He is an aggressive, energetic and robust midfielder who can slot in as an emergency right-back.
With a beautiful assist for Leverkusen's leveller, Lars Bender has been everywhere for the hosts #B04TSG pic.twitter.com/YX97QCCNob

— Bundesliga (@Bundesliga_EN) March 23, 2014
When you factor in Arsenal manager Arsene Wenger's tinkering tendencies, it is possible that Bender could be converted into a right-back, as Lauren was.
Per Arsenal's official website, Lauren said:
I enjoy playing in midfield, but I don't mind playing in defence either. When I first switched to full-back I spoke to Lee Dixon because he has played in that position for 15 years and knows so much.
For a player who has never played at right back before for Germany much less at all Lars Bender has done excellent tonight.

— Cristian Nyari (@Cnyari) June 17, 2012
In the past, Leverkusen have had world-class midfielders on their books such as Ballack, Emerson, Vidal and Ze Roberto.
Bender is on his way to the top like his fellow Leverkusen alumni.
His intangibles are good, he is a hard worker, he understands what his job entails and is a risk-free footballer.
Leverkusen rejected Arsenal's €23/£18.5 million bid for Bender last season, per Dominic Fifield at the Guardian, which goes to show how important he is to the club.

With the emergence of Emre Can, Leverkusen's midfield will centre on a Bender-Can partnership next season, so management will strive to keep the two at the club.
Die Vorbereitung auf die Rückrunde läuft, heute wird aber erst mal gefeiert! Alles Gute zum 20. Geburtstag, Emre Can! pic.twitter.com/5wxcxJrorZ

— adidasfussball (@adidasfussball) January 12, 2014
Explaining Darder's Situation
Malaga have rough diamonds in Bobley Anderson, 22, Fabrice Olinga, 17, and 19-year-old Roberto Chen.
The three hopefuls have been loaned out to Zulte Waregem to further their development.

This is where Darder, 20, comes in.
Unlike Anderson, Fabrice and Chen, Darder has increased his transfer stock by starting 22 of the 26 league games he has been involved in for Malaga.
Derrota 2-0 ayer vs Madrid. Solo queda levantarse y pensar en ganar el sabado al Celta. pic.twitter.com/6mzLPWTgO1

— Sergi Darder Moll (@SergiDarder) October 20, 2013
Malaga were barred from entering this season's UEFA Europa League due to financial impropriety, so money is at the forefront of player personnel management.
Point being: Malaga are more likely to sell Darder than Leverkusen offloading Bender in the upcoming summer transfer window.
Darder Positives

Darder is a central midfielder who makes forward-thinking plays.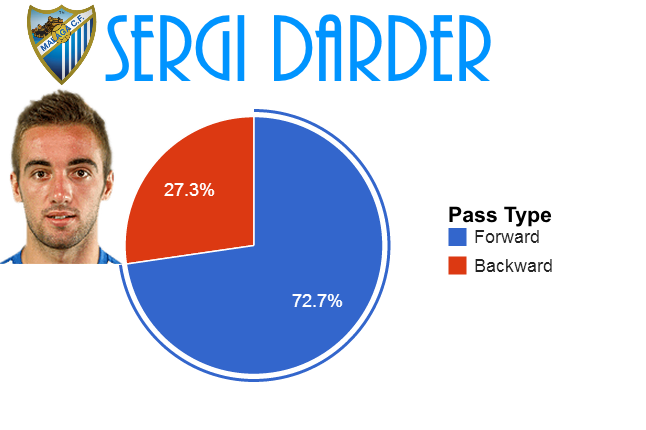 Source: Squawka.com.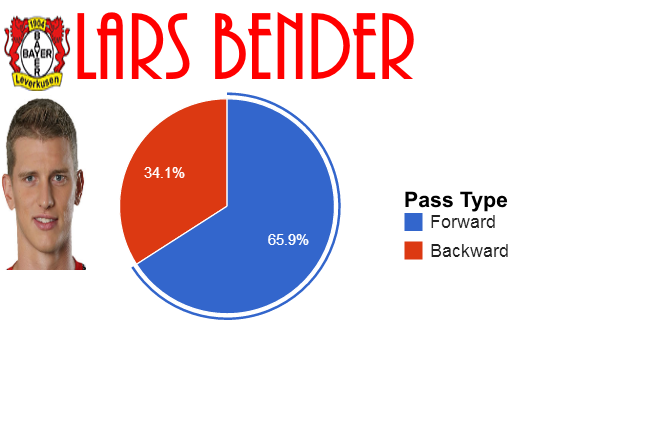 Source: Squawka.com.
Darder reads and reacts quickly.
When he received the ball against Rayo Vallecano, he noticed Malaga left attacking midfielder Eliseu was free and hit an accurate cross-field pass to keep momentum flowing.
Darder's ball control is excellent as evidenced with his pivot and pass in one fluid motion to set up Malaga centre-forward Roque Santa Cruz against Sevilla.
Darder has shown glimpses of box-to-box potential with goals against Real Betis and Villarreal.
Defensively, Darder's instincts are outstanding.
With the ball dropping and Espanyol defensive midfielder Victor Sanchez coiling his leg back, Darder shuffled his feet so he would be in-line to block Sanchez's shot.
That play shows you that Darder has superlative positioning, and he asserts his presence on the pitch.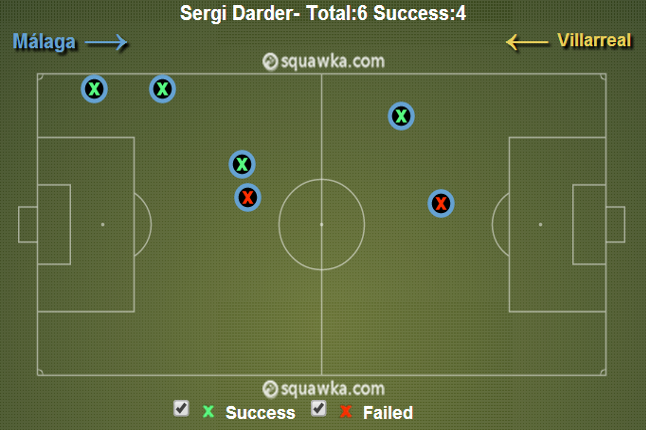 Source: Squawka.com.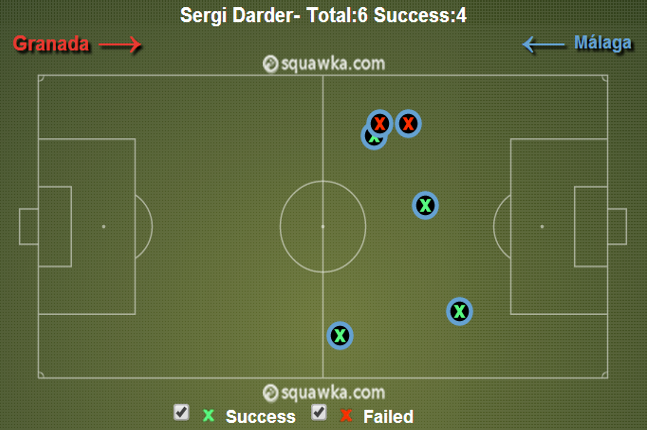 Source: Squawka.com.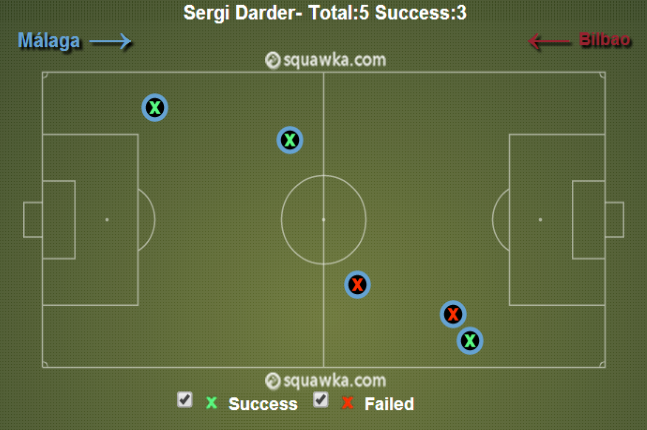 Source: Squawka.com.
Bottom Line
| | | |
| --- | --- | --- |
| League Only | Darder | Bender |
| | | |
| DEFENCE | | |
| Tackles Per Game | 2.7 | 3.7 |
| Interceptions Per Game | 1.3 | 1.7 |
| Fouls Per Game | 0.9 | 1.7 |
| | | |
| ATTACK | | |
| Goals | 2 | 3 |
| Shots Per Goal | 19 | 7 |
| Passes Per Game | 33.5 | 39.4 |
| Pass Completion % | 80.6 | 77.7 |
| Long Pass Completion % | 68.9 | 54.3 |
| Assists | 2 | 1 |
| Key Passes Per Game | 0.8 | 0.7 |
| | | |
Bender is ready-to-go, but Darder could end up being just as good as Bender.
Arsenal have signed Cazorla and Monreal from Malaga, so you would expect Darder to become a viable transfer target if Leverkusen refuse to sell Bender in the summer transfer window.
Should Darder's inexperience be off-putting, Arsenal should look at his teammate Ignacio Camacho, 23, a commanding midfielder.
XI #MálagaCF: Willy; Jesús Gámez, Angeleri, Flávio, Antunes; Portillo, S.Darder, Camacho, Samuel; Duda © y Santa Cruz pic.twitter.com/b9JB90XS1C

— Málaga CLUBdeFÚTBOL (@MalagaCF) April 26, 2014
Statistics via WhoScored.com