It's not the Kentucky Derby, but the Kentucky Oaks is arguably one of horse racing's most popular events. Per KentuckyDerby.com, the race draws close to 100,000 fans every year.
In this year's version, almost everyone is sure to have their eyes glued to a special three-year-old called Untapable. Per KentuckyDerby.com, Untapable is a 4-5 favorite.
Because of the edge Untapable is believed to hold over the rest of the field, ESPN.com's Gary West speculates that other trainers are hoping for help from above to level the playing field:
Many opposing trainers are hoping for rain. They're hoping, in other words, for anything that might distract or compromise Untapable -- an invasion by the Duchy of Grand Fenwick probably wouldn't do it.
Steve Asmussen's filly has won its last three races and looks like the horse to beat at Churchill Downs.
Here's a look at the post positions, the field and Untapable's top competition.
| | | |
| --- | --- | --- |
| Post Position | Horse | Odds |
| 1 | Please Explain | 50-1 |
| 2 | Ria Antonia | 10-1 |
| 3 | Sugar Shack | 12-1 |
| 4 | Rosalind | 8-1 |
| 5 | Thank You Marylou | 30-1 |
| 6 | Kiss Moon | 30-1 |
| 7 | Fashion Plate | 6-1 |
| 8 | Aurelia's Belle | 50-1 |
| 9 | Unbridled Forever | 12-1 |
| 10 | Empress of Midway | 50-1 |
| 11 | My Miss Sophia | 8-1 |
| 12 | Got Lucky | 20-1 |
| 13 | Untapable | 4-5 |
All odds information per KentuckyDerby.com

When: Friday, May 2, at 4 p.m. ET
Where: Churchill Downs in Louisville, Kentucky
TV: NBCSN
Weather: Per WLKY in Kentucky, the forecast is "for a few isolated showers and a high of 62."
Kiss the Moon Looking to Use Home-Field Advantage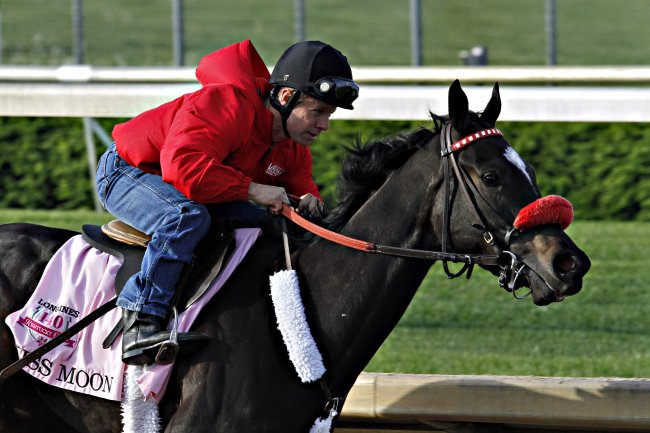 Garry Jones/Associated Press
Trainer David Vance's Kiss the Moon's home track is Churchill Downs, so he'll be running the Oaks with a good level of familiarity.
The horse's odds aren't exactly encouraging at 30-1, nor is its post position. Kiss the Moon is jammed in the middle at the sixth position. She'll begin the race right next to Fashion Plate, a horse with much more attractive 6-1 odds.
Fashion Plate's early burst could help to push Kiss the Moon out of contention early.
Still, Vance can't help but wonder what it would be like to capture one of the sport's biggest races on his home track.
Per Steve Jones of The Courier-Journal, Vance said:
It's a great feeling for both of us. It's always nice to have a horse in a big race, but when it's your home track and it's a home-bred horse that he bred — especially if you get lucky enough to win — it makes it real special.
If Vance and Kiss the Moon can come out victorious, their story will be one of the biggest from a huge horse racing weekend.
My Miss Sophia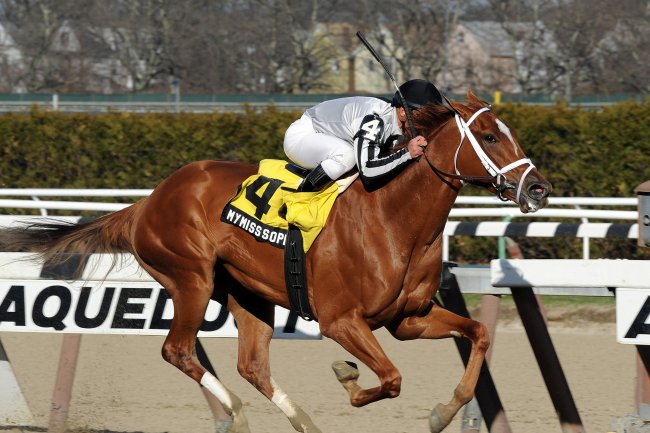 David Alcosser/Associated Press
With a win in the $300,000 Gazelle Stakes, My Miss Sophia launched herself into the Kentucky Oaks. At 8-1 odds, the horse is one of the fillies expected to give Untapable a run for the lilies.
At the 11th post position, My Miss Sophia seems to be starting far enough outside to avoid being sucked into the congestion of the middle post positions. It's a fairly advantageous draw in the field of 13 that enables the horse to get off to a strong start and also make a move to break away.

During the final stretch, My Miss Sophia and Untapable might just be in a head-to-head battle to determine the winner on Friday.
Untapable Looking to Make History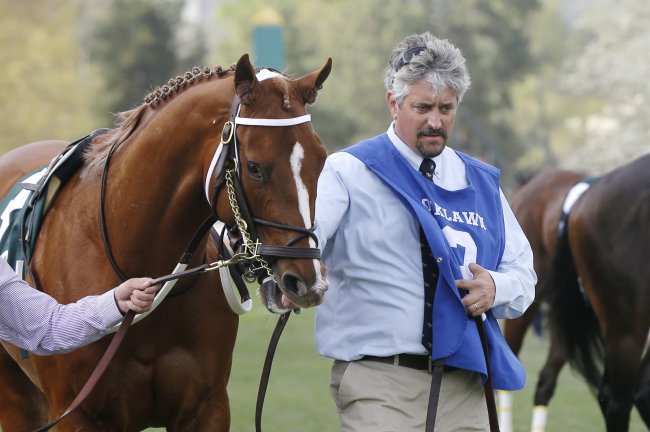 Danny Johnston/Associated Press
Although the odds are in Untapable's favor to win the Oaks, history is not. No horse has ever won the race from the unlucky No. 13 position, according to Jones.
Per Jones, Asmussen brushed off any concerns about his horse's starting spot, stating:
I think it's one of those situations where it might be the perfect spot. If anybody's slow to load or is bad in (the gates), with her loading last, I think there's a big advantage to it. If somebody blows the first turn, I don't think it'll be a good spot. But it's a situation where you let her ability do the talking.
That level of confidence can only truly be had when you're training a horse with Untapable's talent.
Hailing from Tapit, a horse that sired two other champions—Stardom Bound and Hansen—Untapable seems to have the genes to succeed. Asmussen is confident she does.
She'll need it, too, to have any chance of overcoming an unfortunate draw and finding a way to emerge from the outside.