In what is to be the first European football final to feature two teams from the same city, Real Madrid and Atletico Madrid will clash in this season's Champions League final.
Lisbon's Estadio da Luz will play host to two of Spain's biggest names on 24 May after Diego Simeone's Atleti side progressed past Chelsea in their semi-final and Carlo Ancelotti's Real blitzed Bayern Munich to reach the tournament decider.
One of the most anticipated fixtures in the football calendar has been given a very special touch this year, so here are some of the derby's numbers and key statistics in the build-up to the encounter.
Head-to-Head Record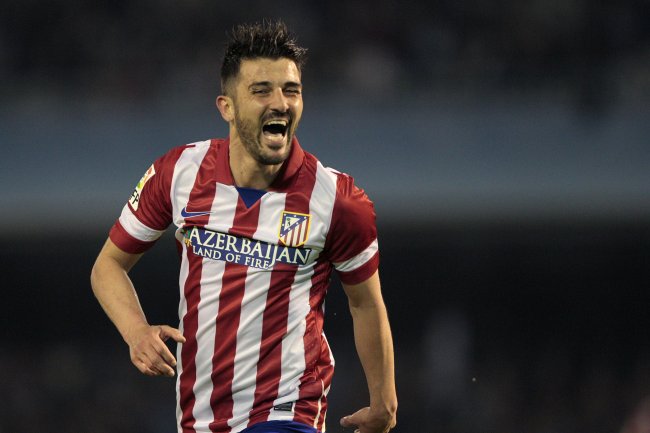 Lalo R. Villar/Associated Press
Atletico Madrid's rampant run to the summit of the Spanish top flight has been aided by their success against teams in the top half of La Liga this season, with their only losses of the league campaign coming against Espanyol, Osasuna and Almeria.
Who will win this season's Champions League?
However, while Los Rojiblancos have gone unbeaten in their two league meetings against Los Merengues—winning 1-0 at the Bernabeu and drawing 2-2 at the Vicente Calderon—it's Real Madrid who triumphed twice over the two legs of their Copa del Rey semi-final.
This year will be the first time the two clubs have faced one another in European competition since 1959. Back then, in the semi-finals of that year's European Cup, Real triumphed after three meetings—winning 2-1 at a neutral venue after a winner failed to emerge from the first two legs.
In Lisbon, Atleti will hope that a neutral venue this time runs in their favour.
The 55 years since have seen the side experience highs and lows.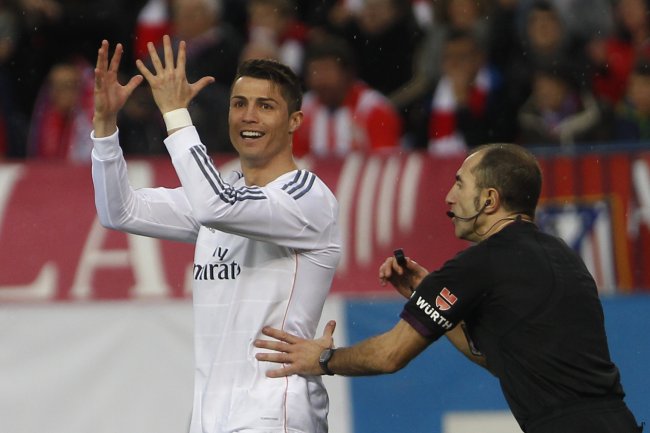 Gabriel Pecot/Associated Press
According to WorldFootball.net, the overall record of the Madrid derby currently stands with Real having won 91 of the teams' 166 meetings. With 41 victories, Atletico have less than half that amount.
Key Stats
Of course, one of the main driving forces behind Real's magnificent run to the Portuguese capital has been Cristiano Ronaldo, who, together with a certain Barcelona-based Argentine, is closing in on Raul's Champions League record, per Infostrada:
As of today - Most goals in CL: Raul (71), Messi (67), RONALDO (66).

— Infostrada Sports (@InfostradaLive) April 29, 2014
However, one might argue that Atletico work from a more united front, and it shows in their gradual movement to becoming a force on the continent, as OptaJean points out:
3 - Atlético will play their 3rd European final in the last 5 seasons (after the EL final in 2010 & 2012). Regular.

— OptaJean (@OptaJean) April 30, 2014
While mesmerising maestros like Ronaldo and speedsters like Gareth Bale may be the name of Real's game, one might say Simeone's advantage lies at the back, with his defence among the very elite of Europe this term.
Atletico have conceded just 22 goals in league competition this season and WhoScored.com highlights some of the defenders who will be of particular significance in the final:
Miranda: Only Pepe (76) made more clearances in the CL this season than Miranda (70)

— WhoScored.com (@WhoScored) May 1, 2014
Diego Costa, who scored in Atletico's semi-final second-leg victory over Chelsea, promises to challenge Ronaldo as being one of the main scoring threats on the night:
GRAPHIC: Champions League Final - Real Madrid vs Atlético Madrid pic.twitter.com/CUtYyAAkH9

— WhoScored.com (@WhoScored) May 1, 2014
In the end, though, as is so often the case with storylines such as this, all numbers and figures may well end up going out of the window as the occasion takes hold in the biggest club fixture of the season.
Atletico won the previous final played between these sides—last year's Copa del Rey showpiece. Revenge will be in the air for Real as they chase La Decima.
The two giants of Madrid are set to meet in a veritable clash of the titans, and the world awaits May 24.