Mike D'Antoni's tenure with the Los Angeles Lakers was messy from the start, but both parties got a welcome clean break Wednesday night.
The 62-year-old officially vacated his post, resigning after less than two full seasons with the team. ESPN.com's Ramona Shelburne first reported the news, which was later confirmed on the team's official Twitter feed:
Mike D'Antoni has resigned as Lakers coach, source tells ESPN

— Ramona Shelburne (@ramonashelburne) May 1, 2014
BREAKING: Mike D'Antoni has resigned as Head Coach of the Lakers. http://t.co/YiiFWA6jl7 . pic.twitter.com/dC0OuHcO5K

— Los Angeles Lakers (@Lakers) May 1, 2014
The Lakers, fresh off the second-worst season (27-55) in franchise history, will now be making their third coaching hire since Phil Jackson hung up his peace pipe in 2011.
L.A. has had 12 different coaches since 1990, a number that grows more shocking when you consider the Zen Master manned the Staples Center sideline spot for 11 of those 24 seasons.
The Lakers are shuffling coaches like cards, and they haven't had a stacked deck for a while. A former destination franchise has lost some of its luster, as it has resorted to burning through retreads instead of snagging a big fish.
Maybe L.A.'s line can no longer handle that kind of catch. Or maybe this front office is simply casting in the wrong waters.
"Instead of a 62-year-old coach whose system hasn't worked in years, L.A. can seek out somebody with fresh ideas and a better track record of developing young talent," Bleacher Report's Grant Hughes wrote.
Of course, fresh young minds with player development skills aren't sitting around waiting on a phone call. They're either already employed or yet to be discovered. Or, in this case, rediscovered.
Current Oklahoma City Thunder guard Derek Fisher spent the first eight seasons of his 18-year career with the Lakers. He later returned for four-plus seasons leaving an unmistakable fingerprint on the franchise's last five NBA titles.
The 39-year-old still trots out for 17.6 minutes per night (13.4 in the postseason), but he's the closest thing to a player-coach as you'll find in today's game. He leads with the type of authority D'Antoni could never command in L.A., and he hasn't even risen through the sideline ranks yet.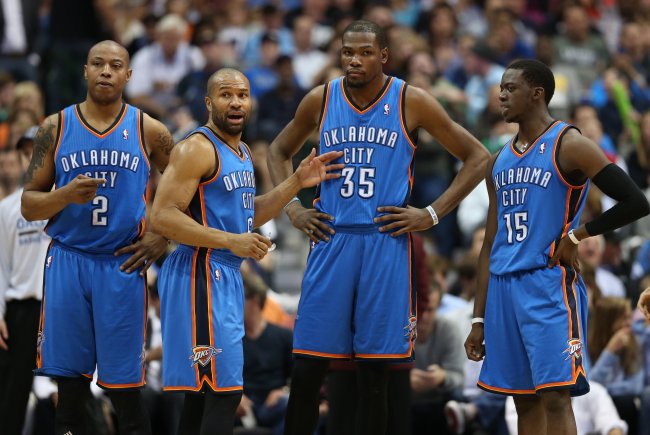 USA TODAY Sports
"That's greatness walking with us," Kevin Durant said of Fisher, via The Oklahoman's Anthony Slater. "A guy that's been around so many great players, won so many championships and played so many minutes. You can only marvel at that."
The Lakers need to marvel at it up close.
Several intriguing names might present themselves during their latest search, but it's hard to see a superstar falling in their lap. NBA coaching stars can be counted on one hand, and those guys aren't looking for work.
"Most coaches are OK or good but not great," Bleacher Report's Kevin Ding wrote. "They know plenty, they are fine people…but that's it."
The Lakers have gone the OK-to-good route long enough. D'Antoni, Mike Brown, these are good coaches. They might not help you win the big game, but they won't embarrass you, either. (I realize most Lakers fans would call this season an embarrassment, but injuries stripped D'Antoni's rotation of all usable talent.)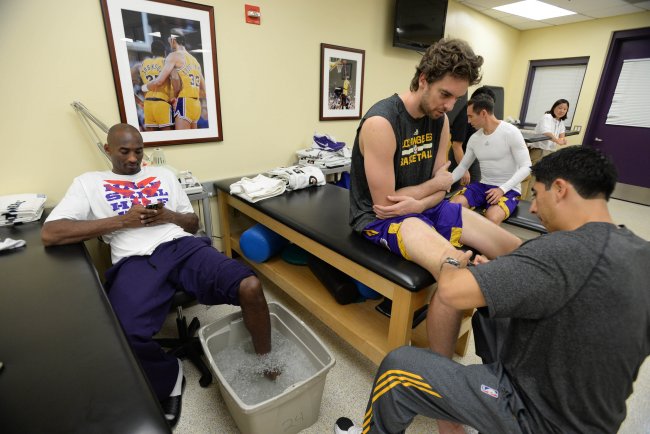 Andrew D. Bernstein/Getty Images
L.A. has played it safe for too long. It's time to stop playing for fun and putting some major money on "going fish."
Despite being tabbed as the fourth-best future coach among active players by general managers in NBA.com's annual survey, Fisher has insisted there's no guarantee he'll take that career path:
Derek Fisher has said on multiple occasion that he doesn't want to coach - we'll see after the season if he changes course

— Eric Pincus (@EricPincus) May 1, 2014
"That is not in my radar or in my scope or anything that I've thought about, even coaching in general," Fisher said in response to rumors he's being targeted by Jackson, now president of the New York Knicks, via Darnell Mayberry of The Oklahoman. "I think I've been pretty consistent with not really having that decided in terms of what's next, absolutely."
He's not ruling out coaching, but he's leaving his options open. Assuming he does hang them up at season's end, he's sure to have a number of opportunities available to him.
"Once the Oklahoma City Thunder's season ends, Fisher will have a willingness to listen to coaching, front office and broadcasting possibilities," Adrian Wojnarowski of Yahoo Sports reported. "As for the Lakers' coaching job, it holds tremendous appeal to him, sources with knowledge of his thinking [said]."
That information alone should elicit a phone call from Lakers general manager Mitch Kupchak. Personal history aside, he could be the kind of home run hire that settles this position for decades and restores L.A. as a free-agent destination.
Fisher has no formal coaching experience, but it's hard to say how much, if at all, that matters in this profession. Doc Rivers (Los Angeles Clippers), Mark Jackson (Golden State Warriors) and Jason Kidd (Brooklyn Nets) all got their first taste of the job as head coaches, and all three received support in this season's Coach of the Year voting.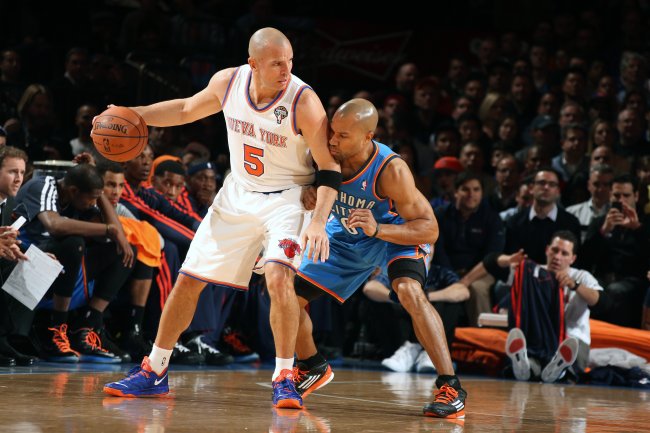 Nathaniel S. Butler/Getty Images
In the short term, the Lakers need someone who has Kobe Bryant's respect.
Kupchak had previously said the Mamba would not be consulted on D'Antoni's future, via Sam Amick of USA Today, so one could assume the five-time champion's voice won't grow any louder for this search.
With that being said, L.A. gave the 35-year-old a two-year, $48.5 million extension in November. He has to be on board with this move, even if he's not directly involved in the hire itself. Moving on from D'Antoni was a start, but it's only an impactful move if he's replaced by the right candidate:
Source close to Kobe Bryant on his reaction to Mike D'Antoni resigning: "There wasn't much of a reaction."

— Mark Medina (@MarkG_Medina) May 1, 2014
Fisher has seen what Bryant can do at his best, so he'll do what D'Antoni wouldn't and put Bryant in position to be his best. D'Antoni never molded his style to match his roster, and that flexibility alone could change a season from nightmarish to respectable.
Fisher can help keep Bryant's swan song from falling completely out of tune, but this is not a temporary bandage.
This is the first of three critical decisions that could power the franchise along the road to relevance. Guess right on this call, and the next two should grow more manageable.
Assuming L.A. keeps its first-round pick, which will fall somewhere inside the top 10, the team desperately needs that player to pan out. The Lakers haven't had a first-round selection since 2009 and have made only one top-10 choice since 1995 (Andrew Bynum, No. 10 in 2005). This opportunity doesn't knock often, and rarely is the team hurting for talent like it is now.
Fisher has no background in player development per se, but he's long held the respect of his youthful Thunder teammates.
"We always say Fish will coach," Perry Jones III said, via Berry Tramel of The Oklahoman wrote. "... He's wise. He knows the game really well. ... He can write a speech on the drop of a dime."
Should a potential difference-making point guard prospect like Australia's Dante Exum or Oklahoma State's Marcus Smart land with the Lakers, it's hard to think of a better tutor than Fisher to bring them along.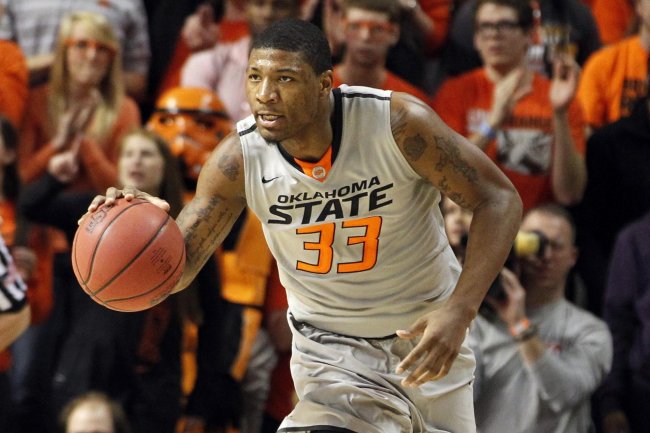 USA TODAY Sports
More important than rookie or coach, though, is L.A. finding the right way to invest in the upcoming free-agent markets. While Bryant would like some immediate relief, the Lakers could be greatly rewarded for exercising patience.
"Free agency has major importance in 2015 and '16 for the Lakers, and they'll need to be positioned to make a run at Kevin Durant," Wojnarowski wrote.
Maybe it's KD, maybe it's Kevin Love, LaMarcus Aldridge or any number of elite players who will venture out into free agency in the coming years. L.A. won't lose its market size or rich history, but today's stars are cognizant of how team success (or lack thereof) impacts their legacy.
They'll need to see some path to the podium—at least the appearance of a winning culture. It's hard to imagine any breaking down the door for a chance to suit up for Byron Scott or any other recycled name from the unemployment bin.
These players know Fisher, know his commitment and know the type of success he's enjoyed. With a year or two of seasoning, maybe they'll come to know him as the next rising star in the coaching ranks.
This is a gamble the Lakers have to make. If Fisher is ready to come home, Kupchak and Co., should be holding the door for his arrival.