Roberto Martinez says his Everton side will do everything they can to beat Manchester City on Saturday, but the performance will be for Toffees fans, not rival Liverpool supporters from across Stanley Park.
Everton can all-but hand their neighbours the Premier League title by taking points off Manuel Pellegrini's men, but they will miss out on a place in the Champions League if they fail to snatch at least a draw.
While many supporters will be urging City to win in order to stop Liverpool claiming the title, Martinez believes his team will play honestly, per Tony Barrett of the Times:
Roberto Martinez says there's "no doubt about Everton's integrity towards the league. We want to win every game."

— Tony Barrett (@TonyBarretTimes) May 1, 2014
Martinez: "We're only looking at ourselves at this stage. Helping other teams is not the way we do our work."

— Tony Barrett (@TonyBarretTimes) May 1, 2014
Coverage of the Spaniard's pre-match press conference was also posted on Everton's Twitter account, where Martinez further detailed his desire to finish this season in positive fashion:
RM: "We want to finish really strongly at home. We want to end the season with as many points as possible." https://t.co/TYCOjG2Ffe #EFC

— Everton (@Everton) May 1, 2014
The former Wigan boss even suggested a Liverpool title win would add to the Merseyside teams' rivalry, something many Everton fans are likely to disagree with, per Greg O'Keeffe of the Liverpool Echo:
Martinez feels #LFC title win would be "another fascinating chapter" in history between the two clubs and only strengthen "healthy rivalry"

— Greg O'Keeffe (@GregOK) May 1, 2014
Matches between the two Merseyside teams were high-scoring affairs this season, although unfortunately for the Blues, Liverpool destroyed Martinez's men during the second fixture at Anfield.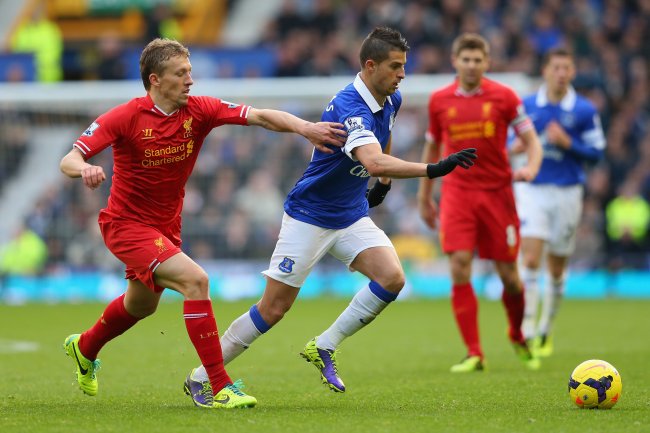 Alex Livesey/Getty Images
The impressive boss—who has added a sense of attacking ambition to the steel previously inserted by David Moyes—was one minute away from toppling Liverpool before Daniel Sturridge levelled in November's 3-3 draw. Everton were blown away in January's reverse fixture, losing 4-0 in front of a jubilant Kop.
Gary Neville, who is set to commentate on Saturday's clash for Sky Sports, received a plethora of varying responses when asking whether Everton fans would prefer to see their team lose in order to stop Liverpool's title charge:
@GNev2 Let's just say, if Martinez wanted to rest 11 players, it wouldn't be the worst thing in the world.

— Tim Mckuhen (@Tim_Efc_11) April 29, 2014
@gnev2 If a fan would rather see their own team lose just so their rivals don't prosper, they should take a cold hard look at themselves

— Chris (@Spookyfish) April 29, 2014
@GNev2 I want Everton to win. They are my team and that's all that matters.

— wayne foy (@waynefoy) April 29, 2014
While Everton can still grab fourth spot, Arsenal must completely capitulate across their final two games for Arsene Wenger's men to miss out.
Everton will be an unassailable four points behind with one game remaining if they lose to City, a gap that could stretch to seven once Arsenal play West Brom. Even if the Toffees beat Pellegrini's visitors, an Arsenal victory ends their quest for fourth.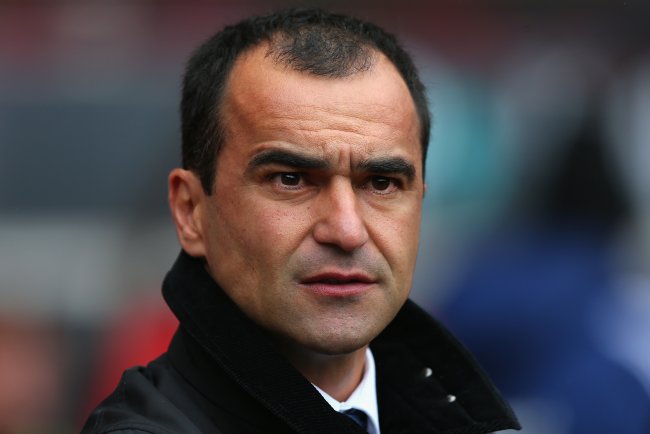 Alex Livesey/Getty Images
It seems unlikely Everton will catch the Gunners even if they overcome City. Even so, many supporters will want to see an excellent showing during the last home match of the season. This is potentially the last time Goodison Park will host Romelu Lukaku and Gerard Deulofeu in an Everton shirt, suggesting the campaign would be something of an anti-climax if they rolled over.
Martinez is not someone who takes losing lightly, and after an excellent debut season with his new club, he will be wanting to head toward the summer with another statement win under his belt.