The 2013-14 Europa League is nearing its conclusion, with just one more set of matches to be played before the grand final on May 14 in Turin. Juventus, Benfica, Valencia and Sevilla are so close to the trophy they can almost touch it, but one final challenge will need to be overcome on Thursday night.
The hosts of the final, Juventus, will need to come back from the 2-1 loss they suffered in Lisbon last week, while Sevilla's 2-0 win in the all-Spanish tie with Valencia has the team in pole position in the second semi-final.
Juventus v Benfica
Live stream info: ITV Player app, FOX Mobile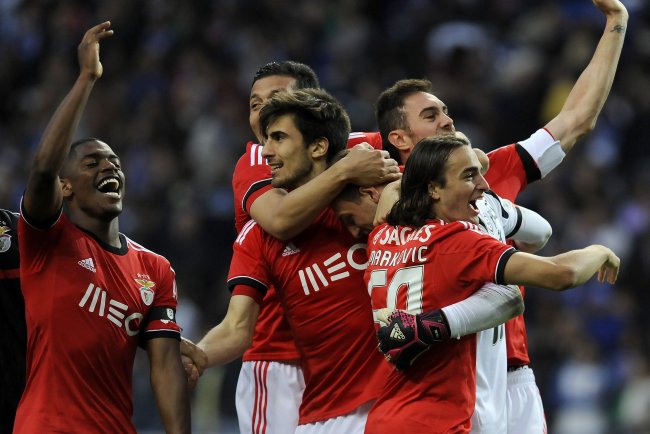 Paulo Duarte/Associated Press
Benfica overran Juventus in the early stages of last week's match, but the Bianconeri were able to gain control and score the all-important away goal before Lima won it for the hosts, giving his team a one-goal lead as they travel to Turin.
Arturo Vidal and Andrea Barzagli both featured for Juventus in their 3-1 win over Sassuolo, and both should be available for this fixture after missing the first leg, according to Corsport (via Khaled Al Nouss):
Vidal is ready for the match vs Benfica. The doubt? Barzagli or Caceres. [Corsport] pic.twitter.com/ejcviL0nGv

— Khaled Al Nouss (@KhaledAlNouss) April 30, 2014
Without Vidal, Benfica were able to keep Andrea Pirlo off the ball for large stretches of the first half, taking away Juventus' primary source of creativity. They will look to duplicate that game plan, but Vidal's constant movement around Pirlo will make that all the more difficult.
Fernando Llorente should also be fit, and he celebrated his return to the pitch with a superb goal this past weekend:
Holy moly what a beautiful back heel this was from Fernando Llorente last night! https://t.co/AVp2lh8nTa

— Gareth Thomas (@GJ_Thomas) April 29, 2014
Llorente provides the Bianconeri with a more physical presence in the opposition box, which could prove vital against Benfica's high line.
Benfica were none too pleased when they found out Juventus filed an official complaint against Enzo Perez for his alleged elbow on Giorgio Chiellini, but Tom Kundert has learnt Perez will be available for selection:
Great news for Benfica. UEFA throw out Juventus complaint against Enzo Pérez. Argentinean will play in Turin.

— Tom Kundert (@Portu_Goal) April 30, 2014
Andre Gomes will be the only notable omission from last week's squad, as he will sit this one out having picked up his third yellow card.
Benfica dominated Juventus' wide players with quick counters through Lazar Markovic and Miralem Sulejmani but seemed to run out of gas in the second half last week, allowing the Bianconeri to battle their way back into the match.
While the temptation to lean back and play the counter will be there for the Portuguese champions, it is a tactic they should avoid if at all possible. Juventus are used to possession and struggle with athletic teams who press high. Benfica shouldn't be afraid to play their own game at the Juventus Stadium.
Prediction: Juventus 2-1 Benfica, Benfica progress after ET/penalties
Valencia v Sevilla
Live stream info: FOX Mobile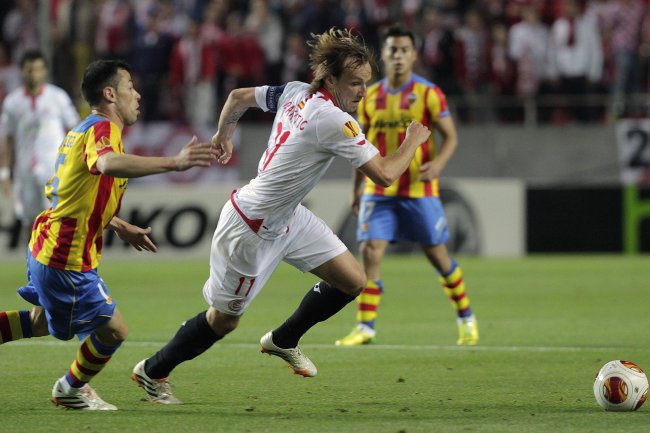 Miguel Angel Morenatti/Associated Press
Sevilla will take a comfortable two-goal lead into this tie, but if Valencia's quarter-final performance against Basel is any indication, the visitors shouldn't feel too comfortable with such an advantage.
Valencia embarrassed the Swiss outfit in the second leg, winning 5-0 at home in large part due to a hat-trick from Paco Alcacer.
The youngster has enjoyed a tremendous breakout campaign in 2013-14, but as shared by Sergi Dominguez, he will not be available for this fixture:
UEFA have denied Valencia's appeal to have Paco Alcácer's yellow card against Sevilla rescinded. Will miss the second leg.

— Sergi Domínguez (@FutbolSergi) April 28, 2014
Fans were understandably upset at the ruling, as the incident which led to the yellow card was one of the most blatant acts of simulation seen on a European pitch all season:
@UEFA Fair Play???? Beto play the match Paco Alcacer don't play. pic.twitter.com/30FHAhQuBi

— Juan Suárez (@ConsentidoTM) April 29, 2014
Alcacer's goals have been a vital component of Valencia's approach to matches all season, and Sergi Dominguez doesn't see the team pulling off another remarkable comeback without him:
Los Che pulling a 'remontada' in second leg very unlikely now with Alcácer missing the game.

— Sergi Domínguez (@FutbolSergi) April 28, 2014
Without their young striker, much of the attacking responsibilities will go to Jonas and Eduardo Vargas, who will most likely start together up front.
Sevilla's Carlos Bacca has enjoyed an exceptional season and has a knack for scoring important goals, like his brace against Real Madrid and the second goal for his club against Valencia last week.
Ivan Rakitic was rested in Sevilla's weekend fixture against Athletic Bilbao, to the surprise of many. The Croatian has been the team's main playmaker in midfield, something he underlined against Valencia, as shared by WhoScored.com:
Ivan Rakitic: No player has created more chances in a Europa League match this season than Rakitic did vs Valencia (9)

— WhoScored.com (@WhoScored) April 25, 2014
Sevilla lost to Athletic 3-1 and now chase the Basques by six points in the race for La Liga's final Champions League ticket. With the visitors enjoying a seven-point lead over Villarreal, it seems all but certain Sevilla will finish the season in Europa League territory.
Both clubs have little left to play for in the league, making this semi-final the absolute highlight of the remaining season. But without Alcacer, it seems very unlikely the hosts will be able to repeat their Europa League heroics.
Prediction: Sevilla 1-1 Valencia, Sevilla progress to the final