Updates from Saturday, May 10
The Giants official Twitter feed reports good news on Cain's status:
Matt Cain is on the hill as the #SFGiants battle the Dodgers at 1:10 PT. Preview: http://t.co/2KNbfHLdK6 pic.twitter.com/oAWNwemCsT

— San Francisco Giants (@SFGiants) May 10, 2014
Updates from Friday, May 9
ESPN.com reports Cain plans to return soon:
San Francisco Giants right-hander Matt Cain says his cut finger has healed and he plans to start Saturday against the Los Angeles Dodgers after coming off the disabled list.

Cain cut his right index finger while making a ham and cheese sandwich and was placed on the DL retroactive to April 24.

"It feels like a finger," Cain playfully told the San Francisco Chronicle on Thursday.

Said manager Bruce Bochy: "Barring any setbacks, he's good to go."
Updates from Monday, May 5
Henry Schulman of the San Francisco Chronicle talked to Matt Cain about his injured finger:
Cain fully expects to be ready for his next start Saturday. #sfgiants

— Henry Schulman (@hankschulman) May 5, 2014
Updates from Sunday, May 4
John Shea of the San Francisco Chronicle has big news on Matt Cain's status on the Giants roster:
Cain placed on DL, Dunning to be recalled. #sfgiants

— John Shea (@JohnSheaHey) May 5, 2014
Original Text
Those San Francisco Giants fans who were hoping to see Matt Cain take the mound Tuesday against the San Diego Padres will be sorely disappointed.
The team's official Twitter page updated supporters on the condition of the former All-Star:
Matt Cain scratched tonight after cutting his right index finger. Yusmeiro Petit will start in his place. #SFGiants

— San Francisco Giants (@SFGiants) April 30, 2014
San Francisco Chronicle reporter John Shea had Cain's thoughts on the injury:
On Cain's cut finger, Bochy said trainer Dave Groeschner said:"it'll close up in a couple days, and he should be fine." #sfgiants

— John Shea (@JohnSheaHey) April 30, 2014
Alex Pavlovic of the San Jose Mercury News explains how the injury occurred:
Matt Cain was scratched from his scheduled start against the San Diego Padres on Tuesday night after cutting the tip of his right index finger while making a sandwich in the clubhouse kitchen. The cut, which happened after batting practice, didn't require stitches, but kept Cain from taking the mound because it occurred at a spot where Cain releases pitches from his hand.
San Francisco held a narrow lead in the National League West standings coming into action Tuesday, but Cain has disappointed in the early going. He is yet to register a win in his five starts and has already given up five home runs in 31 innings of work. His ERA checks in at 4.35, which is nearly an entire run higher than his career mark of 3.37.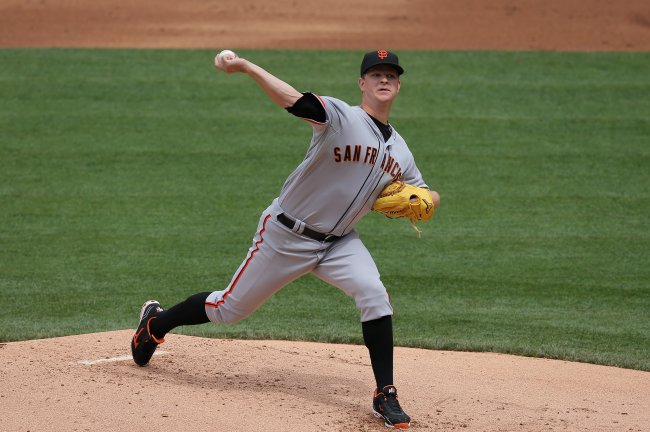 Doug Pensinger/Getty Images
Missing a start for a cut on his finger may seem like a drastic measure to take, but something like that can certainly impact Cain's grip on the baseball and his subsequent control. Considering it is only April and he has struggled thus far, it is probably in the team's best interest to ensure that its righty is entirely healthy before his next start.
Check back for more updates.