In what has been an exhilarating back-and-forth series between the Houston Rockets and the Portland Trail Blazers, the Rockets now find themselves with their backs against the wall. The Blazers secured that crucial third win in Game 4, and now Houston must make the necessary adjustments before its season comes to a sooner-than-expected end.
Each game so far has come down to a nail-biting ending with plenty of "what ifs." There have been some questionable calls and costly mistakes, but with certain adjustments, the Rockets can make sure that the game doesn't go down to the wire. We've seen that just about anything can happen down the stretch in this series.
Houston now has to make sure that no funny business goes on in the last minute of the game. Every game from here on out has a "win or go home" mentality.
There have been a handful of issues that have cost the Rockets so far in the postseason. LaMarcus Aldridge set the tone in the first two games by going absolutely nuts. He scored at will until coach Kevin McHale finally made some adjustments in Game 3, putting Omer Asik in the starting lineup and doubling down the baseline.
The Rockets still have other issues on defense, and their shooting hasn't been particularly good. McHale fixed this problem somewhat by putting sniper Troy Daniels in the rotation to help space the floor and hit some threes. Also, of course, turnovers have been a big problem for the Rockets, as they have been all season long.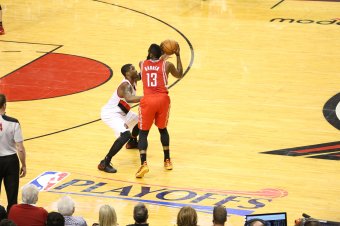 David Sherman/Getty Images
However, there is one major adjustment Houston must make to solve its biggest problem.
The Rockets have given up two double-digit fourth-quarter leads now, as well as an eight-point lead. The Blazers have been able to rally back into the game far too easily, and the reason is because of "hero ball."
For some reason, for the last eight minutes or so of the fourth quarter, the Rockets stop running their offensive sets. Everyone stands around and watches James Harden hopelessly dribble and force up a terrible shot at the end of the shot clock.
Despite his struggles this series, Harden is still a tremendously talented scorer, so sometimes these isolations work. Harden can hit some tricky step-backs and some long-range threes, but a lot of the time, these possessions come up empty.
In a close game, like all of these games have been, each possession, especially in the fourth quarter, is crucial. Houston has to stop wasting so many possessions because it allows Portland to go on a run and reclaim the lead.
Way too much hero ball by James Harden. #BlazersVsRockets

— Ramin Farzami (@RFurz) April 28, 2014
James Harden playing hero ball. Not going to end well for #Rockets if they allow him to keep doing that.

— Lance Zhou (@lancejlzhou) April 26, 2014
As much as I love James Harden hero-ball, I HATE James Harden hero-ball. This offense is stagnant and painful to watch.

— Aaron Adams (@aja5191) April 26, 2014
The Rockets had the second-highest-scoring team in the league this season, and they did that by running the offense with quick ball movement and great spacing. So why waste key possessions by standing around and watching?
Some of these players do enough standing around and watching on the defensive end (that was a cheap shot on Harden), but the Rockets' best defense all season long has been their offense. So if they're not playing defense, as usual, and they're not playing offense, then why wouldn't Portland be able to get back in the game?
"We didn't execute very well, we held the ball way too often," McHale said at the press conference after Game 4. "We just held the ball way too much. We didn't attack enough and we had a ton of opportunities."
What will be the result of this Rockets-Blazers series?
McHale is aware of the problem, so let's hope he can get his players to continue to run the offense and not get fazed if the Blazers start knocking on the door late in the fourth. In the last couple of games, the Rockets have played well in the first three quarters but have been prone to giving up comebacks due to a surplus of hero ball.
When the next fourth quarter comes around, the Rockets must keep the ball moving and run their NBA-elite offense. Houston is down but not out (not yet anyway). The Rockets can pull this off and survive this series if they can execute better down the stretch.