Diego Simeone's Atletico Madrid head into Wednesday's Champions League semi-final second leg against Chelsea in confident mood.
A hard-fought win away at Valencia at the weekend sees the Rojiblancos just two wins away from a La Liga triumph that they will have fully deserved.
And Simeone's men know that just 90 minutes separate them from the Champions League final in Lisbon. A good season can become a great one if Atleti can snatch an away goal or two that could see them progress.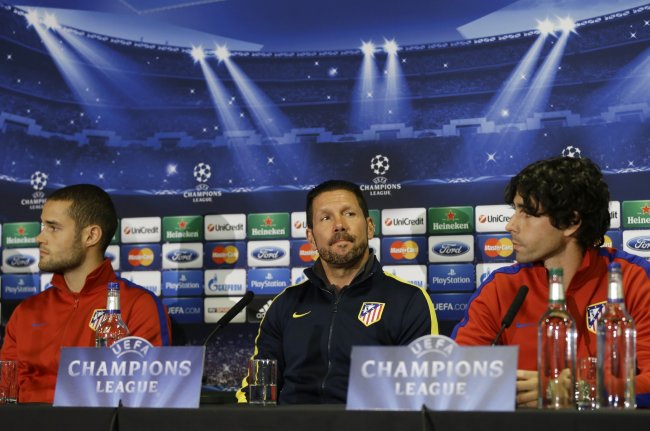 Kirsty Wigglesworth
Mario Suarez and Tiago lined up alongside their manager, and the former was first to speak.
His body language and tone spoke of a team that goes into the tie supremely confident of a result, and his answer to the first question put to him, noted by The Sport Review's Kieran Beckles, was unequivocal:
Mario Suarez: "We're itching for it to start. Our mental state is good and we feel that we have a good chance." #Atletico

— Kieran Beckles (@kieranbeckles) April 29, 2014
Unlike many opposing teams, going into the "lions' den" of Stamford Bridge holds no fears for Atleti, the only team that remain unbeaten in this year's competition, per Josh Jackman of The Independent.
Suarez also spoke of the team bond which the Atleti players have and the important part it plays in binding the group together. Rob Harris of the Associated Press noted:
Atletico's Mario Suarez admits at pre-match press conference: "We need to give 110%. We are going to try to win "

— Rob Harris (@RobHarris) April 29, 2014
Before Simeone was handed the microphone, a few questions were directed to former Blues player Tiago and were mainly centred around how much Jose Mourinho's former charge could help his current side.
Tiago's observation that Chelsea "will start very strong and are well organised" was hardly the earth-shattering nugget that the gathered journalists might have expected.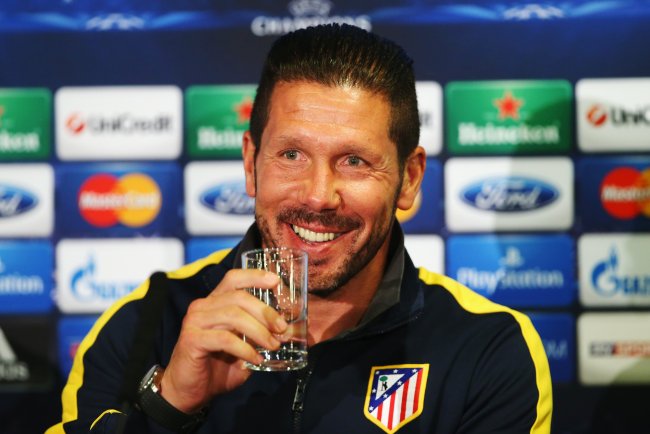 Clive Rose/Getty Images
Nine straight La Liga wins are evidence of a team that are bang in form and a team that will stand toe-to-toe with Mourinho's experienced side.
Simeone was certainly in an affable and relaxed mood when his turn came to address his audience.
The Argentine spoke with confidence and pragmatism, and when a point was raised about the defensive nature of both Atleti's and Chelsea's approach, Simeone forcibly put across his argument, noted by ESPN's Dermot Corrigan and Miguel Delaney:
Simeone: "There are different ways to win a game. Each one chooses what is best for the team they have, and the moment they are in."

— Dermot Corrigan (@dermotmcorrigan) April 29, 2014
Simeone: "To defend well is not easy. Neither is attacking. Football is a fluid game. Nobody has the absolute right answer."

— Miguel Delaney (@MiguelDelaney) April 29, 2014
With a nod to his team's run to the semi-final already being a "massive statement," Simeone was, in effect, taking the heat completely off of his players.
Traditionally a team that runs out of steam by the business end of the season, Atleti have been full value during this campaign, and a final berth should not be beyond a group of players who have maintained the highest levels throughout the last nine months.
But Simeone is not daft. By placing any pressure on his relatively inexperienced side—when compared to a Chelsea side who have been here six times during the Roman Abramovich era—would be akin to professional suicide.
Turning the pressure fully onto Chelsea was a masterstroke of which Mourinho would've been proud. Acknowledging the result at Anfield on Sunday, Simeone said, per Kieran Beckles:
Simeone on Hazard/Terry playing: "Even with a lot of changes they were able to beat the Premier League leaders. That speaks volumes." #CFC

— Kieran Beckles (@kieranbeckles) April 29, 2014
Such a gold-standard performance and impressive demeanour should radiate onto his players and allow them to go out and play a natural game.
Whether a "war of attrition" or an intelligent cat-and-mouse chess game, Simeone should ensure his men are up to the task.

A defensive Chelsea performance will suit the away side, with Simeone knowing that just one goal will send Atleti through to their first Champions League final in 40 years.
We could be in for an absorbing contest.