After Real Madrid dominated Bayern Munich 4-0 in Monday's Champions League semi-final second leg, the post-match reaction from both managers similarly couldn't have been more different.
Pep Guardiola's all-conquering Bayern side was completely destroyed by a rampant Real Madrid, and as Jan Aage Fjortoft noted, the manager kept the dressing-room door locked after the match:
Guardiola kept all his players In the dressing-room. Finished now. Lot to talk about

— Jan Aage Fjortoft (@JanAageFjortoft) April 29, 2014
The Catalan could have no complaints about the result. His team was simply not at the races, and Los Blancos took full advantage.
Whatever it was that the Bavarians seemed to try, it had no effect on the game, and conceding two goals so early on in the match killed the tie as a contest.
Indeed, per Lee Roden of talkSPORT, Guardiola certainly wasn't looking for excuses:
RT @marcosperiodico Guardiola: "We conceded two goals from set plays, we've played really badly, that's the only reason. It's football'

— Lee Roden (@LeeRoden89) April 29, 2014
And the Champions League Twitter account also detailed his disappointment:
Guardiola, @FCBayern: We are disappointed & sad to have lost. We lost clearly and by a large margin. #UCL

— Champions League (@ChampionsLeague) April 29, 2014
Guardiola, @FCBayern: What we did against Arsenal and Manchester did not work today. #UCL

— Champions League (@ChampionsLeague) April 29, 2014
Carlo Ancelotti had said before the match, per Marca, that his team wouldn't sit back and defend, and his tactics were absolutely spot-on. Los Blancos provided a masterclass of football throughout, and there cannot be any argument that they were deserving to go through.
Perhaps the only sour note of his night was the booking for Xabi Alonso, which rules him out of the final and could very well come back to haunt Madrid.
Per ITV Football, the Italian clearly didn't agree with the suspension:
Ancelotti on Alonso: "It's a big disappointment - he didn't deserve his yellow card"

— ITV Football (@itvfootball) April 29, 2014
Questioned as to why he just didn't take the midfielder off when Madrid were leading 3-0 and clearly on the way to the final, Ancelotti made a succinct reference to the 2005 Champions League final when he was manager of AC Milan, as beIN Sports' Tancredi Palmeri noted:
Ancelotti: "Subbing Xabi Alonso on 3-0? Game was not over, and I have experience of games not over on 3-0..."

— Tancredi Palmeri (@tancredipalmeri) April 29, 2014
Speaking to Sky Italia, via Gabriele Marcotti, the Italian understood immediately the magnitude of the performance:
Ancelotti on Sky Italia: "Best game we've played this year. You can only get a result like that if ur players are perfect."

— Gabriele Marcotti (@Marcotti) April 29, 2014
Ancelotti had every right to feel pleased about his night's work. Squawka noted that Real had only made 209 passes compared to Bayern's 579, yet scored four goals on the night.
It is a performance that will make the football world sit up and take notice, but what now for Guardiola?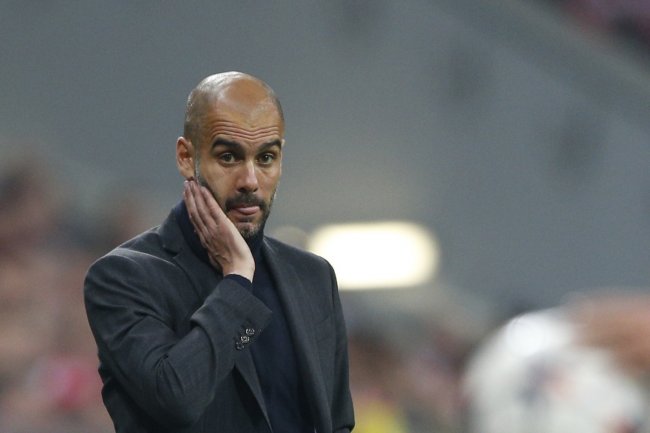 Matthias Schrader
Brought in to carry on the good work of Jupp Heynckes, there is likely to be an inquest in Bavaria when the dust settles as to what went so wrong.
After all, this is a team that until the beginning of April had only lost two games in all competitions, per WhoScored.com, but has now lost four in 24 days. The wheels have most definitely come off.
There is also the small matter of the German Cup final looming against a Borussia Dortmund side that just as comprehensively wiped the floor with Bayern at the Allianz Arena a fortnight ago.
A Bundesliga win that was secured in record time just won't do, especially for a side that has been universally acclaimed as the best in the world for a while now. Carlo Ancelotti's side made it look ordinary, and it is perhaps Real Madrid who can look forward to the near future with renewed vigour and a place at the head of football's top table.
The Italian can begin to plan for a successful end to the campaign, but the loss of Alonso can be tempered by the return of Sami Khedira, who continues a battle for fitness and a seat on the plane for the World Cup. The treble remains a possibility.