Dani Alves wishes to publicly shame the Villarreal fan who threw a banana at his feet during Barcelona's 3-2 comeback win in Sunday's dramatic La Liga tie at El Madrigal.
While Lionel Messi's late winner confirmed a memorable victory for the Blaugrana, Alves' slick response to racist abuse has rightfully earned the limelight. Casually picking the banana up as he prepared to take a corner, Alves took a quick bite and flung the rest away before going on to help assist two of Barca's goals.
He now wishes to reveal the perpetrator's face to the entire world, as reported by Yahoo! Eurosport:
DANI ALVES: "If I could, I would put a photo of the (banana-throwing) fan on the internet so that he would be shamed."

— Eurosport.com EN (@EurosportCom_EN) April 29, 2014
Alves also believes that, despite common perception, Spain isn't as accepting as many believe, again per Yahoo! Eurosport:
DANI ALVES: "There is racism against foreigners. They sell [Spain] as being first world but in certain things they are very backward."

— Eurosport.com EN (@EurosportCom_EN) April 29, 2014
A video of the incident was posted by SB Nation Soccer:
A racist threw a banana at Dani Alves, so he ate it and kicked racism in the face. http://t.co/N5fW2rAncz https://t.co/Fowr2hJyzx

— SB Nation Soccer (@SBNationSoccer) April 27, 2014
Alves' original comments after the incident suggested he didn't want to give the racist supporter any kind of exposure, saying, "If you don't give it importance, they don't achieve their objective," per The Guardian.
The footballing world has come together to support Alves' actions since those quotes were given. Neymar, his Barcelona and Brazil teammate, started a "#weareallmonkeys" tag ("#somostodosmacacos" in Portuguese) on Twitter to raise awareness and reassure Alves that he doesn't stand alone, as noted by Bleacher Report UK:
Footballers stand with @DaniAlvesD2, take to social media with #weareallmonkeys http://t.co/EkXCT0Uljg pic.twitter.com/1UTvHUZFHD

— Bleacher Report UK (@br_uk) April 28, 2014
Dermot Corrigan of ESPNFC.com said T-shirts with this slogan were already on sale in Brazil before the incident took place, highlighting the regularity of such abuse:
T-shirts with Neymar's #somostodosmacacos & banana already on sale in Brazil before Alves incident at Villarreal: http://t.co/OHGaJyTBy8

— Dermot Corrigan (@dermotmcorrigan) April 29, 2014
Villarreal confirmed that the offending supporter has been banned from El Madrigal for life after "security forces and the invaluable assistance of the Yellow crowd" helped identify the racist, per ESPNFC.com.
FIFA president Sepp Blatter called the incident "an outrage" and said the governing body will issue a "zero tolerance" response at the upcoming World Cup, as noted by Sky Sports.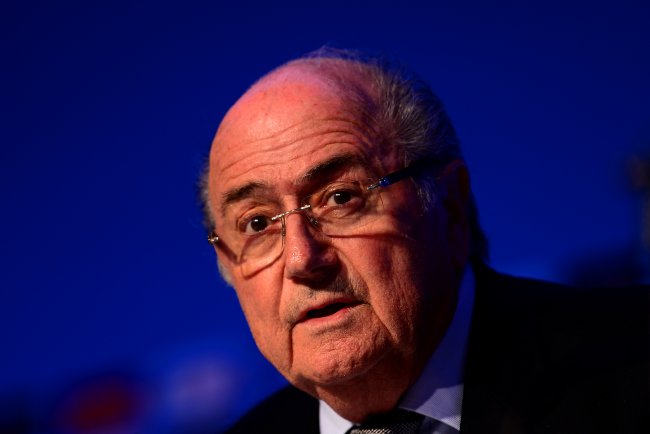 Buda Mendes/Getty Images
This year's tournament, held in Brazil, is the perfect opportunity for the footballing community to show its solidarity and for FIFA to severely punish any further offences.
Alves' strength of character has inspired a positive response throughout the sport, but his wish to publicly show his abuser's face certainly points toward a much deeper issue. While the Barca full-back is forced to take responsibility for every action he performs on the pitch, supporters are afforded a lack of accountability when they commit criminal acts.
It also shines a light on footballers' responses to racist abuse. If Alves had reacted angrily, he could have faced some sort of punishment in the public eye.
His nonchalant response to the banana was almost an acceptance that racism will never cease in football, suggesting FIFA must do more to eradicate it from the game.