Updates from Saturday, May 17
Jon Rosen of lakingsinsider.com provides a key update on Willie Mitchell's status for the Western Conference Finals:
Mitchell could be available at some point this series; "when" is unclear. Sutter: WM has "a muscle injury that was related to a knee injury"

— Jon Rosen (@lakingsinsider) May 17, 2014
Updates from Friday, May 16
Elliott Teaford of the Daily Breeze and the Los Angeles News Group provides a synopsis of Kings head coach Darryl Sutter discussing Willie Mitchell's availability for tonight's Game 7 against the Ducks:
Darryl Sutter on Willie Mitchell's availability for #Game7: he's not an option. #LAKings

— Elliott Teaford (@ElliottTeaford) May 16, 2014
Updates from Tuesday, May 13
Darryl Sutter spoke about Willie Mitchell's status prior to Game 6 vs. Anaheim (via Dan Rosen of LAKingsInsider.com):
Sutter played coy when asked about Mitchell's return to the Toyota Sports Center ice.

"I'm going to go for a little skate, too," he said.

When asked whether there was "any chance" that Mitchell would play in Game 6, Sutter maintained his poker face.

"A chance? Like, what do you want me to put the odds on?" he asked.

"I mean, he hadn't skated in two weeks. Even if a player came and told me that he was ready to play tomorrow and he hadn't skated in two weeks, he'd probably make the same mistake that somebody else would make."
Updates from Wednesday, May 7
Rich Hammond of the Los Angeles Register updated Willie Mitchell's status:
Regehr/Mitchell not present at Kings practice this morning.

— Rich Hammond (@Rich_Hammond) May 7, 2014
Updates from Saturday, May 3
Helene Elliott of the Los Angeles Times has the latest on Mitchell:
Sutter said Willie Mitchell stayed back at training facility and won't play tonight. Greene will replace him.

— Helene Elliott (@helenenothelen) May 3, 2014
Updates from Wednesday, April 30
Helene Elliott of LA Times reports on what the plan is for Willie Mitchell tonight against the Sharks:
Greene in for Mitchell for Kings

— Helene Elliott (@helenenothelen) April 30, 2014
Original Text
There is never an ideal time for an injury, but the magnitude of any health concerns is much higher in the postseason.
The Los Angeles Kings may find this out the hard way, as Brodie Brazil of Comcast SportsNet in San Francisco pointed out to fans:
Willie Mitchell under evaluation. His return "questionable" per #LAKings

— Brodie Brazil (@brodiebrazilCSN) April 29, 2014
Willie Mitchell's durability was a huge plus for the Kings during the regular season, as the defenseman played in 76 games. While Mitchell only tallied one goal on the year, which isn't necessarily that troublesome of a number considering his position, he did have a plus/minus rating of plus-14.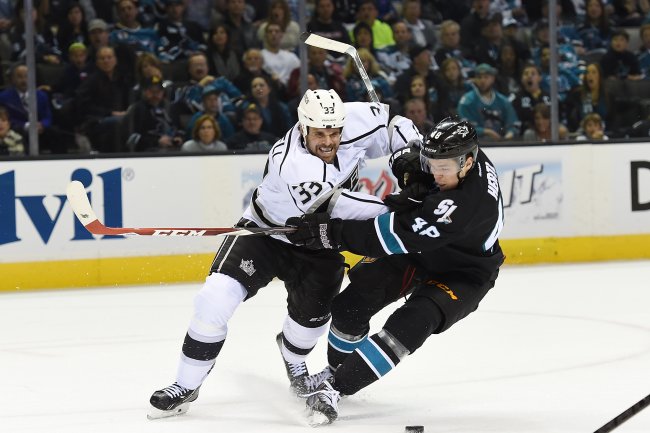 Thearon W. Henderson/Getty Images
The Kings were fighting for their playoff lives in Game 6 of their series against the San Jose Sharks when Mitchell was injured. San Jose won three of the first five games to take a 3-2 lead, but if Los Angeles can force a Game 7 on Wednesday, it could certainly use Mitchell on the back line.
Check back here for more updates as they unfold.