As the first round of the 2014 NHL playoffs winds down, there are a few hot teams that have plenty of momentum heading into the second round as they attempt to make runs at the Stanley Cup.
Most teams have already advanced to the second round, but a few teams continue to battle as their respective series continue to heat up. Monday's action was especially interesting, as the Minnesota Wild were able to win 5-2 over the Colorado Avalanche to force a Game 7 against one of the best teams in the NHL.
With the first round winding down, let's take a look at the updated bracket through Monday as well as a look at some of the hottest teams entering the second round.
Updated Bracket
The most up-to-date bracket can be viewed at NHL.com.
Chicago Blackhawks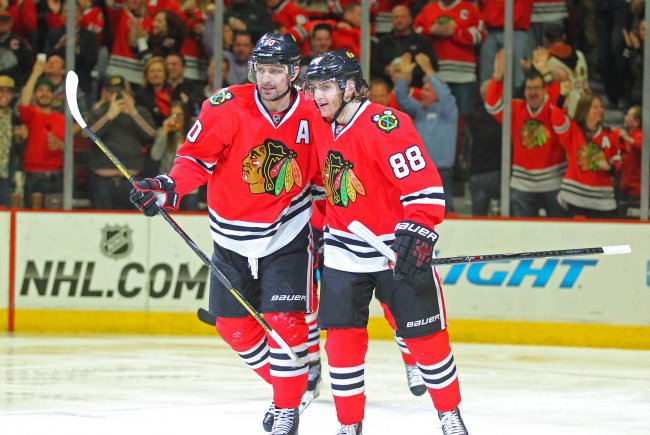 USA TODAY Sports
It may have taken the a couple of games, but the Chicago Blackhawks are finally looking like the defending Stanley Cup champions, and now, they're looking to make another deep run.
Things weren't looking too great for the Blachawks after their first two games, losing both 4-3 in overtime with late goals in the third period from the St. Louis Blues that helped tie things up. To make things worse, Brent Seabrook was suspended for three games after hitting David Backes against the boards in Game 2.
Despite the suspension to one of their key defenseman, the Blackhawks were able to rally, winning the next four games thanks to big performances from key players like Patrick Kane, Jonathan Toews and Corey Crawford. Duncan Keith was a big reason the Blackhawks closed out their series with a 5-1 win in Game 6, grabbing a goal and three assists.
Head coach Joel Quenneville was especially happy with Keith's performance, according to Scott Powers from ESPN.com.
I thought Duncs had a game. I've been around here six years with Duncs -- that might have been the best game I've seen him play. I think not just looking at his point production. [It was] his quickness, his patience. He defended well, his gap. He did everything well. He killed penalties for us.
With Seabrook returning from suspension and the entire team starting to get on the right page, it looks like the Blackhawks could go a long way.
Montreal Canadiens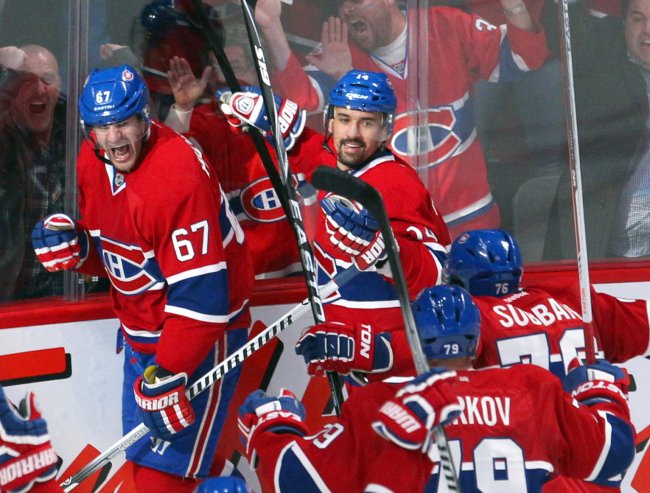 USA TODAY Sports
Only one team was able to sweep its first-round series, and that was the Montreal Canadiens.
Who will win this second-round series?
The Canadiens had little trouble with the Tampa Bay Lightning, winning all four games by a combined score of 16-10. It's not like the Canadiens suddenly got hot entering the postseason, either, as they finished out the regular season on a 11-3-1 run.
The contributions during the series came from everywhere, with P.K. Subban, Lars Eller and Brendan Gallagher all coming up with five points in the series.
The Canadiens will need to continue to have a balanced attack as they prepare to take on the Boston Bruins. According to Michael Farber, the two teams have met an incredible 34 times in the playoffs.
Bruins-Canadiens 34 playoff meetings, 3 more than Red Sox-Yanks and Celts-Lakers combined.

— Michael Farber (@MichaelFarber3) April 28, 2014
Montreal's penalty killing will be key against Boston, as the Canadiens ranked fourth in penalty-kill percentage at 85.1 percent while the Bruins ranked third in power-play percentage at 21.7 percent. If they can win that battle, then their hot streak could continue into the next round.