The first 10 days of the 2014 NBA playoffs exceeded expectations, and if the start of this year's postseason action is any indication, NBA fans are in for a treat this spring.
With road teams experiencing an unprecedented amount of success and more than a half-dozen games requiring overtime (per ESPN Stats & Info), these first-round playoffs have been chaotic to say the least.
7 games have gone to overtime this NBA postseason and the 1st round isn't done yet. The record for OT games in an ENTIRE postseason is 10.

— ESPN Stats & Info (@ESPNStatsInfo) April 28, 2014
Below, we'll get you up to speed on where we stand heading into Day 11 by breaking down some of the top storylines to this point.
2014 NBA Playoff Bracket (as of Tuesday, April 29 at 3 p.m. ET)
First Round

Conf

. Semis

Conf

. Finals
NBA Finals
EASTERN CONFERENCE
(1) Indiana Pacers
(8) Atlanta Hawks (Lead 3-2)
(4) Chicago Bulls
(5) Washington Wizards (Lead 3-1)
(3) Toronto Raptors (Tied 2-2)
(6) Brooklyn Nets
(2) Miami Heat (Win 4-0)
(7) Charlotte Bobcats
WESTERN CONFERENCE
(1) San Antonio Spurs (Tied 2-2)
(8) Dallas Mavericks
(4) Houston Rockets
(5) Portland Trail Blazers (Lead 3-1)
(3) Los Angeles Clippers (Tied 2-2)
(6) Golden State Warriors
(2) Oklahoma City Thunder (Tied 2-2)
(7) Memphis Grizzlies
*Click here for the latest playoff results via NBA.com.
Miami Heat Take First Step Toward Three-Peat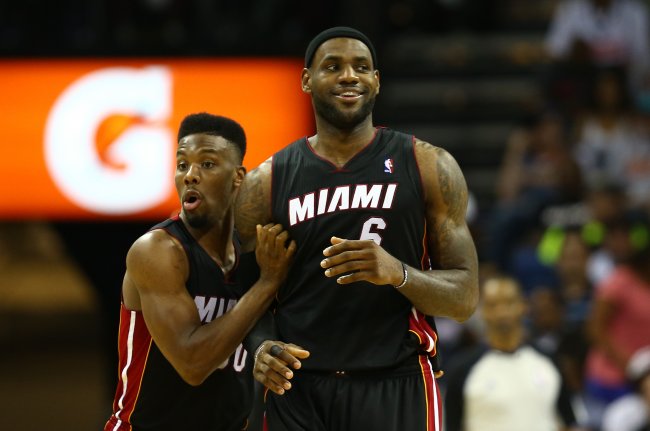 Streeter Lecka/Getty Images
LeBron James and the two-time defending champion Miami Heat have taken a huge step toward winning their third consecutive NBA championship this spring, sweeping the seventh-seeded Charlotte Bobcats to become the first team to punch a ticket to Round 2.
Afterward, head coach Erik Spoelstra expressed his excitement to be moving on to the conference semifinals, per the Sun Sentinel's Ira Winderman:
This does not get old and we do not take it for granted, having the opportunity to move on to another round. We're very pleased that we're able to move on and we're not jaded enough that we don't enjoy this process.
As ESPN Stats & Info points out, winning in the first round has become a habit for the Heat in the Big Three era:
Heat are 16-2 in 1st round games in the "Big 3" era, have won 9 straight

— ESPN Stats & Info (@ESPNStatsInfo) April 29, 2014
The Heat will take on either the Toronto Raptors or Brooklyn Nets in the conference semifinals. Regardless of which team advances, Miami will possess home-court advantage and be a heavy favorite to advance to the Eastern Conference Finals.
Road Teams Finding Ways to Win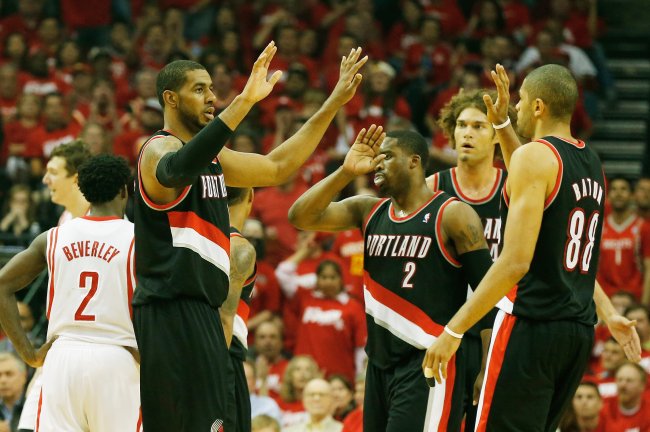 Scott Halleran/Getty Images
As already mentioned, road teams have had a tremendous amount of success through the first two-thirds of Round 1 this April.
The Washington Wizards' and Portland Trail Blazers' early victories highlight this trend. Both the Wizards and Blazers won the first two games of their respective series on the road to take 2-0 advantages back home for Games 3 and 4.
Adding to the craziness, both of their opponents, the Chicago Bulls and Houston Rockets, won Game 3 on the road to continue the trend.
After Saturday's action, in which the road teams went 3-1, Fox Sports' Sam Amico pointed out the visitors' impressive success rate:
#NBA road teams remarkable 15-11 in playoffs. Road has had more wins than home at the end of each day since playoffs began.

— Sam Amico (@SamAmicoFSO) April 27, 2014
Home teams recovered to go 3-1 on Sunday, but with all three road teams prevailing on Monday night, road teams are now a combined 19-14 (.576) through the first 33 games of these playoffs.
Top-Seeded Pacers Continue to Struggle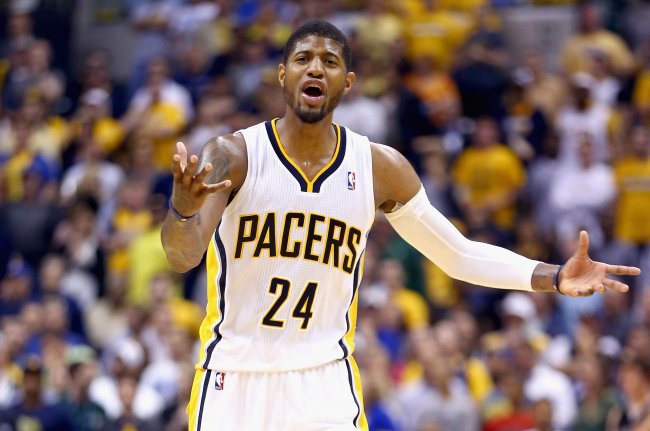 Andy Lyons/Getty Images
The No. 1 seed in the Eastern Conference, the Indiana Pacers were supposed to challenge for the NBA title this postseason. But following a disappointing Game 5 home loss on Monday, the Pacers trail the eighth-seeded Atlanta Hawks 3-2 in their first-round series and are now just one loss away from being eliminated.
Indiana's elite defense, which propelled it to the East's best record during the regular season, was nonexistent in the first half of Game 5, surrendering 61 points to the Hawks. Forty-one of those points came in the second quarter, per the Pacers' official Twitter account:
Pacers have been outscored 28-6 here in the 2nd. Atlanta is shooting 90% in the quarter, compared to Indiana's 25%.

— Indiana Pacers (@Pacers) April 29, 2014
Winning two straight against the Hawks, who won just 37 games during the regular season, won't be impossible, but it'll be a tall order considering Atlanta is playing with loads of confidence.
Not to mention that Indiana's defense has experienced a dramatic drop-off over the past couple of months.
Therefore, if Atlanta can continue to get stops on the defensive end and get into their offense before Indiana can set up its half-court defense, the Hawks will have a phenomenal opportunity to become the first No. 8 seed to advance past the first round since the Philadelphia 76ers upset the Derrick Rose-less Chicago Bulls in 2012.
Follow Bleacher Report Featured Columnist Patrick Clarke on Twitter.