Remember when the Indiana Pacers were the trash-talking kings of the regular season in January?
They don't, either.
With seemingly everything on the line in Game 5 of the team's first-round series with the No. 8 seed Atlanta Hawks, the Pacers laid an absolute egg in front of their home fans. Atlanta dominated the majority of the contest, despite a dicey fourth quarter, and won to the tune of 107-97 to take a 3-2 lead in their best-of-seven series.
The difference in the game was the 41-19 second-quarter advantage in the Hawks' favor. The Hawks held a 30-point lead at one point, although the Pacers clawed all the way back to within single digits in the fourth quarter, but it was too little, too late.
Shelvin Mack led Atlanta with 20 points and five assists, while Paul Millsap added 18 points and four blocks. Paul George paced the scoring for Indiana with 26.
Clearly, the stakes were high for this Game 5, given the fact that the series was tied at two apiece and Indiana is the No. 1 seed in the Eastern Conference. Still, the favorite on the ropes is par for the course in these playoffs, as Alex Kennedy of Basketball Insiders said before the game:
Miami is the only higher seed that is currently leading their first-round series. That's incredible. These playoffs have been unpredictable.

— Alex Kennedy (@AlexKennedyNBA) April 29, 2014
Part of the reason the Pacers weren't able to put the Hawks away early in this series were the struggles of big man Roy Hibbert, as ESPN Stats & Info pointed out:
Roy Hibbert: 7 of 19 (36.8%) shooting inside 5 feet of the basket this postseason, worst in NBA (min. 15 att). Hibbert is 7'2 #ATLvsIND

— ESPN Stats & Info (@ESPNStatsInfo) April 28, 2014
Even with so much on the line, Indiana took a moment to honor the late Jack Ramsay, per play-by-play man Mark Boyle:
Pre-game moment of silence for the great Jack Ramsay. pic.twitter.com/LAxamEJGpU

— Mark Boyle (@Mark_J_Boyle) April 29, 2014
Once the game did tip off, the Pacers got off to a quick start. Candace Buckner of The Indianapolis Star noted that Lance Stephenson and Hibbert were vital in the early going, and SB Nation NBA pointed out that Paul Millsap looked particularly small next to the Pacers big man:
Running, slashing Lance Stephenson is a good way to start this game. 2 quick points with the movement

— Candace Buckner (@CandaceDBuckner) April 29, 2014
Excellent block by Roy Hibbert on Pero Antic just with his straight-up. #Pacers up 10-7

— Candace Buckner (@CandaceDBuckner) April 29, 2014
Paul Millsap is listed at 6'8 but when he retires we're going to find out he's actually 5'10 with shoes

— SB Nation NBA (@SBNationNBA) April 29, 2014
Still, the Hawks came flying back, as NBA on ESPN acknowledged:
Hawks are on a 7-0 run and lead the Pacers 14-12 with 4:35 left in the first quarter of Game 5. #ATLvsIND http://t.co/DQEhkaoEwn

— NBA on ESPN (@ESPNNBA) April 29, 2014
After a back-and-forth first quarter, Indiana held on to a narrow 21-20 lead. However, the second quarter was all about the Hawks.
Scott Agness of Pacers.com noted just how bad the first few minutes of the second quarter were for Indiana:
Pacers outscored 20-4 five minutes into the second quarter to fall behind by 15. Hawks 7-of-8 from the floor in the period.

— Scott Agness (@ScottAgness) April 29, 2014
The primary reason behind Atlanta's dominance was the three-point shooting of Mike Scott. He went on an absolute tear, as NBA on ESPN pointed out:
Mike Scott is having the quarter of his life, and the Hawks are up 15 with 6:59 left in the half. #ATLvsIND pic.twitter.com/5qBld9hmH9

— NBA on ESPN (@ESPNNBA) April 29, 2014
SportsNation might have been a bit confused about which Mike Scott was on the floor:
Mike Scott draining 3's for the Hawks! pic.twitter.com/cNOdq6yqxa

— SportsNation (@SportsNation) April 29, 2014
While the broadcasters' focus was on the incredible shooting of Scott and the rest of the Hawks, Michael Grady of 1070 The Fan put the onus on the Indiana defense:
When a guy hits 2 three's u HAVE to be in his jock. Scola never did. Dude hit two more. Now everyone on the Hawks is shooting w/confidence.

— Michael Grady (@Grady) April 29, 2014
Suffice it to say, the crowd was not happy:
Boo birds are out as the Pacers have given up 57 points so far in the first half, with 2:03 left, and trail by 25.

— Scott Agness (@ScottAgness) April 29, 2014
Sometimes, you just have to tip your cap when the other team gets red-hot, but Dan Dakich of ESPN and Chris Mannix of Sports Illustrated noted that the Pacers weren't exactly doing much of anything to help their cause in the effort or offensive departments:
In a series of horrible Lance efforts..that last 3 by Carroll over him then the shot on the other end is Top 5

— Dan Dakich (@dandakich) April 29, 2014
Pacers look like they are aiming jumpers up, praying they go in. An absolute beating right now in Indy.

— Chris Mannix (@ChrisMannixSI) April 29, 2014
After the second quarter was finally over, Atlanta held a seemingly insurmountable 61-40 lead thanks to an astounding 10 three-pointers and 34 points off the bench. That's right, Atlanta's bench nearly outscored the entire Pacers team in the first half.
Frank Isola of the New York Daily News had a little fun at the Pacers' expense at the half:
The Bobcats should have tanked, finished eighth and faced Indiana.

— Frank Isola (@FisolaNYDN) April 29, 2014
Atlanta had the type of shot chart in the second quarter that would make you quit a video game because you thought it was rigged:
It is hard to imagine a team having a better shooting chart for a quarter than @ATLHawks have for 2nd quarter pic.twitter.com/GeKGCSYuJX

— ESPN Stats & Info (@ESPNStatsInfo) April 29, 2014
Buckner tried to find some solace for Indiana fans early on in the third quarter, but Cole Wright of Fox Sports was more accurate in his assessment:
Pero Antic now has four fouls. There's that.

— Candace Buckner (@CandaceDBuckner) April 29, 2014
@DonBellONFOX @RyanFieldFS1 @CassidyHubbarth The #Pacers right now? #Burninggarbage pic.twitter.com/srVwKesont

— Cole Wright (@ColeWright_FS1) April 29, 2014
As the third quarter continued, the Hawks simply added onto their lead. Fox Sports' Mike Hill didn't see a glimmer of hope for Indiana, regardless of how Game 6 turns out in Atlanta:
Regardless of what happens in this series the Pacers are DONE. FORGET any kind of title this season.

— Mike Hill (@ItsMikeHill) April 29, 2014
This is how bad it got during the third quarter:
A 30-point lead for Atlanta. Incredible.

— Chris Mannix (@ChrisMannixSI) April 29, 2014
Sports Pickle probably didn't make Indiana fans any happier during the game, and SB Nation captured Larry Bird at just the right (or is it wrong?) moment:
This Indiana Pacers team has a certain Peyton Manning's Colts feel to it. (And Peyton Manning's Broncos, now that I think about it.)

— SportsPickle (@sportspickle) April 29, 2014
Pacers down big, Larry Bird indistinguishable from flatmouth emoji (GIF): http://t.co/NyakOjpgnh pic.twitter.com/kkIMiGwxG1

— SB Nation (@SBNation) April 29, 2014
After a third quarter that saw both teams exchange small runs, the Hawks still led, 87-67. It was the basketball equivalent of being stuck in neutral for the Pacers.
The Hawks will take a 20-point lead over the Pacers into the fourth quarter of Game 5. #ATLvsIND pic.twitter.com/AyXCUqdVUh

— NBA on ESPN (@ESPNNBA) April 29, 2014
Then, the fourth quarter started, and the fans sensed something of a spark. Buckner and Chris Vivlamore of The Atlanta Journal-Constitution highlighted the key plays in Indiana's early run:
Nice read by C.J. Watson to steal the inbounds from Shelvin Mack. Goes in for layup. #Pacers down 90-75.

— Candace Buckner (@CandaceDBuckner) April 29, 2014
Pacers on 18-5 run between third and fourth quarters to cut deficit to 15, 90-75, with 9:17 left. #ATLHawks

— Chris Vivlamore (@ajchawks) April 29, 2014
Just when it looked like the Pacers might have a comeback in the works, Stephenson missed an easy bunny at the rim. Doug Gottlieb of CBS Sports summed it up nicely:
Pacers playoffs In a nutshell #Lance

— Doug Gottlieb (@GottliebShow) April 29, 2014
Kirk Goldsberry of Grantland caught the moment perfectly:
In a nutshell pic.twitter.com/PHy0OrDkLs

— Kirk Goldsberry (@kirkgoldsberry) April 29, 2014
Despite the miss, the Pacers cut the lead to single digits with about four minutes remaining, and the crowd was on fire. However, Kyle Korver hit a three-pointer from somewhere in the middle of Illinois to completely suck the air out of the Indiana supporters.
Kyle Korver's 3-pointer, his fifth, gives the Hawks 15 made 3s on the night, a new playoff record for an Indiana opponent.

— Scott Agness (@ScottAgness) April 29, 2014
Until Kyle Korver. Wow. Huge shot. #Hawks up 99-87

— Candace Buckner (@CandaceDBuckner) April 29, 2014
It was essentially the end of the game, even though the Pacers gave a valiant effort in the fourth quarter. If anything, the fact that Indiana closed a 30-point deficit to single digits down the stretch should give it some confidence and momentum heading into a do-or-die Game 6.
Last-minute free throws sealed the win for Atlanta.
What's Next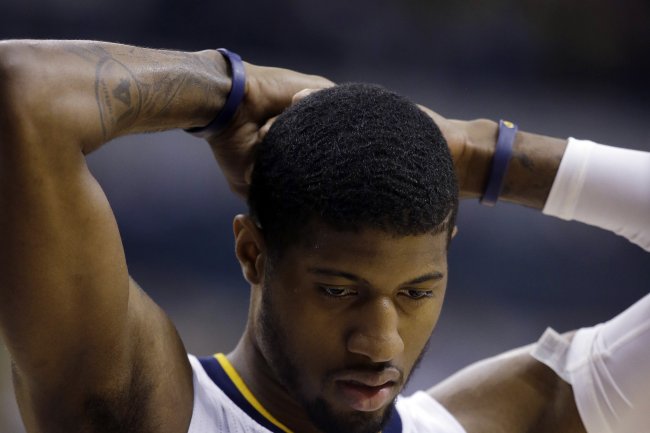 Darron Cummings
After two days off, Game 6 of this series takes place Thursday at 7 p.m. ET on NBA TV, and it will be very easy to lose hope from a Pacers' perspective during that time.
After all, the No. 1 seed just got blown out of the water for most of a critical Game 5 on its home floor and now has to go to Atlanta with no room for error.
However, Indiana fans could find a sliver of optimism in the fact that the Pacers were desperate in Game 4 and responded accordingly, per David West, according to The Associated Press (via ESPN.com): "We were just in desperation mode. You just can't go down two games in a playoff series. The odds are against you."
Look for Indiana to come out with that same type of desperation Thursday and perhaps catch Atlanta off guard, like it almost did in the final 12 minutes Monday.
The Hawks coasted to a win in the second half of Game 5, despite a rough fourth quarter, and may not be able to flip the switch back to competitive mode right away. Plus, it might help the Pacers to play in front of a hostile crowd wearing the other team's jersey instead of their own booing supporters.
This one could be headed for seven games.