The Miami Heat became the first team to punch a ticket to the conference semifinals on Monday, dispatching the Charlotte Bobcats, 109-98, in Game 4 of their first-round playoff series to advance via a 4-0 sweep.
The NBA's official Twitter account confirmed Miami's first-round triumph:
Welcome to the Eastern Conference Semis, @MiamiHEAT! #NBAPlayoffs pic.twitter.com/4jJKhQfHWX

— NBA (@NBA) April 29, 2014
LeBron James led the way for the two-time defending champions with a near-triple-double, finishing with a game-high 31 points, nine assists and seven rebounds to improve to 9-0 in the postseason's opening round, as ESPN's Numbers Never Lie pointed out:
LeBron James moves to 9-0 all time in 1st round playoff series'. We have just confirmed that record to be EXTREMELY impressive.

— Numbers Never Lie (@ESPN_Numbers) April 29, 2014
Kemba Walker was the catalyst for Charlotte, scoring 29 points on an ultra-efficient 11-of-15 shooting from the floor. Unfortunately, the other four Bobcats starters would combine to score just 33 points.
Game 4: Miami Heat 109, Charlotte Bobcats 98

| | | | | | |
| --- | --- | --- | --- | --- | --- |
| | 1st | 2nd | 3rd | 4th | Final |
| (2) Miami Heat | 26 | 26 | 32 | 25 | 109 |
| (7) Charlotte Bobcats | 27 | 27 | 17 | 27 | 98 |
NBA.com
The undermanned Bobcats, who were without star center Al Jefferson, came to play on Monday, but lacked the firepower to keep their season alive and hand the Heat their first loss of these playoffs.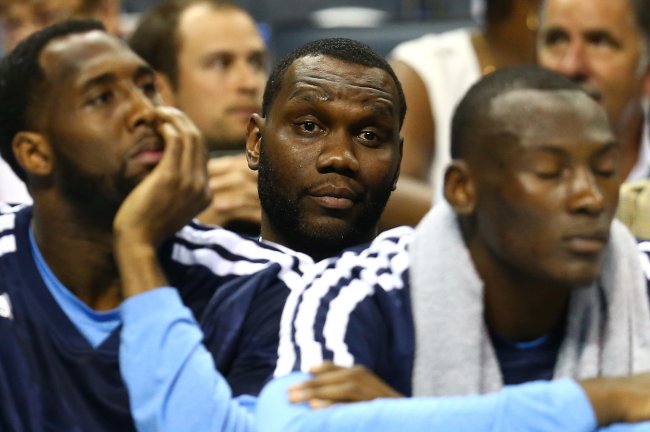 Streeter Lecka/Getty Images
Prior to being ruled out shortly before tipoff, Jefferson talked about his injury (strained plantar fascia) and gave his assessment of Charlotte's 2013-14 season, via The Charlotte Observer's Rick Bonnell.
"This has been like stepping on nails," Jefferson said. "I wouldn't wish it on anybody...Regardless of what happens (tonight), this has been a wonderful season. We need to continue to build and continue to get better."
The following nugget from ESPN Stats & Info highlights just how much the Bobcats were missing on Monday:
Al Jefferson is doubtful for Game 4 tonight vs the Heat. Jefferson leads the Bobcats in scoring, rebounding and blocks this postseason

— ESPN Stats & Info (@ESPNStatsInfo) April 28, 2014
Bismack Biyombo, who replaced Jefferson in the starting lineup, finished with seven points, eight rebounds and zero blocked shots in 33 minutes.
With a raucous crowd behind them, the Bobcats started fast in Game 4, taking the lead early thanks to some lights-out play from their backcourt. Walker provided the early spark for Charlotte, scoring 10 of its first 12 points, as WBTV sports producer Nate Wimberly noted:
Bobcats playing inspired ball without Al Jefferson as they lead 12-10 over the Heat. Kemba Walker with 10 points and 2 blocks. @WBTV_Sports

— Nate Wimberly WBTV (@NateWimberly) April 28, 2014
Gerald Henderson would also get in on the action, scoring seven points in the opening quarter to help propel the Bobcats to a 27-26 lead after the first 12 minutes, per ESPN Stats & Info:
Bobcats starting backcourt off to strong start, scored 17 of Bobcats 27 points in 1st quarter pic.twitter.com/8ymE4xJWi5

— ESPN Stats & Info (@ESPNStatsInfo) April 28, 2014
The duo would cool off in the second quarter, though, combining for just two points.
Midway through the second, the Sun Sentinel's Ira Winderman pointed out a huge key to Charlotte's first-half success:
Bobcats bench carving up Heat's bench. It's as if Heat want to see Al Jefferson one more time.

— Ira Winderman (@IraHeatBeat) April 28, 2014
Second-unit role players Gary Neal and Chris Douglas-Roberts combined for 19 points on 7-of-14 shooting in the first half for the Bobcats.
Although Miami only trailed by two points at the break, poor shooting was the source of the Heat's struggles. Miami was 2-of-12 from beyond the arc as a team and shot slightly below 42 percent in the opening 24 minutes, as the NBA on ESPN confirmed:
Bobcats held the Heat to 42% shooting and lead 54-52 at halftime of Game 4. #MIAvsCHA pic.twitter.com/8Z3Fov0YbI

— NBA on ESPN (@ESPNNBA) April 29, 2014
The second half began with a scary situation for Heat fans, with James going down grimacing after taking a knee to his thigh, as NBC 6 Sports observed:
LeBron James is limping off the court with a leg injury. Looks like he took a knee to the thigh.

— NBC 6 Sports (@NBC6Sports) April 29, 2014
He would return to the floor after receiving treatment on the sideline during a timeout.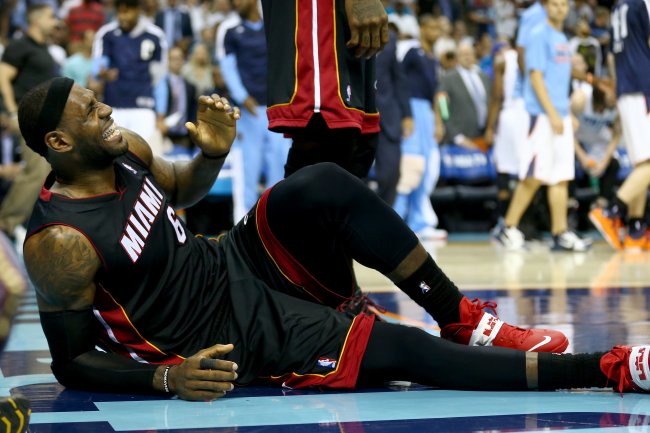 Streeter Lecka/Getty Images
Moments later, James would sink back-to-back jumpers and throw down a one-handed dunk in transition to put the Heat up by three points.
Josh McRoberts would cut the Heat lead to two points with a free throw on the next possession, but that's as close as Charlotte would get, as Miami closed the third quarter on a 16-5 run, scoring eight unanswered points over the final two and a half minutes of the period.
After making just two three-pointers in the first half, the Heat would connect on five threes in the third quarter alone, with Norris Cole hitting a 24-footer at the buzzer.
The two teams would trade baskets in the fourth quarter, but Charlotte was never able to cut the deficit to less than seven points, as Miami rode James and Chris Bosh down the stretch. The two stars accounted for 15 of the Heat's 25 fourth-quarter points.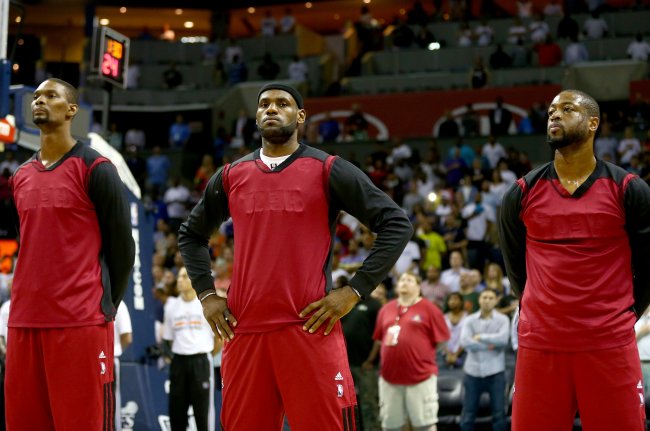 Streeter Lecka/Getty Images
Which team presents a bigger challenge to Miami in Round 2?
By sweeping the Bobcats, the Heat have now won nine consecutive playoff series dating back to the 2012 NBA playoffs. And not surprisingly, Miami will be favored against either the Toronto Raptors or Brooklyn Nets in their upcoming Eastern Conference Semifinals series.
Not only will Miami boast home-court advantage, but the Heat possess tremendous firepower, defend extremely well and are battle-tested, having won back-to-back championships and appeared in the last three.
Plus, by taking care of business quickly against Charlotte, the Heat will have plenty of time to rest and recover ahead of their second-round series. For a team loaded with veteran players, that'll be a key factor in their success moving forward.