Talk about timing.
Chelsea's under-18s may have lost out to local rivals Fulham in the first leg of their FA Youth Cup final at Craven Cottage on Monday evening, but they will be confident of overturning a 3-2 deficit after the performance of Jay Dasilva.
The Chelsea youngster's display, along with that of his teammates Izzy Brown and Dominic Solanke, was the perfect reminder of how the club is hoping to develop its football philosophy, one that has been criticized after the first-team's approach in the past week or so.
Against Atletico Madrid in the Champions League and at Anfield against Liverpool a few days later, the tactics of Jose Mourinho and his players were bemoaned by many, described as being anti-football.
In truth, it was quite the opposite, with the Blues not only keeping a potent Atletico front line quiet in the Spanish capital but also finding an effective way to silence the Premier League's deadliest attack.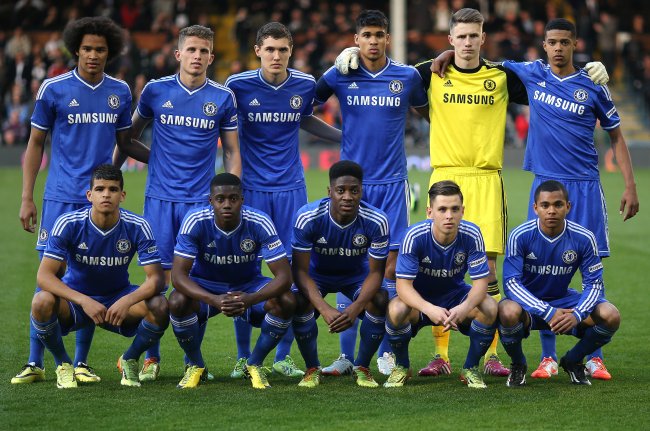 Charlie Crowhurst/Getty Images
In the process, Chelsea have given themselves a platform for their return leg against Atletico at Stamford Bridge. They also outscored Liverpool, beating the Reds 2-0 to seriously damage Liverpool's hopes of lifting the Premier League title.
With injuries, suspensions and the small matter of that Champions League semi-final to prepare for, Mourinho couldn't call upon the attacking flair within his squad for various reasons.
There was no Oscar and no Eden Hazard against Atletico or Liverpool, although Chelsea made the most of what they had at their disposal.
For Chelsea fans concerned their hopes of pure entertainment outside the pair are limited, however, they need only look to the youth team.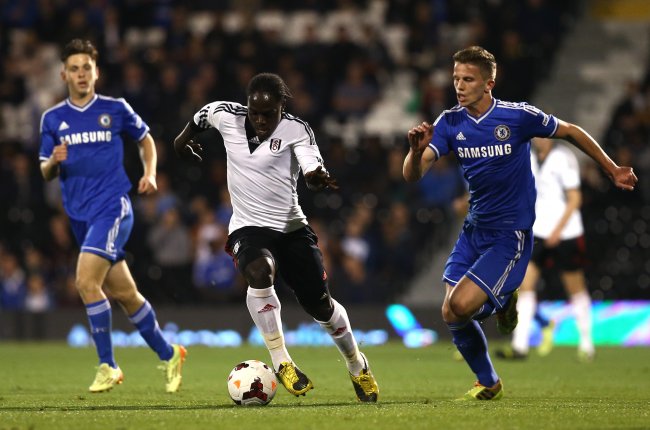 Charlie Crowhurst/Getty Images
Sure, the wealth of Roman Abramovich means the Blues can theoretically splash out on any talented attacker on a whim—they have done enough of that over the past decade, after all—but why should they when the talent coming through is showing all the signs of being capable?
Cast your mind back to January 2012, and Dasilva was making headlines when he left Luton Town for Chelsea in a deal that saw his two brothers Cole and Rio—who are twins—move to Stamford Bridge with him, per Daily Mail.
The older of the three, he was barely a teenager but already being touted to achieve greatness.
He lived up to his billing on this showing, making plenty more headlines in the process.
Dasilva was the youngest player on the pitch on Monday—he turned 16 just six days ago on Apr. 22—yet you wouldn't have known it.
Operating on the left of Chelsea's attack, Dasilva was at the heart of everything exciting the Blues produced going forward against Fulham.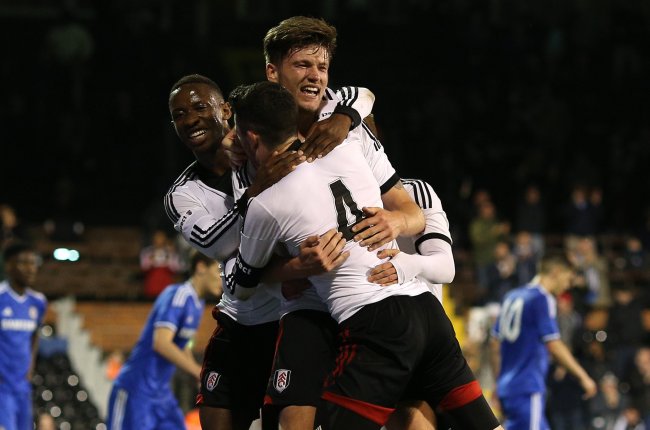 Charlie Crowhurst/Getty Images
Using his diminutive frame to his advantage, he ducked, he weaved, he penetrated and caused Fulham's right-back Ryheem Sheckleford problems all evening.
And after a goalless first half, it was Dasilva who opened the scoring, expertly firing low into the corner on 49 minutes to give Marek Rodak no chance in goal.
It was his first goal for the Chelsea youth team, and with talent like his, it breeds an air of excitement about what just might be in the future at Stamford Bridge.
He isn't alone, either.
The aforementioned Izzy Brown and Dominic Solanke are players picking up a reputation of their own in Chelsea colours.
The duo may not have been on the scoresheet at Craven Cottage, yet Solanke's 18 goals this term outline his undoubted talents while Brown is a menace.
Behind them, captain Ruben Loftus-Cheek has the look of a player determined to make his mark. He wears the armband like a general, a player committed to everything passing through him in midfield.
Charlie Crowhurst/Getty Images
It runs the risk of being a lazy comparison given the club he plays for, but seeing him in action reminds me of John Terry. Loftus-Cheek played on Monday with his chest out, lead from the front and took on the responsibility.
These kids have a long way to go to emulate the players who are on the brink of guiding Chelsea to a third European final in as many seasons, so let's not get carried away just yet.
Dasilva and his teammates can make us feel excited, though—excited for what the future of English football holds, excited in anticipation for the second leg of the FA Youth Cup final next Monday.
It may not come with the billing of the first-team's endeavors, but next week's finale promises to be an exciting matchup.
Add a bit of the famed Chelsea character and these Blues youngsters should have enough to overcome Fulham to win what many hope will be their first trophy of many at Stamford Bridge.
Garry Hayes is Bleacher Report's lead Chelsea correspondent and will be following the club from a London base throughout the 2013-14 season. Follow him on Twitter @garryhayes