Following the franchise's first ever Super Bowl championship, there's been no time to sleep for the Seattle Seahawks. Players leaving in free agency, some puzzling additions over the past few days, contract extension rumors and the upcoming draft have all resulted in plenty of Twitter buzz with the season still four months away.
First and foremost, Russell Wilson scored another important victory during the offseason.
Seahawks QB Russell Wilson leads NFL in retail sales http://t.co/Zt9ZLmI8mB pic.twitter.com/0Iz82QfiFZ

— Sports Illustrated (@SInow) April 28, 2014
For actual on-the-field news, the biggest recent story for teams around the NFL was last Wednesday's schedule release. Any 2013 division winner should expect a tough schedule, and Seattle faces a major challenge in 2014.
Five out of Seattle's last six games are against the brutal defenses of the NFC West, with the only break coming in a road contest versus the Philadelphia Eagles. The trip to Philadelphia in Week 14 is sandwiched in between games against the rival San Francisco 49ers.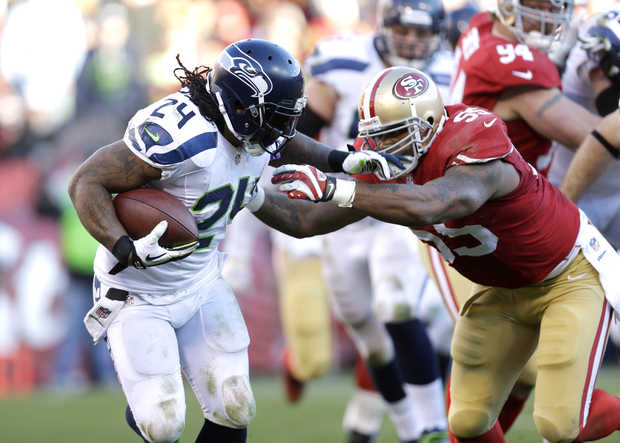 AP Photo/Marcio Jose Sanchez)
Besides that intense stretch to end the year, the Seahawks have games against the entire AFC West, a trip to Carolina and the earliest bye week possible. Seattle's schedule highlights just how difficult it is to repeat in the NFL. However, the Seahawks are equipped to handle the challenge of facing that large number of tough defenses.
If any team is built for this..This team is!! Go Seahawks!!! One game at a time.

— Walter Jones (@BigWalt71) April 24, 2014
One more scheduling quirk that has created some buzz on Twitter is the fact that the Seahawks are only currently scheduled to host one prime-time game, the Thursday night opener against the Green Bay Packers.
Biggest NFL schedule snub? The #Seahawks don't get a home Monday night game. Winning the Super Bowl just isn't what it used to be.

— Brian Scott (@Brisco811) April 24, 2014
Many are feeling this is a slight against Seattle, but another theory has emerged that it is actually being scheduled that way out of respect. A report by Curtis Crabtree of ProFootballTalk states that the NFL is wary of putting Seahawks' home games in prime time due to the recent number of blowouts, including ones last year against the 49ers and New Orleans Saints.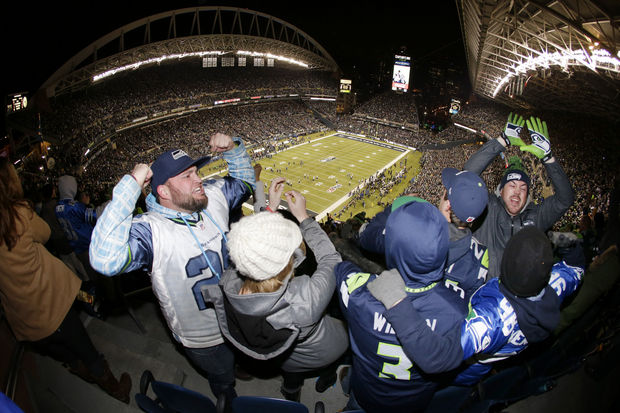 AP Photo/John Froschauer
For what it's worth, the Seahawks do play three other prime-time games, and the NBC flex schedule can switch things up after Week 5.
The Seahawks have two more major storylines to monitor until training camp begins: contract extensions and the NFL draft on May 8. Earlier in the offseason, it was reported that an extension for Earl Thomas would take top priority, and it appears the Seahawks followed up on that Monday afternoon.
The #Seahawks four-year extension for safety Earl Thomas pays him $40 million base value with $27.725 million guaranteed, source says.

— Ian Rapoport (@RapSheet) April 28, 2014
That deal is right around the best the Seahawks could hope for with Thomas, as he becomes the first safety to earn $10 million per year. Thomas is the best free safety in the game, and his contract extension is roughly in line with other top safeties, such as Eric Berry (six years, $50 million) and Jairus Byrd (six years, $56 million).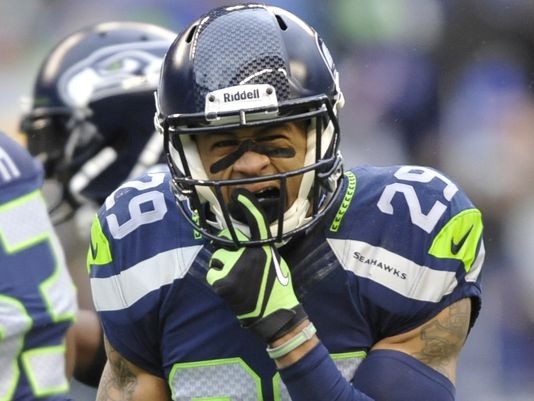 Steven Bisig / USA Today Sports
It's an expensive move, but one that had to be made with the importance of Thomas to the Seahawks and the growing influence of the entire position around the league.
As expected, most Seahawks fans on Twitter were pleased with the development.
I ran around the office yelling "We Got Earl Done"...my coworkers love it

— Davis Hsu (@DavisHsuSeattle) April 28, 2014
Seattle might not yet be done with extensions yet, as the Seahawks are also looking to lock down Richard Sherman for a few more years.
Seahawks also zeroing in on a deal that would make Richard Sherman highest paid CB in the game. Hopeful it's done before the draft as well

— Jason La Canfora (@JasonLaCanfora) April 28, 2014
It's no surprise that the rumored contract would have Sherman as the top-paid cornerback in NFL because he is the best cornerback in the NFL. Sherman is the leader of Seattle's charismatic "Legion of Boom" and one of the young cornerstones of the franchise.
Teams around the league have realized it's pretty pointless to throw at Sherman, particularly along the sidelines. Of course, that means they will have to throw at Byron Maxwell, which isn't a much better option.
Richard Sherman and Byron Maxwell were the only 2 CBs this season to allow a QB rating less than 50 into their coverage.

— Pro Football Focus (@PFF) April 25, 2014
How much Sherman is worth is a tough decision for the Seahawks, as it would be difficult to see him leave. But they must also keep upcoming contracts for Wilson, Bobby Wagner and K.J. Wright, among others, in mind.
The idea to get the extension done by the draft may be overly optimistic, as the Seahawks are going to have to put a lot of thought into the negotiations.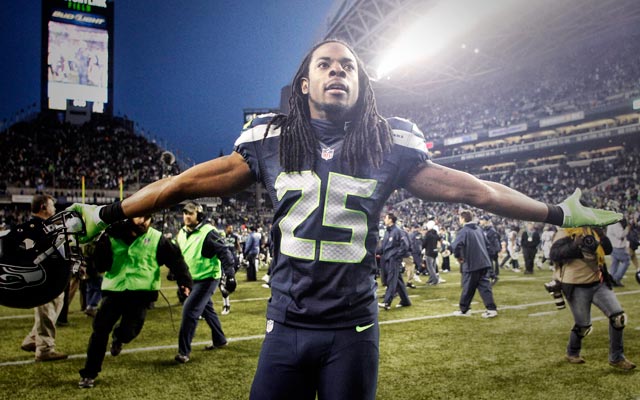 USATSI
As far as the draft goes, it's one of the more exciting times of the year for the Seahawks, as they have been very successful drafting under John Schneider and Pete Carroll. However, Seattle is creating more buzz about who they just hired rather than who they might draft.
Huh... RT @alexmarvez: My @FOXSports1 exclusive: @Seahawks hire ex- @MiamiDolphins GM Jeff Ireland as pre-draft consultant.

— Curtis Crabtree (@Curtis_Crabtree) April 26, 2014
Jeff Ireland didn't exactly have a smooth five-year reign with the Miami Dolphins, so the decision to bring him in has led to plenty of head-scratching on Twitter. However, Schneider has given no reason for Seahawks fans not to trust him when it comes to personnel, so he must see some value in bringing Ireland in.
The Seahawks have proven to be just about the most unpredictable team in the NFL when it comes to the draft, but that's not going to stop mock drafters and fans on Twitter from trying to guess who they might select. Two mock drafts from CBS Sports last week seemed particularly intriguing.
Sorry- Brugler has SEA going XSF and Jean-Baptiste...Rang has SEA going Cooks and Easley...mobile/link issues

— Davis Hsu (@DavisHsuSeattle) April 23, 2014
UCLA guard Xavier Su'a-Filo (referenced as XSF in the tweet above) is the best player available at a position of need for the Seahawks. It's hard to imagine Seattle passing on him if he's available.
Rob Rang's mock draft has the Seahawks grabbing Brandin Cooks and Dominique Easley. Both would be incredible talents to get with the 32nd and 64th picks, respectively.