Former Louisville star and Colorado State transfer Chane Behanan has officially declared for June's 2014 NBA draft, The Courier-Journal's Jeff Greer reported on Monday.
The 6'6", 250-pound forward transferred to Colorado State in late January after being dismissed from Louisville for violation of university policy a month earlier. According to ESPN.com's Dana O'Neil, Behanan recently revealed that he had been dismissed as a result of marijuana use.
The 21-year-old Behanan explained his decision to forgo his upcoming year of eligibility in a series of Twitter posts on Monday:
I have thought and weighed my options for the upcoming year & I have decided that it is in my best interest to enter the NBA draft for 2014.

— Chane Behanan (@only1chane) April 28, 2014
I want to thank my family, friends, UofL staff, CSU staff, and everyone involved in this process and that has supported me along my journey.

— Chane Behanan (@only1chane) April 28, 2014
This has been a difficult road for me, but I have not lost faith and confidence in myself, I will continue to work hard and grow as a person

— Chane Behanan (@only1chane) April 28, 2014
Prior to being dismissed by the then-defending national champion Louisville Cardinals in December 2013, Behanan appeared in more than 90 games for Rick Pitino's squad, averaging 9.4 points and 6.9 rebounds per game for his college career.
He averaged 7.6 points and 6.3 rebounds per game in a dozen appearances last season prior to being dismissed from the program.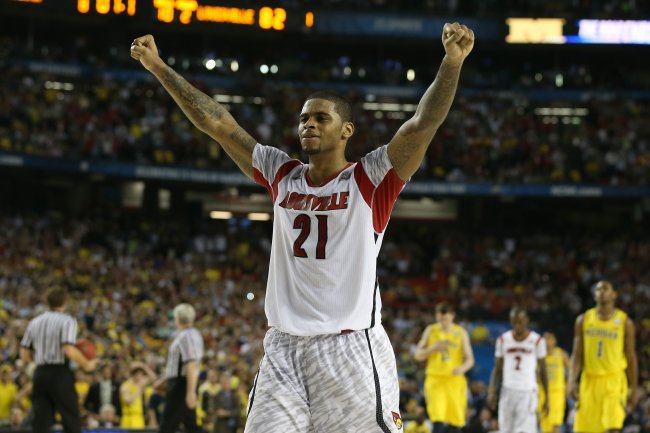 Streeter Lecka/Getty Images
The Cincinnati native played a key role for the Cardinals in the 2013 national title game, scoring 15 points and pulling down 12 rebounds in a six-point Cardinals win over Michigan.
But despite his strong play on the big stage in 2013, Behanan's recent off-the-court issues have certainly hurt his draft stock. According to ESPN.com's Chad Ford (subscription required), Behanan is considered the 25th-best power forward and 90th-best overall prospect available this summer.
With Behanan still having plenty to prove and so many top-level prospects ranked ahead of him, many, including ESPN Radio 94.1's Matthew Hatfield, feel he would have been wiser to stick around for another season in college:
There are bad decisions and then there are really bad decisions. And then there's Chane Behanan's decision to enter the NBA Draft.

— Matthew Hatfield (@hatfieldsports) April 28, 2014
Behanan's rebounding prowess, toughness and NBA-ready body are all favorable attributes, but he's still undersized for the power forward position and has clearly struggled to avoid casting a negative light on himself away from the court.
According to Greer, Behanan was cited for marijuana possession in early April during a visit to Louisville.
So while Behanan certainly has tremendous potential at the next level, he'll not only have to convince NBA scouts, coaches and executives that he's a dynamic prospect worth drafting this summer, but also that he's ready to take the next step off the court.
Follow Bleacher Report Featured Columnist Patrick Clarke on Twitter.