Leicester City striker Kevin Phillips announced on Monday that he will retire from professional football after the Foxes final Championship game of the season on Saturday against Doncaster at the King Power Stadium.
The news was reported by Eurosport on their Twitter feed:
BREAKING: Kevin Phillips announces he will retire from professional football at the end of the season.

— Eurosport.com EN (@EurosportCom_EN) April 28, 2014
The 40-year-old veteran forward has been a mainstay of Premier League and Championship football for almost 20 years.
He has played at, amongst others, Sunderland, Southampton, West Brom, Birmingham City, Blackpool and Crystal Palace. He played at Sunderland between 1997 and 2003 and was the highest goalscorer in the Premier League in the 1999/00 season when he bagged 30 goals, per Opta:
30 - Kevin Phillips is the last Englishman to win the Premier League Golden Boot, back in 1999-2000. Icon.

— OptaJoe (@OptaJoe) April 28, 2014
The BBC's Andy Bayes echoes the thoughts of many concerning Phillips' retirement, he earned a great deal of respect in the game thanks to his terrific professionalism:
A legend of the game. Kevin Phillips has announced his retirement from football at the age of 40. pic.twitter.com/dhMsMrL4bl

— Andy Bayes (@AndyBayes) April 28, 2014
As reported on Sky Sports, Phillips feels that the time is now right for him to hang up his boots:
After a lot of consideration and time spent talking with my family, the Leicester manager Nigel Pearson and my agent, I think the time has come. I turn 41 in July and I just feel now, with sore ankles and the way my body is, it's not going to get any easier. [...]

Looking back on my career I feel fortunate to say that there have been so many highs - and many more highs than lows.
Most recently Phillips has been part of this season's Championship-winning Leicester side who return to the Premier League for the first time since 2004. If they can grab at least a draw against Doncaster on Saturday they will break the 100-point mark.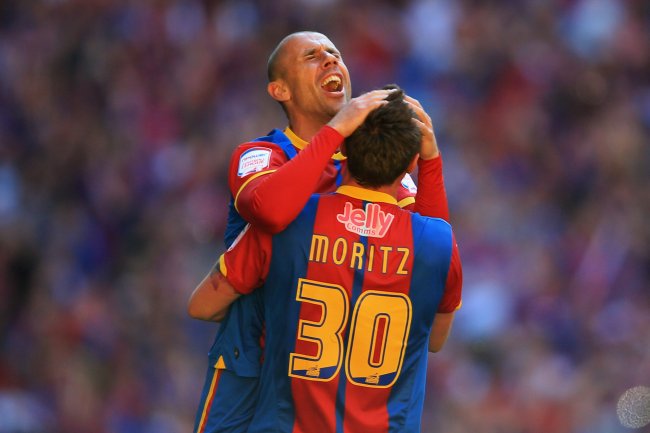 Richard Heathcote/Getty Images
At the end of the 2012-13 season Phillips scored the vital extra-time goal from the penalty spot in the playoff final at Wembley that saw Palace claim promotion to the Premier League, per BBC Sport.
He also represented the England national team eight times, the first of which he marks as the top moment of his career, per Sky Sports:
But if I could pick one special moment, it would have to be pulling on an England shirt for the first time.

As a kid, growing up, all I ever wanted to do was play for my country. When I got that opportunity - when I was still a First Division player with Sunderland - it was a dream come true.

To wear that Three Lions shirt away in Hungary was amazing and to do it seven more times after that was phenomenal for me, a player who came out of non-league into the professional game quite late on at 20.
The Sky article also reveals that Phillips has been offered a coaching role at Leicester which he is likely to take up. Given his immense experience, this a coaching role would make sense for Phillips in the future.
A real stalwart of English football, Phillips retires with a fine reputation for professionalism, quality and an ability to score goals no matter who the opponent. There is no denying his impact on the sport and he would continue to impact the sport in the future if he decides to stay connected.