Kony Ealy, DE, Missouri (HT: 6'4"; WT: 273 lbs)
Second Round: 60th Pick
NFL Draft Comparison: Aldon Smith, OLB, San Francisco 49ers
Highlights
Overall Strengths
+ Coordinated athlete who meets height, weight and length requirements.
+ Versatile to rush from multiple alignments.
+ Plays with quick and active hands.
+ Has a full repertoire of pass-rush moves.
+ Quick first step to accelerate off the snap.
Overall Weaknesses
- Struggles with pad level at the point of attack.
- Is not a threatening speed-rusher.
- Doesn't utilize size and strength advantages often enough.
- Lacks a single best position for base defenses.
Combine Weigh-In

| | | | |
| --- | --- | --- | --- |
| Height | Weight | Arm | Hand |
| 6040 | 273 | 34 1/4" | 9 1/2" |
NFL.com
Combine Workout

| | | | | | |
| --- | --- | --- | --- | --- | --- |
| 40-yd dash | 10-yd split | Vert | Broad | 3-Cone | Bench |
| 4.92 | 1.66 | 31" | 9'6" | 6.83 | 22 |
NFL.com
Tools
Kony Ealy's physical traits are unique. At 6'4", 273 pounds, he is built on the sturdier side of the spectrum for edge defenders. His upper body is quite bulky with a little bit of a belly. Ealy has very long arms, which is a big plus for a rusher.
In terms of athleticism, Ealy is equally as unique. He is neither speedy nor flexible but quick and coordinated instead. His combine performance told the same story. At 4.92, his 40-yard dash was very slow. His 6.83 three-cone time came out ahead of all other defensive linemen. "Quicker than fast" is an apt description.
Intangibles/Character
There is little to note in terms of off-field character for Ealy, which is a good thing. On the field, he plays with a high level of effort and intensity. His frame indicates that more work could be done in the weight room, however.
As far as football IQ, he should suffice. He has shown adequate play recognition as well as the ability to play different assignments in a Missouri defense that utilized many NFL concepts up front. That should bode well for his transition into an NFL scheme.
Pass Rushing
Getting after the quarterback in various ways is why Ealy had success in college. He's rather creative with his rush moves but has one that that is more effective than the rest. He leaves tackles in his wake with an inside move that utilizes his lateral quickness.
After that, it's about flashes of talent that he has shown because he's not a complete rusher. An end of his size should utilize power much more often than he does. It's important for that to become a part of his pass-rush arsenal. The few times he did power up from the outside, he gave offensive tackles trouble.
Ealy's limitations as a speed-rusher on the edge mean that he needs to embrace what he does best and hopefully be utilized in a way that allows him to do so. That, of course, means using quickness to beat interior blockers while playing with more power.
Run Support
Ealy doesn't display a number of the traits required in a run-stopping defensive end. He isn't powerful into contact, doesn't control with his hands and doesn't shed blocks well. The root of the problem is high pad level off the snap.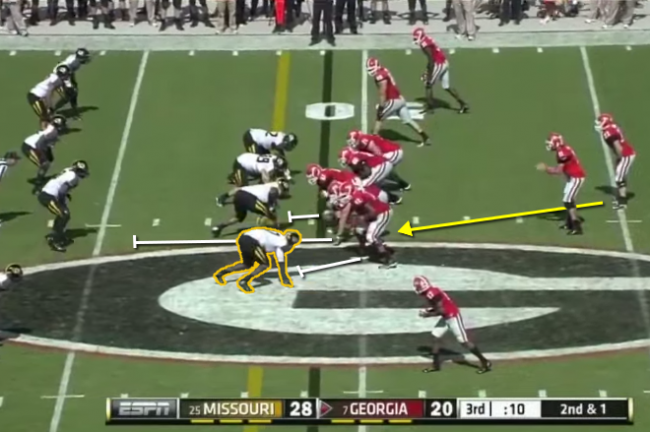 DraftBreakdown.com
In this highlight, Georgia is going like for like on the left side, which puts the onus on the defensive players to locate the ball-carrier and shed their blocks to make the play.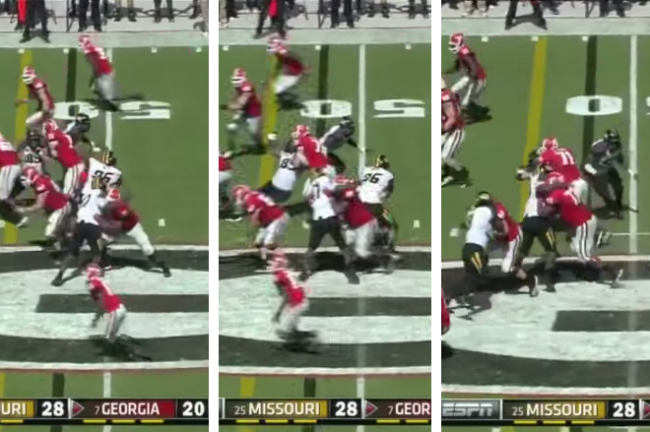 DraftBreakdown.com
Ealy loses his leverage by trying to swim the block, exposing his chest and getting blown back off the ball. Despite his size, he ends up getting blown off the ball and pushed around all too often. Pad level is the cause of it.
A silver lining to his struggles against the run comes from his endless effort in pursuit. He will chase down ball-carriers by putting in more effort than other defenders.
Versatility
Ealy's ability to affect offenses from various alignments is an appealing characteristic. He was used as a traditional end, rush linebacker and interior rusher at different times at Missouri. To his credit, he never looked uncomfortable or out of position in any of those roles.
Playing on the inside, especially on passing downs, is where he made his greatest impact. The suddenness of his rush moves and lateral quickness of his feet gave offensive guards fits.
Too many of his sacks came from blitz packages that allowed him to come free or be matched up with running backs. In short, he was not a productive rusher from the outside. His traits fit when it comes to rushing from the inside, and that's where he had the greatest impact for Missouri.
Scheme Fit
As such a unique player, scheme fit will be important for Ealy. He is a big man who plays more like a small one in terms of both quickness and power. He also struggles to hold his own against the run. The most fitting scheme for him right away is a 4-3.
His fit on passing downs is an easy one. If allowed to get a solid number of snaps on the inside, Ealy will terrorize quarterbacks with interior disruption. Considering his limitations against the run, it's hard to see him playing on the inside in base packages.
It may work out that a 3-4 team views him as a one-gapping 5-technique. He would not have far to go in terms of weight and may get bigger without too much extra effort. Ealy was only 207 pounds as a freshman at Missouri, which means he packed on almost 70 pounds over four years. If playing on the inside is best for Ealy, more weight is only fitting.