Keep shooting, and eventually the puck will find the back of the net. That was the New York Rangers' strategy through each of the first four games, as they consistently out-shot the Philadelphia Flyers but could only manage a 2-2 series.
On Sunday, New York found out just how much a little patience can pay off.
Marc Staal, Brad Richards and Dominic Moore each scored goals early, Brian Boyle added an empty-netter late and Henrik Lundqvist performed well enough, as the Rangers pulled within one game of advancing to the Eastern Conference semifinals with their 4-2 win over Philadelphia at Madison Square Garden on Sunday.
RANGERS WIN! Brian Boyle seals it with an empty net goal and NY beats Philly 4-2 for a 3-2 series lead vs. the Flyers.

— NBC Sports (@NBCSports) April 27, 2014
New York holds a 3-2 advantage in the best-of-seven series. In what has at times been a battle of wills for both sides, neither team has won consecutive games. The series will reconvene Tuesday following a short train trip back to the City of Brotherly Love.
While the Rangers head into Game 6 knowing they'll have two opportunities to advance, the Flyers' ride back home will be filled with a sense of gravity and self-doubt.
After stopping 37 of 38 shots to earn his first career playoff win in Game 4, Steve Mason looked overmatched amid the New York City roars. Mason allowed three of the Rangers' four goals on 21 shot attempts, their fewest of any game in this series.
I can see the #Flyers taking Game 6 at home, but to win Game 7 at MSG, Steve Mason will have to be absolutely spectacular IMO.

— Ryan Messick (@rm975) April 27, 2014
The 25-year-old goaltender, who missed the end of the regular season and the first two games of the playoffs with an upper-body injury, seemed to have every bit of the rust one would have expected Friday night. Philadelphia's defense did him few favors getting the puck out of his zone, but Mason struggled with positioning and was obviously off his game.
At one point, Mason became so frustrated that he dangerously swung his stick in the direction of Moore's head. The swing thankfully didn't land, but it was indicative of an afternoon that was frustrating from beginning to end for the Flyers.
Swinging the puck with patience and precision around the blue line from the outset, New York waited only until the 11:53 mark in the first period before Martin St. Louis found Staal for the game's opening goal. It was Staal's first goal dating back to the Rangers' regular-season outdoor showcase against the New Jersey Devils at Yankee Stadium.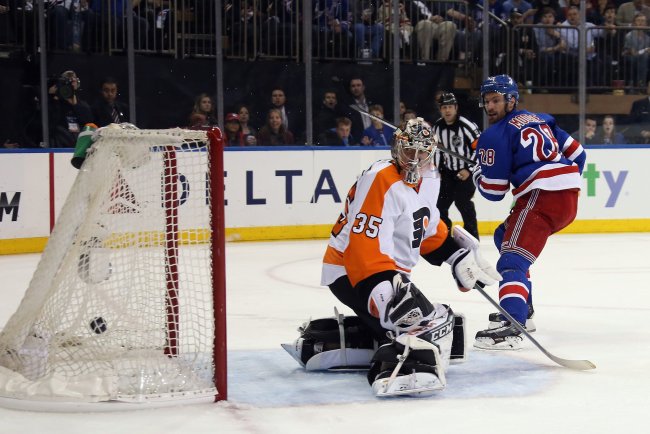 Bruce Bennett/Getty Images
New York extended its lead as far as 3-0 in a pivotal second period behind goals from Richards and Moore. Richards has been among the Rangers' most consistent players throughout the series, and his goal at the 8:07 mark in the second period gave J.T. Miller his first career playoff point.
Later in the period, Moore got his own form of karmic justice on Mason for the stick-swinging incident, scoring an unassisted goal to put New York in full command. Moore, whose heartwarming story has gotten its rightful due as the Rangers' postseason has gone on, was so happy when the puck went through the net he jumped and tackled teammate Brian Boyle in celebration.
Play would get a little chippier from that point, and Vincent Lecavalier took advantage of an Anton Stralman penalty to score the Flyers' first goal. Lecavalier had gone scoreless in each of the first four games. He has been one of numerous disappointments for a floundering Philadelphia attack.
The league's eighth-highest-scoring team during the regular season, the Flyers have scored more than two goals just once all series. Leading scorer Claude Giroux scored his first goal of these playoffs in the desperate final moments, while top goal scorer Wayne Simmonds has also lit the lamp just once.
Should've been said before: Dominic Moore also has more goals than Claude Giroux.

— James Wrabel, Jr. (@TheWrage) April 27, 2014
"Obviously, I want to score goals," Giroux told reporters after Saturday's practice. "Everybody wants to score goals. But you know what? Our goal is to win the game and to play smart."

All told, New York has outscored Philadelphia 15-10 in the series. The Rangers, who struggled through their own goal-scoring issues during the regular season, remain a perplexing mixture of talent and unrequited chances.
Although the Rangers got back into the swing of things on the attack, their offense still seemed to have greater cohesion at full strength than when at an advantage. New York failed on all three of its power plays and is 0-of-11 over the last three games. The Rangers have scored just three power-play goals the entire series—two of which were in Game 1.
Flyers also knew best way to kill any Rangers momentum was to put them on a power play. Crafty move.

— Evan Sporer (@ev_sporer) April 27, 2014
"We've definitely got to get some different things, different looks," Richards told reporters prior to the game. "They are blocking more shots, their lanes are a lot different. Now it's our turn to up that and make them adjust again and try to score a goal."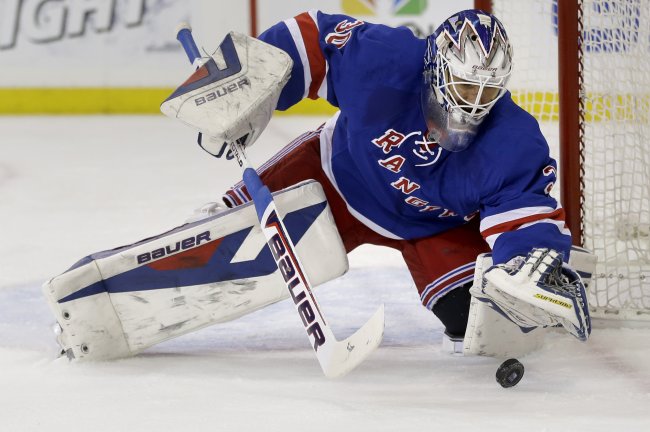 Seth Wenig
The power-play struggles will certainly play a huge factor the remainder of this series—if not the Rangers' entire playoff run. Philadelphia was one of the league's best power-play-killing teams during the regular season, and it seems the only way the Flyers can mount a comeback is by keeping the games low-scoring.
Lundqvist stopped 24 of 26 shot attempts that went his way Sunday afternoon. The Rangers goaltender has been solid if unspectacular throughout the series, making stops when needed while also relying on solid defense and New York's ability to keep possession of the puck.
Three stars of the game: 1) Martin St. Louis 2) Dominic Moore 3) Henrik Lundqvist.

— Sean Hartnett (@HartnettHockey) April 27, 2014
With a must-win Game 6 coming up in Philadelphia, though, there's no telling what kind of environment New York will face. It will be up to guys like Lundqvist to keep the steady hand and close the series out while they can—and avoid an obligatory trip back home for the always unpredictable Game 7.
Meanwhile, players like Giroux and Lecavalier will be looking to feed of a fired-up Philadelphia crowd to force a Game 7 and put the pressure back on the Rangers as they look to close out the series.
Follow Tyler Conway on Twitter: