The Chicago Bulls hoped to grit out another road win in Game 4 on Sunday and even the series with the Washington Wizards at 2-2. Instead, the Wizards punched the fourth-seeded Bulls in the mouth by scoring the first 14 points of the game and then going wire-to-wire for a 98-89 win, pushing Chicago to the brink of elimination.
Trevor Ariza had a sensational afternoon and led the Wizards with 30 points on six three-pointers and just 17 shots. He also added eight rebounds and two steals. John Wall notched 15 points and 10 assists, while the entire team committed only six turnovers against an opportunistic Bulls defense.
Taj Gibson led all scorers with 32 points off the bench for Chicago, as he put in 13 field goals on just 16 attempts. Joakim Noah tallied a familiarly impressive line with 10 points, 15 rebounds, five assists and two blocks. Jimmy Butler's 16 points made him the only other Bull to finish in double figures, but he bricked nine of his 14 attempts from the floor.
The league imposed a one-game suspension on Nene for his "head butt" on Jimmy Butler in Friday's Game 3, so the Bulls should have had a clear advantage in the frontcourt on Sunday. However, they spluttered along in a dreadful effort against a deep Wizards squad that again proved to be too young and too fast. The Bulls did turn on the gas in the fourth quarter, outscoring the Wizards 27-16, but they trailed by 20 entering the quarter and could not compensate for it.
The Bulls have a host of veteran experience and nipped the Brooklyn Nets in Game 7 of Round 1 last year at the Barclays Center. They are not dead yet, but all indications from all four games so far in this series suggest that the Wizards will end Chicago's season in Game 5. They have the more potent scoring attack, and their defense has proven capable of smothering the Bulls for long stretches.
Becoming pretty evident the Bulls starters can't hang with the Wizards starters

— SB Nation NBA (@SBNationNBA) April 27, 2014
Player grades start at a C+ for a decent overall performance. The grade increases or decreases from there based upon the quality of each player's contributions, with extra credit being given for huge stats or clutch performance. (We'll put role players on the grading curve.)
Instead of gold stars and frowny faces, here are grades for every player worth mentioning from Game 4.
Key Wizards Grades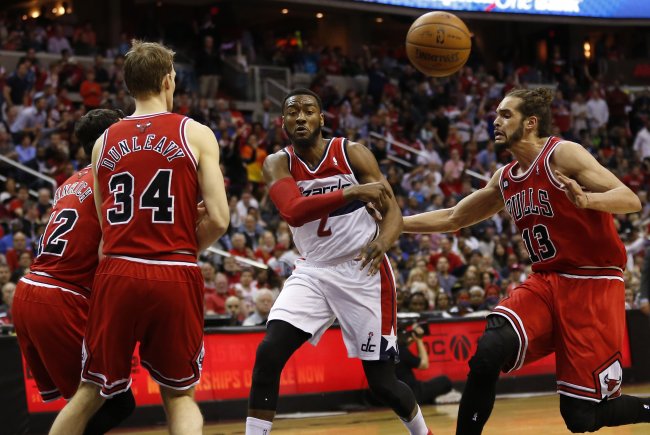 USA TODAY Sports
John Wall, Point Guard
Wall did not have his shot working very well, so he drove the lane to draw contact and open opportunities for teammates. He needed 15 shots to get his 15 points and made only four field goals, but he got to the foul line eight times and dished out 10 dimes. He also had two steals.
Wall put up a play for the highlight reel around the two-minute mark of the fourth quarter. A Noah deflection became a D.J. Augustin fast break, but Wall flew to the ball like a free safety and knocked it away to thwart what should have been an easy transition basket for the Bulls.
Wall had so much speed behind him that he hurdled the first two rows of seats under the basket in a single leap and landed like a parkour expert. Beautiful hustle, impressive athleticism.
Grade: B
Trevor Ariza, Small Forward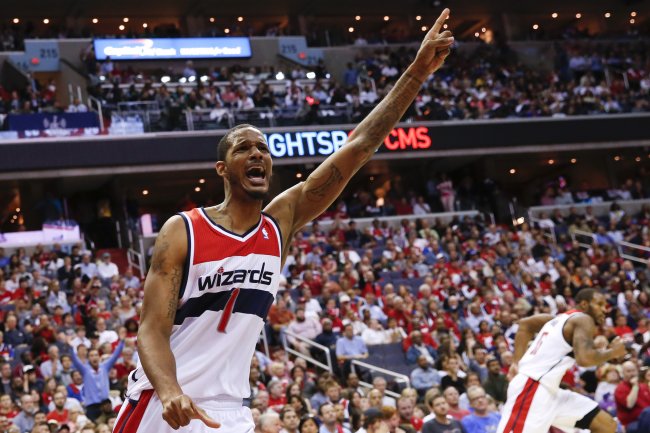 Alex Brandon
After scoring 42 points in total over the previous three games of the series, Trevor Ariza did a rain dance in Game 4 and created a monsoon of three-pointers on the way to finishing with 30 points.
Ariza is sometimes called "A3za," and he lived up to his nickname, especially the first half. His buzzer-beater from the corner to wrap up the second quarter marked his fifth triple in six attempts. He finished with six treys in a sterling postseason performance.
Ariza had some special moments in the 2009 NBA Finals with the L.A. Lakers. Now in his 10th season, the veteran picked a great time to shine and bring his Wizards one win away from the franchise's first win in a postseason series since beating the Bulls in 2005.
Grade: A
Bradley Beal, Shooting Guard
Beal did not play the role of shooting-guard assassin, as he sometimes does, but his steady scoring helped pace Washington's offense.
He logged a game-high 39:48 on the court, which was slightly more than Noah, and he motored his way to 18 points, five boards, three assists and a steal.
Grade: B
Marcin Gortat, Center
Gortat failed to make an impact on the glass, finishing with just six rebounds, and he missed three free throws on his first six trips to the line. In fact, his 17 points came on 18 attempts, so he can now decide what to do with those dozen bricks.
"I'm gonna have to talk to him about making those two-foot shots." -- Wittman on Gortat's misses in the 4th quarter.

— Bullets Forever (@BulletsForever) April 27, 2014
Nevertheless, he was a needed presence in the middle with Nene suspended, and Gortat even helped draw attention in the post ,which led to several of his five assists.
Grade: B-
Trevor Booker, Power Forward
Booker got the start in Nene's stead and turned in a creditable effort, but his teammates were the ones picking up most of the slack. He did put in an important putback with five minutes left to partially slow a Chicago run. Then he fouled out with just under three minutes left.
Booker finished with eight points, nine rebounds (six offensive) and three blocks in 28 minutes.
Grade: B-
Bench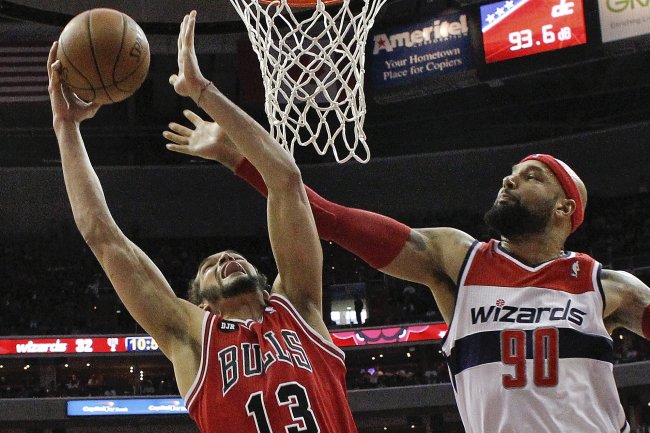 Alex Brandon
Game 4 belonged to the Washington starters.
Drew Gooden actually attempted a three-pointer, though it did not go in. He also chipped in a block and a steal to go along with his two points and five fouls.
Martell Webster missed three three-pointers, but he hit his other three shots and had eight points. Andre Miller came on and dished a pair of assists to go with a steal in nine minutes.
Lastly, Al Harrington is still in the league, contrary to what you probably thought. He missed a shot and grabbed a rebound in five minutes.
Grade: C
Key Bulls Grades
Joakim Noah, Center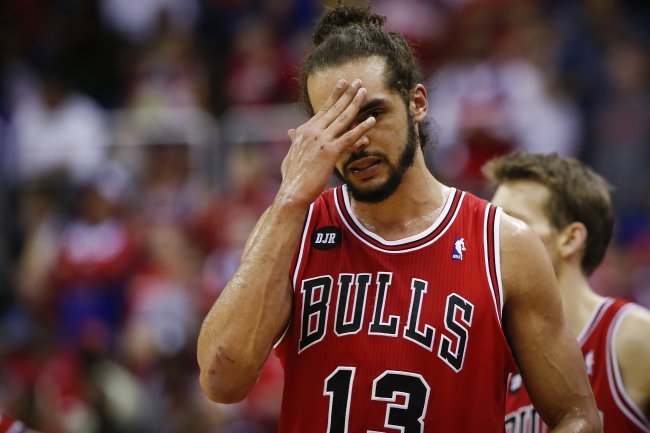 Alex Brandon
There are players who seem to save themselves during the regular season in order to be completely healthy and have plenty of gas left for the postseason. Noah plays every game like it's Game 7, so it would make sense that the Defensive Player of the Year could be slightly worn down by this point.
Along with Taj Gibson, Noah essentially carried Chicago to the No. 4 seed this season, and both players tried to carry the team back into this game as well. Noah notched another double-double and made his presence felt whenever he was within reach of an arm or even an elbow.
If he had gotten some support from his backcourt, the final result might have been a different story.
Grade: B
Jimmy Butler, Shooting Guard
Jimmy Butler displayed maturity beyond his 24 years when Washington big man Nene literally went head-to-head with him with eight minutes left in Game 3. Nene challenged Butler by shoving his forehead in the guard's face, and Butler stood his ground. After they jawed for a few seconds, Nene grabbed Butler around the head and was booted from the game for his second technical foul.
Nene also received a one-game suspension, which seemed a little excessive, but Chicago felt zero sympathy.
Joakim Noah trolls the Washington Wizards after Nene's suspension: "What a bummer" http://t.co/5I7Ic4d66Q

— Bleacher Report (@BleacherReport) April 26, 2014
Regardless, Butler deserves praise for keeping his cool like a veteran. His late three-pointer also broke a 91-91 tie with 25 seconds left in Game 3.
Butler is known for his defense, but his offense runs hot and cold. Though he scored 16 points on Sunday, he missed nine of his 14 field-goal attempts, including seven tries from downtown.
Grade: B-
Taj Gibson, Power Forward
Taj Gibson came off the bench and was virtually the only scorer for the Bulls. He dropped 20 points by halftime, at which point all of his other teammates had only 20 between them.
Taj Gibson: 8-of-8 for 20 points. Other Bulls: 7-of-32 for 20 points.

— Dan Feldman (@PistonPowered) April 27, 2014
It was actually kind of sad to watch. For long spells of the game, Chicago seemed utterly unable to devise any offensive plan, whatsoever. Booker did a nice job filling in for Nene, but the sum of Washington's starters seemed far too much for the offensively challenged Bulls.
Not even Gibson's 32 points and seven rebounds could lift his team to victory. He would have needed closer to 50.
Grade: A
Mike Dunleavy, Small Forward
Mike Dunleavy turned in a huge Game 3 performance with a hail of three-pointers, tallying 35 points with his eight treys.
Then Dunleavy failed to score a point and missed all three of his shots in the first half of Game 4. He ended the afternoon with just six points in all—or less than 20 percent of his last game's output—and zero treys.
Seemingly, the Bulls need at least six three-pointers from Dunleavy to have any chance of winning or surviving Game 5.
Grade: C-
Carlos Boozer, Power Forward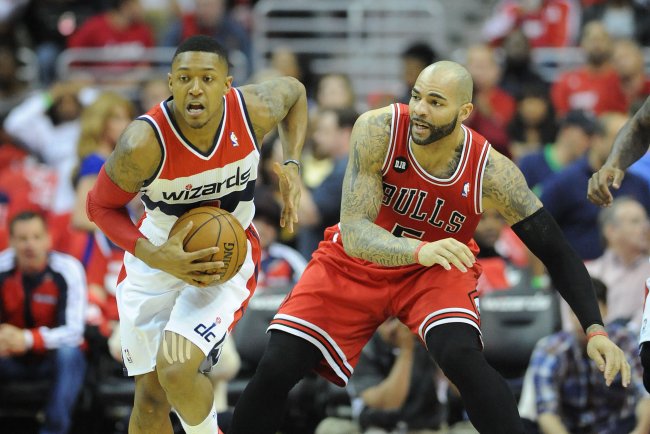 USA TODAY Sports
Carlos Boozer did something pretty incredible in the third quarter: after not fouling anyone for two-and-a-half quarters, he picked up five personal fouls in less than four minutes, capped by a flagrant-1 for an unnecessary karate chop.
Equally as incredible, Bulls coach Tom Thibodeau left Boozer on the floor with five fouls, highlighting the level of importance Boozer has for the team in the fourth quarter. He managed to not foul out, but he saw just 24 minutes in all, putting up eight points and eight rebounds.
Grade: C-
Kirk Hinrich, Point Guard
Kirk Hinrich is like the little girl with the curl—very good or horrid. He can bring very useful offensive production as well as pesky defense, but neither was working very well in Game 4. Beal and Wall ooze quickness and scoring ability, which are two things the Bulls backcourt generally lacks.
I've stood up for Kirk Hinrich, saying he's asked to do more than he's capable of giving. Today he's been just awful. #Bulls

— Robert Hahn (@robisu) April 27, 2014
He went 3-of-12 from the floor and coughed up a team-high four turnovers. His seven points and seven assists cannot wipe away his sluggish, sloppy play.
Grade: D
Rest of Bench
D.J. Augustin appears to have hit a wall this season. After resurrecting his skills following a failed stint with the Toronto Raptors, he became a second-unit hybrid of what Nate Robinson and Marco Belinelli brought to the team last year. However, Augustin has reverted to being ineffectual in the playoffs.
Mercifully, he connected on a key trey in the fourth quarter as the desperate Bulls tried to climb back in the game. In all, Augustin had eight points and four assists in a very uneven effort.
Tony Snell came on to try and quell the Wizards, but they have such supple wrists. He finished with two points, two boards and a block.
Grade: C-
What's Next?
The Wizards not only won the season series 2-1, but they were victorious in their only game during the regular season in Chicago. That makes them 3-0 at the United Center this year, and even with the Bulls backed against a wall, the Wizards have the talent to dispatch Noah and Co. on the latter's home court.
The series heads back to Chicago for Game 5 on Tuesday at 8 p.m. ET on TNT. Game 6 would be Thursday evening, if necessary, but in order to get there the Bulls will need much more from Dunleavy and Augustin in the backcourt.
The Bulls held Washington under 41 percent shooting in Game 4, but losing points off turnovers 29-8 was a crushing blow for Chicago. The defense will have to force Washington into more mistakes in order to force another game on Thursday.