The old adage goes that the secret to success is constancy of purpose, the idea of never wavering in one's goal.
Floyd Mayweather Jr. can certainly attest to believing in that.
However, the pursuit of improving upon one's strengths and changing for the positive is something that no champion—no matter how dominant in their field—should be afraid of.
On May 3, Mayweather will attempt to stretch his unbeaten career record to 46-0 against Marcos Maidana, with the WBC, WBA and The Ring welterweight titles all on the line at Las Vegas' MGM Grand.
In the buildup to Manny Pacquiao's recent win over Timothy Bradley, Kugan Cassius of iFL TV hinted at the Pacquiao/Mayweather superfight that may come within reach if the latter beats Maidana this weekend:
I would like to see a Manny Pacquiao win tonight, just because I am one these deluded fans who still pines for Mayweather v Pacquiao.

— Kugan Cassius iFL TV (@KuganCassius) April 13, 2014
It promises to be a stiff test of not just Mayweather's weakness—that is, of course, being apparent in every boxing bout—but a test of whether or not one of his greatest assets is still up to scratch.
Of Maidana's 35 career wins, 31 have come by way of knockout, showing just what kind of terrifying power the Argentine houses in those clenched fists of his—a power that threatens to push Mayweather's renowned defence.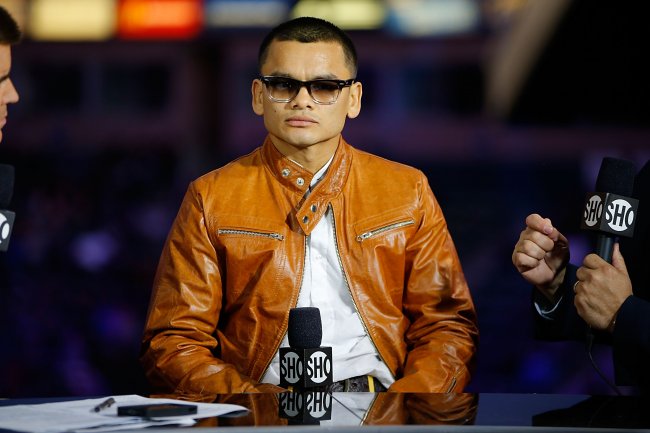 Joe Scarnici/Getty Images
Elbows up with head tilted back, Mayweather's style of parry, move, repeat has become a thing of folklore, but there may be more needed in order to contend with Maidana's brawling potential.
Inevitably, the storyline would suggest that Maidana will be looking to end the fight early. BoxRec indicates that he has fought 169 rounds in his entire career and boasts a knockout percentage of 81.58 in that time.
According to MLive.com's David Mayo, Mayweather has fought all or part of 110 of 120 scheduled rounds since beating Zab Judah for his first welterweight title in 2006.
Joe Gallagher of the Manchester Evening News quotes Maidana as backing up such a stance, hinting that he must take a similar tack to that of his most recent bout, a unanimous-decision victory over Adrien Broner:
Maidana: I Have To Attack Mayweather Early Like Broner - Boxing News http://t.co/8C0sdrdaRK

— Joe Gallagher (@gallaghersgym) April 27, 2014
When one has attained a moniker as the "Master of Weaving," the need for improvement may not seem so dire. But lest the Grand Rapids, Michigan, native etch a "1" in the loss column of his record, a less glamorous approach may be required this coming Saturday.
At times, Mayweather will have little choice but to go tooth and nail with his South American challenger.
Though other bruisers have been slain in the past, the pragmatic lesson to live by here would be to hope for the best but prepare for the worst.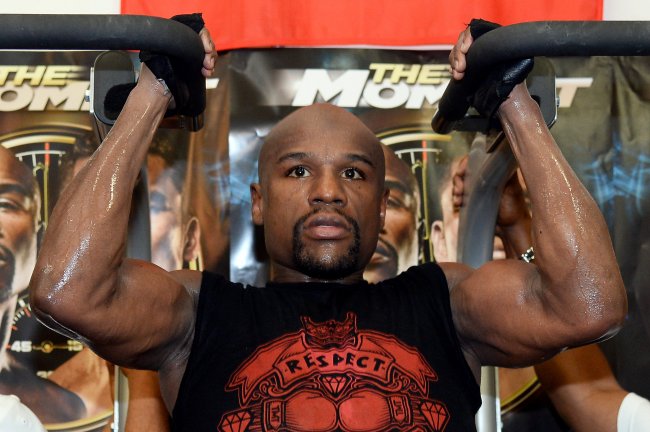 Ethan Miller/Getty Images
We've all seen the highlight reels and montages of Mayweather evading danger in a way that few other fighters today could even hope to, but Maidana has barreled his way through similar—albeit not as talented—examinations in the past.
Rosenhaus Sports President Robert Bailey shows precisely the kind of majestic movement referred to:
Check out SecondChance3D's post on Vine! https://t.co/0Xx0sx0FPy #mayweather #boxing

— Robert Bailey (@NFLrecord) April 24, 2014
If Money were able to add that dimension to his stratagem, he'd be all the more assured of landing what rests on the line on May 3.
The 37-year-old has come this far in large part thanks to a perfect formula never letting him down, but it's time for the veteran to prove now that an old dog is most certainly capable of learning new tricks.