Jon Jones isn't invincible after all.
That's what many were saying after Swedish light heavyweight Alexander Gustafsson pushed the reigning champion to his limits in their title fight back at UFC 165 in 2013.
After his five-round dismantling of Glover Teixeira at UFC 172? Well, maybe that glimmer of mortality can only be seen by those tall enough to look Jones in the eye.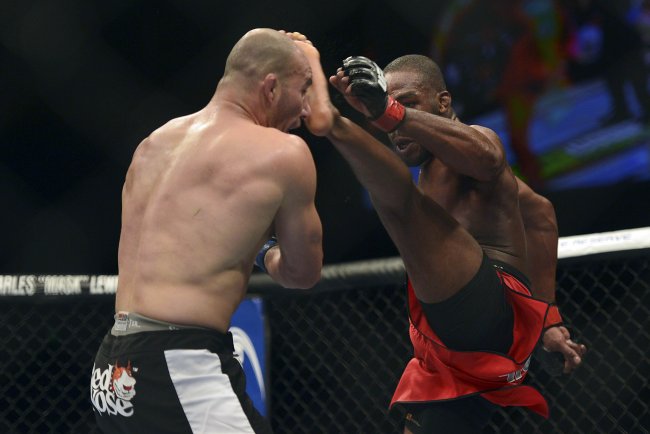 USA TODAY Sports
In Jones' first fight back since "The Mauler" made him look human, he looked decidedly inhuman once again. The champion utilized his range early on in the fight to open up a lead against the Brazilian challenger before closing the distance to bludgeon his opponent as the fight wore on.
By the end of the bout, the lopsided numbers spoke for themselves—Bones once again looked like one of the most unbeatable champions in the UFC.
Final @FightMetric Jones-Glover stats: Significant strikes: Jones 138-53. Total strikes: Jones 158-65. Takedowns: Jones 3-0. #UFC172

— Mike Chiappetta MMA (@MikeChiappetta) April 27, 2014
This wasn't a case of a fighter who didn't deserve a shot at the belt getting his opportunity too soon, though. Teixeira was more than qualified to be involved in the five-round main event. His ability to finish fights has made him one of the most feared fighters in the division.
With a winning streak that spanned nearly eight years and six fights in the Octagon, there wasn't much more that Teixeira could do to earn a shot at the champion other than grow an additional two inches and spawn longer arms.
Who has the best shot at beating Jon Jones?
For a man who boasts 13 knockout victories and six submissions, Teixeira did not look like a dangerous fighter on Saturday night. Jones dwarfed the challenger in the cage and often repelled his advances simply by placing his open hand on Teixeira's forehead, like a schoolyard bully.
The whole spectacle served to highlight the true problem that the UFC will have in creating interesting matchups for the champion. The realistic pool of contenders who can endanger the champion is short.
As great as Teixeira is—and he is a great fighter—he never stood a chance against Jones. The way Bones is able to use his length ends many of his fights before they even start.
All of this isn't to say that Jones is unbeatable, though. There are still a few fighters that have the potential to end the champion's reign, with the most obvious being the man who has already taken him to the limit: Gustafsson.
Jones wasn't willing to talk about the Swede in the post-fight press conference:
Jon Jones won't discuss Alexander Gustafsson at the #UFC172 post-fight presser. "I don't want to talk about that kid at all."

— Mike Johnston (@MikeyJ_MMA) April 27, 2014
Fortunately for inquiring minds, Dana White was, and he stated that Gustafsson will fight Jones next and that the fight could take place in hostile territory for the champion:
White said they're definitely thinking Jones-Gustafsson II in Sweden. Said Jones will fight wherever they want him to fight.

— Marc Raimondi (@marc_raimondi) April 27, 2014
Walking away from UFC 172, Jones took a step toward growing his legacy to the stature of Anderson Silva and George St-Pierre. He's to the point where even the most qualified of contenders won't have anything to offer him in the Octagon.
But that doesn't mean his title reign won't be without exciting challenges, though. With Gustafsson on the horizon, beatdowns like the one Jones delivered against Teixeira aren't likely to become the norm.