UFC 172 turned out to be an event filled with memorable finishes and decisive victories.
The main card bouts were especially good.
It's hard to pick which performances were the most outstanding, but Iet's narrow it down to the top three.
Anthony "Rumble" Johnson's Decimation of "Mr. Wonderful"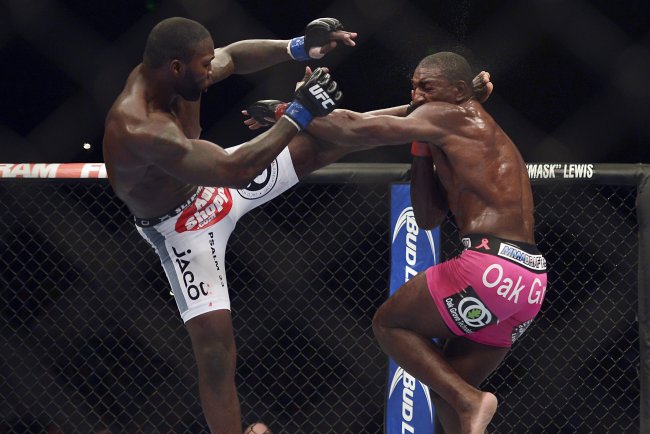 USA TODAY Sports
I'll be the first to admit that I thought Johnson had drawn the worst possible matchup for his return to the UFC. Rumble had always struggled with grapplers. Here he was, tangling with one of the best in the UFC.
After the smoke cleared, Johnson had beaten up Davis for three rounds. Per FightMetric.com, he stuffed all eight of Davis' attempts to take him down.
A vicious right hand busted up Davis' eye in the second round. Per Bleacher Report MMA, Johnson went all Edgar Allan Poe in his description of the punch's impact on Davis:
Anthony Johnson on the punch he landed to muck up Davis' eye: "I felt some of the life float away from him." Nice line. I'm stealing that.

— Bleacher Report MMA (@BR_MMA) April 27, 2014
Johnson made Mr. Wonderful look like Mr. Ordinary. Don't look now, but the win made Rumble one of the hottest names in the light heavyweight division.
Luke Rockhold Is All Business
USA TODAY Sports
It took just two minutes and eight seconds for Rockhold to lay waste to Tim Boetsch on Saturday night.
Rockhold's relentless pursuit of the submission was indicative of his hunger to conquer.
A kimura lock spelled the end of Boetsch in the bout. But it feels like just the beginning for Rockhold's ascension through the middleweight rankings.
He has now scored two straight wins over top-notch competition at 185 pounds.
His only blemish in the UFC came in his debut against Vitor Belfort. Per the UFC's Twitter account, Rockhold has already called out his next opponent:
"I'll take an opportunity to shut Michael Bisping's mouth next." @LukeRockhold #UFC172 pic.twitter.com/VD9KfsgbXW

— UFC (@ufc) April 27, 2014
It seems like he may be aiming pretty low with Bisping. Rockhold looks like a fighter who should be one step away from a title shot.
Bisping is more of a gatekeeper now.
Jon "Bones" Jones Is the Best Ever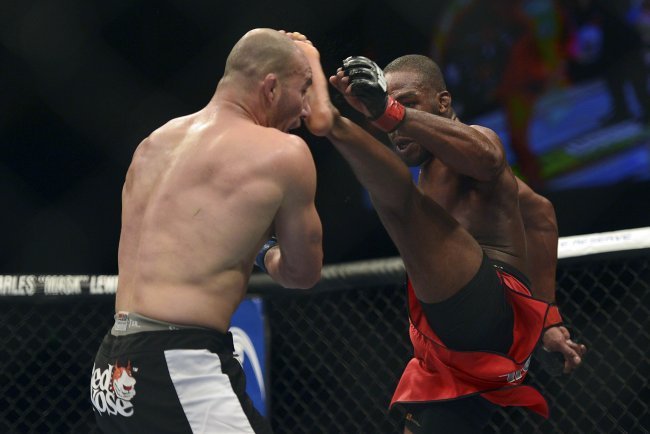 USA TODAY Sports
Sure, Glover Teixeira is a bit one-dimensional, and most expected Jones to beat him on Saturday night. But the best part of the UFC light heavyweight champion's victory was the way he won.
Teixeira is known as a great striker. Conventional wisdom said he needed to get inside Jones' reach to be effective.
Bones is not a conventional thinker.
He fought the entire fight in Teixeira's grill and beat him at his own game.
B/R's Jeremy Botter saw exactly what I saw:
The best is that Jones chose to fight Glover where he was the strongest, and still beat him at his own game.

— Jeremy Botter (@jeremybotter) April 27, 2014
You didn't have to be an MMA journalist to appreciate what Jones did. Jacksonville Jaguars tight end Marcedes Lewis heaped praise on Jones' performance as well:
Talking about a statement!!! One of the most impressive fights I've seen to date by Jon jones!!!!

— Marcedes Lewis (@MarcedesLewis89) April 27, 2014
Take a look at these stats from FightMetric, per Mike Chiappetta of Fox Sports. How dominant is this?
Final @FightMetric Jones-Glover stats: Significant strikes: Jones 138-53. Total strikes: Jones 158-65. Takedowns: Jones 3-0. #UFC172

— Mike Chiappetta MMA (@MikeChiappetta) April 27, 2014
It's hard to imagine how Jones could have fought any better. What's even more impressive is the same could be said for Teixeira.
Jones is really just that good.
Follow me. I dig combat sports.